When the Bills chose Cyrus Kouandjio in the second round of the 2014 NFL Draft, many fans immediately penciled him into the starting lineup at right tackle.
It didn't quite work out that way. And no one is more disappointed about it than Kouandjio himself.
"You have to be disappointed, this is my profession; this is what I do. I'm changing it," he says. Kouandjio is changing it by going full-bore this offseason with a training and workout regimen specifically tailored to NFL offensive linemen.
Heading into his second NFL season, Kouandjio has spent most of the offseason at the LeCharles Bentley Offensive Line Performance Training Center in Scottsdale, Arizona. It's the first and one of the only training centers devoted exclusively to offensive line play. Bentley is a former second round pick of the Saints who spent six years in the NFL before injuries forced him to retire.
"This is all offensive linemen work," Kouandjio said this week, in an appearance on The John Murphy Show. "I'm training with all offensive linemen. All we do is offensive line drills, we don't waste time out here. All we do are offensive line related exercises."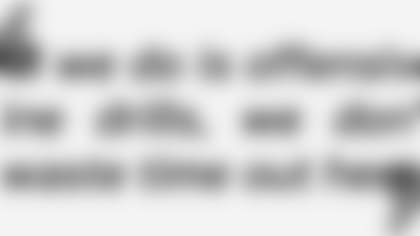 Kouandjio went to work at the Bentley O-Line center after taking off just one week when the season ended. He was encouraged to sign on by former Alabama teammate Chance Warmack, who plays guard for the Tennessee Titans.
"I've been there since the second week after the season, the last nine weeks," Kouandjio told host John Murphy. "I'm going to stay here until I have to report (to the Bills). We work six days a week, take Sundays off. A really strict diet. You're surrounded by people who are like-minded in what they want to do in their lives. It's a really positive environment. I like it."
After a rough rookie season in Buffalo, Kouandjio has to appreciate the "positive environment" of the Bentley camp. He got off to a "slow start" in training camp, according to Bills GM Doug Whaley, and spent 15 games on the inactive list. He saw action on special teams in the Bills loss to Kansas City in November.
"I think a lot of the problem was my mind set," he says. "I didn't exactly have a strong mindset coming into the NFL. That's one of the things I get to improve on for next season. I could have started off stronger. Shoot, thank God there's always another year."
Next year, Kouandjio will only be 22 years old. He celebrates his birthday in July, just before the Bills go to training camp. And Kouandjio is already seeing progress from his offseason workouts, in terms of his body composition and his approach to playing on the offensive line.
"I'm really changing," he says. "I'm making a lot of strides. But it doesn't really matter. We'll see what happens when we get down there on the field."