It's only been three days since EJ Manuel was told he was being pulled from the starting lineup as quarterback of the Bills. In those scant 72 hours Manuel has already laid out a plan for the way he intends to play if and when he gets back on the game field on a Sunday.
"I just want to cut it loose," he said. "I think (it's about) not holding myself back. Not to say I was, but at a certain point in your career and your manhood you just open up and let it rip."
Outside observers who were critical of Manuel described his play as robotic at times. The second-year quarterback apparently saw something similar and seems eager to lean on his God-given ability more if and when he gets another opportunity in the lineup.
"You don't worry about the repercussions and if something happens at least you went down guns loaded or guns blowing. Just going out there and let it rip. So that's what I've been practicing this past week out there against our defense. Just allowing myself to go out there and make plays naturally."
Of course that doesn't mean he's going to ignore all the other aspects of being a successful NFL quarterback. If anything he intends to redouble his efforts with the mental and technical aspects of the game.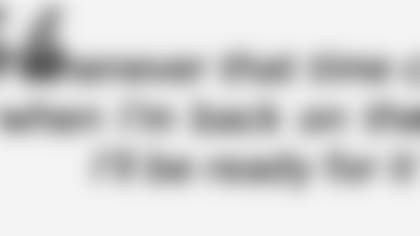 "I've always been a hard worker, but I think I kicked up my work ethic even more," he said. "Whatever I need to do whether it's in the film room or whether it's out there on the field, just being more consistent with everything. How the ball is coming out of my hand, my annunciation in the huddle, all those types of things. I'm not taking any reps off."
Manuel admitted he was frustrated and disappointed when head coach Doug Marrone informed him of the decision that he made on Monday to go with Kyle Orton as the starting quarterback Sunday. For him it's a new role for him to process.
"For me it's just been about digesting the situation and adjusting to it because it's new," Manuel said. "I've never been in this position, but there are a bunch of positions that I've never been in because I haven't experienced them. It's all a part of my story, a part of my career and I think in the long run I'll look back at it and see it as something that helped build me and help me become a stronger man."
With that in mind Manuel intends to rebuild every facet of his personal game to convince the offensive staff he's deserving of another chance to lead the team at quarterback.
"You fight every single day," he said. "Life is hard and it's a hard thing to deal with, but life it's never going to be easy. It's a hard business especially when you're a young guy, but you can't use that as an excuse. You have to continue to get better every single day. Even though I'm not starting I'm still going to make sure I'm doing what I need to do."
Marrone has stated that they want to continue to work with Manuel to get his individual game back on track. However, with the offensive staff working all week to prepare the players in the starting lineup for the next game on the schedule, Manuel realizes a lot of the work he plans to put in will have to largely be on his own.
"That's the hard part about it. All the other guys are practicing during the regular practice times. Either you come in early or stay a little later," said Manuel. "Jeff (Tuel) has been awesome as far as staying back with me doing some extra stuff with me. (Quarterbacks) coach (Todd) Downing has been there the whole time too. It's been a different type of three days, but we still have a game this Sunday and that's our focus right now."
As much as Manuel has appreciated the advice he's received from former coaches, teammates, family and friends, he's convinced that the part of his game that must go unchanged is his self-confidence.
"As a competitor it is a tough pill to swallow, but at the same time I'm going to be positive with myself. I still believe that I'm a good football player and I know there is tons of room for me to grow and I'll get there. It's a matter of me believing in myself and not losing my confidence. And I'm still one play away. If something happens I'll go right back in there and be accountable to do my job and help this team win. Whenever that time comes when I'm back on the field I'll be ready for it."
A look at QB EJ Manuel's arrival at One Bills Drive in Orchard Park, NY, as the Buffalo Bills first round pick in the 2013 NFL Draft.