1. Buffalo is 4-1 without big name stars
Buffalo starts the season with three straight road wins for the first time since 1993. The Bills are earning these wins together. There's not one player that carries the team and that's what makes them unique. The Bills have young players that will be absolute household names in a couple of years. Guys like Josh Allen, Tre'Davious White, Tremaine Edmunds, Ed Oliver—they could all be superstars in this league. At this point, they don't have any $20,000,000 contract players on the roster. As a team, they are extremely solid across the board and have great depth this year. This is something they haven't had in the past. As we saw yesterday, this depth has allowed them to sustain injuries and sustain success this year through five games.
You see a lot of teams in the NFL with elite level quarterbacks like Tom Brady and Aaron Rodgers that carry their team. The Bills are sitting with one loss heading into the bye week. One of the most surprising things to me with their record is I knew they could get to 4-1, but I thought they would need a great turnover margin. They are beating teams with a turnover margin of minus three. It blows my mind. This defense has been absolutely outstanding all year and the offense comes alive in crunch time, especially the fourth quarter.
I definitely think this team can continue to improve. This defense is excellent and they have been building to this level for the past few years. When you look at the fact that this offense has so many new pieces, they should continue to gel and grow. With a second year quarterback, you can assume Josh Allen will get better as the season goes on.
2. Coach McDermott's bye week philosophy
I played under McDermott for a year and when we hit the bye week he gave us the bare minimum of days off. I think we had four nights off in a row. At that point he was still building the culture and setting the tone for what he demanded out of his team. McDermott comes from the Andy Reid coaching tree. Reid has one of the best records coming out of the bye week and he has always given players the full week off. I actually had a conversation last month outside of the facility with Coach McDermott, he was on a run and I was on a walk. We were talking and McDermott said he had recently reached out to Reid to make sure that's still what he does with days off during the bye week and also wanted to double check the win numbers. McDermott is going to give the team the full week off. With how dinged up some of the players got yesterday and with some guys coming off of injuries, I think it's a smart move. The bye week comes early this year, so you want players to be refreshed and ready for the long haul with a big portion of the season left.
3. Josh Allen has a bounce back performance
I thought Josh Allen had a great start to the game, he completed seven of nine passes in the first quarter. On the first touchdown drive he was five for five. Allen finished the game with a career-high 71.9% completion percentage. I love that offensive coordinator Brian Daboll comes out with a pass on the first play of the game. Allen hit John Brown perfectly sitting in zone coverage. On a performance that was heavily critiqued last week against the Patriots, a big game on a national stage, I thought Allen had a great bounce back performance. Early on he was making good decisions, throwing the ball away when he needed to and there were very few drops. When the game was over, you look back at his performance and he made one bad decision with the interception. Allen is a competitor and he plays his best ball in the fourth quarter. Allen has had three game-winning drives this season which leads the NFL. His injury in the Patriots game was tough because you really wanted to see what he could have done in the fourth quarter.
I think with all young quarterbacks, settling into the game early can help a quarterback through the entire game. You saw Daboll give him rhythm throws that he's confident in making early in the game to get his confidence up and make sure that he's seeing guys open. They also got back to motioning into and shifting into an empty set. Allen has shown over the season that when they get into that empty set, if he can identify the coverage pre-snap, he's able to get the ball out on time and attack his match-ups, a lot of times versus man coverage. They scripted some of those early in the game for him and it really helped him have success early.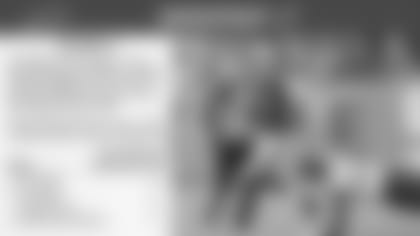 4. Looking ahead: bye week in Week 6, Dolphins at Bills in Week 7
You get to the bye week at 4-1 and I think if you would have proposed the question early to Bills fans, anyone would take 4-1 at the bye. The Bills have three straight home games starting in Week 7, these will be three huge games for Buffalo. If you want to make the playoffs consistently in the NFL, you need to win your home games.
The Bills face the Dolphins next. Miami has obviously had their struggles this year, but each opponent you have to take extremely serious. We aren't necessarily sure about who will play quarterback for the Dolphins that week, if it's Ryan Fitzpatrick, he has had some of his best games as a pro coming back to Orchard Park. This is a game the Bills can't take lightly because it's an opportunity to get to 5-1.
5. Observations from around the NFL
It's interesting that the Jets and Dolphins are 0-4. The Patriots are 5-0, the Bills are 4-1. This is a top heavy AFC East so far this season. The Jets aren't in the best position to win games without their starting quarterback in Sam Darnold. If the Bills want to keep pace with the Patriots, they need to win the next three home games because the Patriots schedule is light for the next couple of weeks.
The Seahawks get the one-point victory over the Rams. Russell Wilson stood out in this game with a 151.8 passer rating and four touchdowns. Wilson's career path is interesting to me because he starts out as a game management quarterback with an excellent defense. All of their salary cap was tied to that defense, now Wilson is the high paid player out there. They are winning in a different way with Wilson leading the charge putting up 30 points and it's not the recipe of don't turn the ball over and play great defense. Wilson is being asked to win games, at this point in his career he is capable of doing it.
Bills fans traveled near and far to support the team during their Week 5 game against the Titans. Scroll through to see photos of the faithful.