It was an unforgettable moment for young Caralyn Reynolds as she got to meet Bills center Eric Wood for the first time at his Foundation's Operation Big Santa event last December. Using a gift card that she received at the event, Caralyn purchased supplies that she could use to enjoy one of her favorite pastimes—baking. Overcome with joy, Caralyn wrote Wood a thank you note and extended him a special invitation to pay a visit to her school and try one of her prized cakes.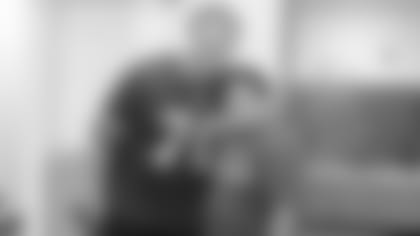 Giving Caralyn the opportunity to showcase her baking expertise, as well as introduce her classmates to her new friend, Wood graciously accepted her offer and visited Veronica E. Connor Middle School in Grand Island, N.Y. on Tuesday, May 10. The thoughtful gesture, is one that hits home for both Caralyn and her family, who despite undergoing a difficult time have remained nothing but positive.
Caralyn, a timid, yet passionate, and incredibly strong-willed 11-year-old, was diagnosed with a brain tumor four years ago. After an exhaustive battle which required surgery immediately upon diagnosis, an off and on hospital stay for seven weeks where she underwent a series of eight additional surgeries, and 33 months of routine chemotherapy, Caralyn has been in stable condition for the last year. Although a portion of her tumor remains, courageous Caralyn continues to live life to the fullest.
Her mother, Jennifer Reynolds, explained that it was during Caralyn's bouts with treatment that she discovered her love for the art of baking and cake decorating. Described by Jennifer as an "old soul," who builds lasting relationships with those around her, especially her teachers, Caralyn finds happiness in sharing her talent at school. Exchanging recipes and staying up to date on the latest techniques, is truly Caralyn's forte.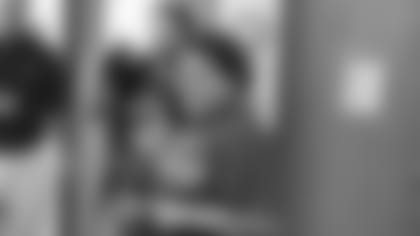 Feeling grateful for the outpouring of love and support, Jennifer reflected on the positive impact Wood has had on Caralyn and the entire Reynolds family.
"We have been extremely blessed," said Jennifer. "As much as you know obviously it's been challenging and you never know what the next term brings, in the same respect we have been very well supported by our community, by amazing organizations and then this one [The Eric Wood Foundation] this past Christmas took us really by surprise."
After attending the Eric Wood Foundation's Operation Big Santa event Caralyn, amazed by Wood's goodwill and genuine demeanor, quickly became one of his biggest supporters. Eager to express her appreciation for Wood's act of kindness and demonstrate her skills, Caralyn proudly welcomed the Pro Bowler into her classroom.