Twenty-three year-old Danielle Schaefer knew she was born to be an artist. Growing up in Buffalo for Danielle was all about sports, the Bills and her artwork. All of those interests inspired her to create one-of-a-kind masterpieces that are like no other.
Danielle attended Buffalo State College, and did her student teaching at Highland Elementary in the Lake Shore district. As Schaefer was teaching the students about artist Louise Nevelson, the fourth grade class was brainstorming on what recycled material they too could make beautiful. One student raised her hand and said, "what about the pretty side of a CD?"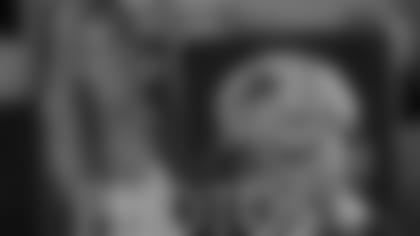 ](http://www.buffalobills.com/media-center/photo-gallery/fan-creates-unique-bills-art/b3b49064-d172-4118-af81-6d2fe3bf2b46)
"That tidbit stuck with me," said Danielle. "I went home that night and started to experiment with everything. I didn't want to use a CD as a CD. I didn't want the roundness, so I started breaking them to see what I could make."
The process is long and timely. Schaefer begins by turning a photo into black and white positive and negative space. She then destroys the CD's by smashing or cutting them, and as they crack naturally into hundreds of pieces, Danielle looks for the perfect fit. She describes her art as being much like a puzzle-no two pieces are alike.
Being from Buffalo, it was only natural that Danielle model much of her artwork after the Bills. She began by making logos, which were wildly popular. She then moved onto portraits, and when Mario Williams landed in Buffalo, Danielle captured a moment in time by doing a CD portrait of Mario's press conference.
"It gave us a lot of hope and we were really excited about him," said Danielle. "I said 'I really think it would be a good idea to do a piece,' so it all went from there. I started to look at different photographs and see what I could do with it."
Other than using CD's as the main ingredient in her artwork, one of the most fascinating parts of her pieces is her attention to detail. Danielle leaves nothing out. From the New Era Symbol on Mario's hat to the scruff on his beard, Schaefer's art is truly one-of-a-kind.
"When it comes to my artwork, what makes it so cool and unique is the detail," Schaefer told buffalobills.com. "By adding all of the detail into a piece it really gives it character and gives it that 'wow' factor."
After all, Schaefer wouldn't be able to create her artwork without CD's, and while one man's trash is another man's treasure, she works hard to find CD's to help her create her art. She attends garage sales in the summer, and has CD's from friends and family, collecting them to use on her next piece.
Danielle is humbled by the success of her CD art, and continues to reach new goals with the completion of each piece.
"Every little step or any goal that I reach I check it off my list, pat myself on the back and say, 'this is great, now what do I do next?' I want to get my name out there and get my artwork out there and hopefully people can enjoy it as much as I do."