The entire world hasn't stopped thinking about and praying for safety Damar Hamlin since Monday night. With the outpouring of love and constant prayers for Hamlin, there recently came positive updates from the staff at the University of Cincinnati Medical Center on his status, as well as daily statements from the team on behalf of the physicians caring for him.
But on Friday morning, there was more than an update thanks to a surprise from head coach Sean McDermott.
The team knew that they had their regular scheduled team meeting that they would be attending, but they didn't know they would have a special guest virtually joining them. Hamlin FaceTimed into the meeting and was able to briefly talk to his teammates and coaches — a moment everybody had been waiting for.
"Amazing. Touching," McDermott said. "To see Damar, number one, through my own eyes, I know it's something I've been looking forward to, kind of needing to see, I guess. I hate to say it that way ... I wanted to make sure that that was actually going to be able to happen with Damar's medical schedule there. When I said that we had a treat in store, you could see the look on their eyes in anticipation of what was probably coming."
The excitement within that room couldn't be contained. The players were quick to get out of their seats and immediately clapped for their teammate when he appeared on a screen in the meeting room. When describing the scene, McDermott said that Hamlin appeared "larger than life" on the screen, where he shared some of his first words to the team: "Love you boys."
"We got our boy man. It's all that matters," OL Dion Dawkins said. "We got our boy. The excitement was beautiful. It was amazing. It has given us so much energy, so much bright, high spirits, whatever you want to call it … To see that boy's face, to see him smile, see him go like this in the camera (flexes his muscles). It was everything. And then to hear him talk to us. It was literally everything, and that's what we needed."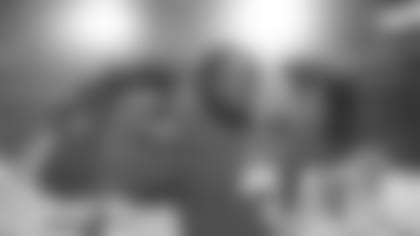 But as everybody awaited updates on the safety, those close to him reflected on shared memories and who he is as a person. Whether those who shared kind words about Hamlin grew up playing youth football with him, or just met him two years ago when he became a Buffalo Bill, the picture of No. 3 having a big heart that cared for everybody around him was painted.
"In the locker room, he is the happiest dude," QB Josh Allen said. "We play basketball, a little knockout before walkthroughs on Saturdays. He's got a good shot on him. I couldn't ever tell you a story where he was upset and brought it into the building. You just never saw him down. He was always positive."
Allen and the rest of Hamlin's teammates have been hurting for their brother and have been constantly praying that he'll recover. But an exchange between Hamlin's father, Mario, and the team on Thursday not only eased their minds a bit, but it also provided more insight as to the kind of person the safety is.
"His dad said the first thing that he's going to ask when he wakes up is 'Who won the game?'. And sure enough, that's what he did, "Allen said. "As teammates, you love hearing that response, that the first thing on his mind wasn't, poor me. It was how are my teammates doing? Did we win this game? And that's powerful in itself … And for Damar, to go through that and to come out on the other side and still, again, just thinking about his teammates, that's Damar."
After growing up with Hamlin and probably knowing him the best out of the Bills' locker room, CB Dane Jackson wouldn't expect him to ask anything else.
"He's a true warrior, he's a fighter," Jackson said. "He's always going to come out with some type of joke or whatever, it doesn't matter how severe the situation is, he always has a joke. Or I know the first thing he'll say to me when he'll get back is something crazy, I just know it. I can't wait for it, honestly. That's what I'm really waiting for. But that's just the type of person he is, man. He always wants to win, he's a true fighter and he's a warrior."
Before Hamlin was spreading his contagious energy around the Bills locker room and the city of Buffalo, he was doing it throughout the city of Pittsburgh. Hamlin grew up in McKees Rocks, PA, a township just outside of Pittsburgh, and he was making a mark on his hometown from a young age.
Terry Totten, Hamlin's head coach at Central Catholic High School, has known Hamlin since he was 13 years old. The recently retired coach said that Hamlin is a great athlete and twice as great as a person.
"He was very mature for his age, he was very steady and composed," Totten told Rob Hackford of WGRZ. "I think the outpouring of support you're seeing across this nation is obviously a football player but also for a person of great character. A person who had goals in life and worked towards his goals."
One of those goals, that he ultimately achieved, was making it to the NFL. And Bills GM Brandon Beane, who saw something special in Hamlin leading up to the 2021 NFL draft, made that happen with the help of University of Pittsburgh head football coach Pat Narduzzi.
"He (Narduzzi) said, the steadiest guy that you're going to find and a true high character leader is Damar Hamlin wherever you have him," Beane said. So that was one of the things that stood out when you hear the coach of a team saying this guy, 'He's got it. He's got the it factor, the want to. And wherever his skill set is, what you heard is he's going to reach that and then some.'"
Coach Narduzzi had the honor and privilege to coach and mentor Hamlin for five years at Pitt, and he had the front row seat to watch him grow into the young man he is today.
"Damar Hamlin is far more than just a football player," Narduzzi said in a statement. "He's a loving son, brother, and friend. Damar is a hero to thousands of Pittsburgh kids … Damar, we love you. We are praying for you. Pittsburgh's always had your back. And now, it's obvious the entire country has your back, too."
During his time as a Pitt Panther, Hamlin's positive outlook touched the lives of many, from people in the Pittsburgh community to some of his former teammates who are now NFL opponents, like Minnesota Vikings LB Patrick Jones II. The linebacker got to know Hamlin throughout the five years they played together at Pitt and then the two then came into the NFL together in 2021. So, Jones was quick to express his love for his former teammate after Monday night's gut-wrenching scene.
"Damar's one of those guys, wherever he goes, he's going to light up a room," Jones said. "His personality, his demeanor, everything about him. He's just a cool, calm collected dude … He's just a likable person. He's likable, he's genuine. He's just a really good person."
Now as Jones takes the field on Sunday against the Chicago Bears, he'll be playing with his Pitt brother at the forefront of his mind.
"Whenever I go out there, I got to remember I'm playing for a lot of reasons, and now I'm playing for another one," Jones added. "I'm playing for my brother."
As for Pittsburgh Steelers QB Kenny Pickett, he and Hamlin were captains of the Pitt football team in 2020. The two were reunited at Highmark Stadium in Week 5 where they found each other in the tunnel, and exchanged a hug and a few words before they went to opposite sidelines for kickoff. But even though they're no longer teammates, the bond that playing together created allows Pickett to look at Hamlin as part of his family.
"Damar, he's an unbelievable person, he does so much for the community," Pickett said. "A guy from Pittsburgh, he stayed home. Could've gone anywhere he wanted to. Stayed home and we had a great run together, and he had an unbelievable career at Pitt … Just an all-around great person and great family."
Another life goal that Hamlin has is giving back and helping the community, which he also accomplished throughout his journey to the NFL and beyond.
As a way to never forget where he came from, Hamlin created The Chasing M's Foundation to use as a driving force to shine a lasting and positive impact on his hometown community. When he's not on the football field, Hamlin is planning toy drives, back-to-school drives, kids camps, and more to support the efforts of his foundation.
"He's a giver, he's a fighter. He's a warrior. He's an encourager," Dane Jackson said. "Just for one thing, his Chasing Millions Foundation … He always wanted to give back. He always wanted to help. He's always looking for the next opportunity to just be a light to someone who wants to be in our position. That's just him. Just thinking about it makes me smile because I know once he gets back to himself, he's going to be looking forward to helping out so many others."
In 2020, Hamlin organized the foundation's first Community Toy Drive, and all donations went toward his mother Nina's daycare center in McKees Rocks. And his goal of raising $2,500 was heavily surpassed since Monday night.
Hamlin's giving nature rubbed off on the people of Buffalo, Pittsburgh, Cincinnati, and the entire country. In honor and celebration of Hamlin, over 230,000 people donated to a GoFundMe that Hamlin created for the toy drive which has since raised over 8 million dollars as of Saturday afternoon.
"I just know he's going to do so many amazing things with that," Jackson said. "He probably has no idea about it now, but once he finds out how much money that was raised and how many people supported him, I know those thoughts are just going to start going in his head of what he can do to help out others. It's never about him. I can tell you from my heart, just knowing him, that I know he'll do a lot of great things with everyone that supported his foundation."