The 1999 St. Louis Rams featured 'The Greatest Show on Turf' and led the NFL with 526 points. They won 13 games by 12 or more points, which is the most by any team since the 1970 merger.
But even "The Greatest Show on Turf" needed its defense to reach the Super Bowl.
"There was a sense of, 'Alright they don't want to give us our respect, we're gonna go out and earn our respect,'" linebacker London Fletcher, a member of the 1999 Rams who went on to play five seasons in Buffalo, said.
"And, come the playoffs, in the NFC Championship game we had to step up and we won that ballgame 11-6. Then the Super Bowl game against the Tennessee Titans, we had to do a lot of stuff to stop the Titans and we came up with a tackle on a one-yard line.
"So, there was a sense after we won that Super Bowl, I felt like we maybe got a little bit more respect nationally. But I mean, when you're the 'Greatest Show on Turf', you got the nickname and that's what most people are gonna remember us for. But we know, collectively it took us all to get that championship."
The Bills are looking for that same respect. Their defense became the first to finish No. 1 in scoring and total defense and have no players selected to the Pro Bowl. But the defense isn't concerned about accolades right now, they have their biggest test coming up – the Kansas City Chiefs.
"I think in the offseason we'll worry about that," All-Pro safety Jordan Poyer said. "We've got a job to do this week, whether we're the No. 1 defense or No. 32 defense. We've got an opportunity this week to go out there and be able to play our best football. So really, the number one and all the numbers, whatever, the regular season really doesn't matter. It's a whole new season now. We've got to come ready to play and execute at a high level."
The Bills are playing their most complementary football entering their Divisional Round matchup with the Chiefs. Coming off a 30-point victory against New England, the Bills are peaking at the right time and are hungry to cement themselves as one of the best in NFL history. 
All 11 of Buffalo's regular-season victories were won by 12-plus points. The four other teams to accomplish that feat since the merger all made the Super Bowl. (Only the 1999 Rams won more games by 12-plus points). 
The defense came in clutch for that '99 Rams team down the stretch, but it was wide receiver Ricky Proehl that caught the game-winning touchdown - his first touchdown of the season - in the NFC Championship.
'The Greatest Show on Turf' had many stars including Isaac Bruce, Marshall Faulk, Torry Holt, Az-Zahir Hakim, and Roland Williams. They had a 1,000-yard rusher, two 1,000-yard receivers and four receivers with 500+ receiving yards. 
"We just couldn't be stopped, we had so many weapons, and we had such a great running game to go along with our passing game," Proehl said. "It's just helped our confidence level and it just started growing as the season went on."
The Bills offense is similar with great wide receiver depth and a running game that has been electric down the stretch. The Bills are the only team in the NFL this season to have five pass catchers with 500-plus receiving yards. 
According to NFL Media Research, the Bills lead the NFL with a +194-point differential (highest in Bills history). Buffalo has the third-highest point differential since 2013. The leader in point differential has failed to make the Super Bowl in each of the last three seasons. But from 2013 to 2017, the leader in point differential advanced to the Super Bowl each season (three won).
In the Wild Card game against the Patriots, the Bills had a near perfect game, putting up 47 points, and had their second-largest margin of victory (30 points) in franchise postseason history. 
"They've been lights out on offense," former Rams fullback James Hodgins, who was a rookie when they won the Super Bowl, said. "I think they really work to have a balanced attack. They remind me a lot of our 1999, 2000, and 2001 teams at the Rams that all scored over 500 points. They're scoring in the 30s and 40s every game. I think what's most like the Rams is that they have different playmakers. 
"Obviously having Josh Allen and what he brings to the game, just running-wise and distributing the ball. It's pretty impressive, and I think they're a lot like our Rams team in that regard."
Hodgins has a unique connection to this Bills team as well – his son Isaiah is a wide receiver on the team's practice squad.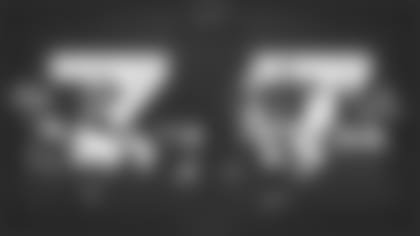 Since Week 14, it hasn't all been on Allen. After halftime of the game against the Buccaneers, the Bills have been leaning more on the running game led by Devin Singletary. In the last six weeks (regular and postseason), Singletary has 96 rushes for 456 yards (4.75 per carry) and eight total touchdowns. The running back has averaged 18.4 carries in that time span compared to averaging just 8.6 carries per game to start the season. 
The Bills' offense ranks fifth in yards per game (381.9). But they're not just racking up yards, they are also scoring points. According to NFL Media Research, the Bills' 28.4 points per game on offense are the fourth-most by a team that also had the No. 1 scoring defense since the 1970 merger. Five of the six prior teams to average 27-plus points per game all won the Super Bowl.  
One of those six teams was the 1985 Bears, which is heralded as one of the best defenses the NFL has ever seen. They had a plus-258 point differential, which is the eighth-most in NFL history, and had 34 interceptions, 64 sacks, nine forced fumbles, and four touchdowns. 
Bills defensive coordinator Leslie Frazier was a key piece of that '85 Bears defense and led the team with six interceptions. Frazier noted that people started notice of the defense after they shut out two teams consecutively in the postseason before they won the Super Bowl by 36 points. 
Even though the Bills' defense ranks first in seven different categories, that unit hasn't been given the amount of recognition they deserve. 
"When the Pro Bowl voting came out, I know on that '85 team, we had a number of guys who made the Pro Bowl," Frazier said. "Here, I thought some of our guys deserve better recognition than they got. I'm not sure that our guys are being recognized for some of their achievements."
According to NFL Media Research, the Bills are the ninth team since 1990 to finish the season with the No. 1 scoring, total and pass defense (four of the previous eight won the Super Bowl that season). 
One of those four teams that won the Super Bowl was the 2008 Pittsburgh Steelers. Cornerback Bryant McFadden was a part of that team and what stands out to him about the Bills' defense is the level of energy they play with and how they bounce back after a performance that wasn't up to the standard of Buffalo Bills football. 
The standard was set when Sean McDermott and Leslie Frazier first came to Buffalo in 2017. Since that point the Bills' pass defense has been the best in the NFL over that span, allowing just 199.7 passing yards and limiting opposing quarterbacks to a 78.6 rating. 
In the Week 1 loss to the Steelers, the Bills defense didn't have any takeaways. They took that loss personally and finished the season third in the NFL in takeaways with 30. 
"I remember when I first got to Pittsburgh, my rookie year, the older guys were saying listen, 'If we finish any worse than top three, that's a bad year defensively for us,'" McFadden said. "And in my mind, I'm like 'whoa, so you mean to tell me if you finished fourth or fifth, that's not good?' But that just wasn't the expectation. 
"… And that just became a standard. So, for us, that's what we lived on and that's what we pride ourselves on and being consistent. And now if you look at some of the strengths of quality, sound defensive play that we're seeing from the Buffalo Bills, they're now starting to head in that direction as well."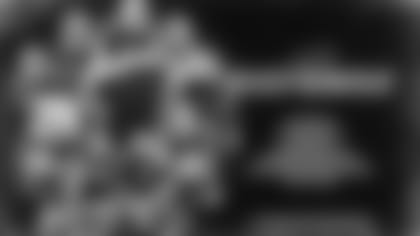 The defense finished No. 1 in multiple categories even after losing All-Pro corner Tre'Davious White in Week 12. How the unit as a whole responded and how corners Levi Wallace and Dane Jackson stepped up is a testament to the players and coaching staff. 
"It shows depth, that's another piece people don't talk about," defensive end Cliff Avril, who won Super Bowl XLVIII with the Seahawks, said. "If we're comparing what we had as well, depth is very important because you're going to lose some key players, you're going to lose some star players. So, how do you bounce back from that? Who steps right in to plug that hole? It also builds confidence with the other 10 players or other non-starters, so depth is very, very important."
"We had so much depth in all three levels," McFadden added. "You look at some of the great defenses that we've seen the years past, especially defenses that have gone on to win championships. They've all had to overcome injuries to key players, and great defenses can do that. Defenses that might not be on that same level might have issues overcoming injuries and key players missing time and things like that. But we were able to weather that storm and have enough sound depth that it wasn't as impactful as it could have been because we had depth."
Respect has to be earned and this Bills team knows that the only way they will get it is to win the whole thing. That journey continues tonight.
"I think as men, we want respect," Allen said on The Pat McAfee Show. "I think that's just something that's in nature we want the respect that we deserve. But at the same time, I'd give two sh* about all that. I'm so focused on just trying to be the best quarterback for this team, the best teammate that I can be, and try to win football games for this team.
"But again, with our defense, no Pro Bowlers. They're number one statistically in every other category, so it is a little mind boggling. Then suddenly you see Po (Poyer) and Micah be All-Pro guys and it doesn't really make a whole lot of sense. But at the same time, we're so internally motivated here in Buffalo, and we want to win for each other and, and that's what we plan on doing."