SCHWARTZ MAKING HIS POINT
When he was hired by the Bills as Defensive Coordinator back in January, Jim Schwartz made a point of saying that the only defensive stat he was really concerned with was points allowed. Not sacks, not interceptions, not rushing yardage - points.
Through three games, it appears his message is getting across. The Bills are allowing an average of 17.3 points per game. Only three NFL teams have given up fewer points so far this year.
Last season, at the end of the year, only three NFL teams gave up fewer than 17.3 points per game: the Niners, the Panthers, and the Seahawks. All three of them played deep into the postseason and Seattle won it all.
Making it even more impressive, the Bills have limited point production from two of the league's higher powered offensive attacks. Chicago is 9th in average points scored this season, San Diego is 13th. And the Bills have dramatically improved their points against from last year when they allowed an average of 24.2 points per game.
STUFFING THE RUN
Although Schwartz has maintained he's not that interested in keeping track of various statistical measures of his defense, it's hard not to notice how much better the Bills are against the run this year. It's only three games, but there's a marked improvement
Last season, the Bills finished the year 28th against the run, giving up an average of 129-yards on the ground per game. Through three games this season, they are the 6th ranked run defense, allowing just 64-yards per game.
And the numbers got a boost against San Diego. The Chargers hammered away on the ground Sunday, especially once they had the lead. But in their 37-carries, they averaged just 2.3 yards per rush. And in the second half, when the Bills defense tightened up, San Diego averaged 1.5 yards per carry on 19-attempts. That's a dramatic improvement for Buffalo's run defense over last year.
PICK YOUR POISON
We're deep into the gray area of illegal pick plays after the Chargers hit some big pass plays using the technique. Most notably, on the second play from scrimmage, San Diego had outside receiver Keenan Allen pick Bills slot corner Nickell Robey, and slot receiver Malcom Floyd was able to get open for a 49-yard pass play that set up the Chargers first touchdown.
It was a blatant pick. It's supposed to be offensive pass interference. And although the Bills acknowledge that, credit defensive players for not whining about the lack of a flag. In fact, most Bills defenders seemed to accept that picks are part of the territory in the NFL and they have to play better technique. That's what Head Coach Doug Marrone indicated Monday when talking about the plays.
"We got a little rub route going on, we go underneath instead of going over the top," Marrone said. "Phillip Rivers is a good quarterback and he's going to make you pay when you make those mistakes."
Safety Aaron Williams told reporters Monday the Bills have to figure out a way to play through the gray area of the rule book covered by picks.
"The pick routes really did hurt us early in the quarter," Williams said. "You try to find a communication between you and the ref to see what he can call, and what he cannot call as far as the receiver going to a guy or is he going to do a route, or is he trying to pick us. We're still to this day trying to figure what the rule is about that."
WADE AS A FOOTBALL FAN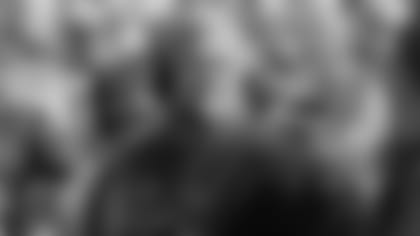 Upon leaving the broadcast booth after the final gun, I ran into former Bills Head Coach Wade Phillips in the Paul Maguire Club. Wade was in town attending the game with some Buffalo friends and he went to the UB-Norfolk State game Saturday afternoon.
Wade hasn't coached in Buffalo in 14 years, but the fact that he maintains friendships here is testimony to his good natured demeanor and genuine nice-guy personality. Wade is enjoying his first year out of coaching in a decade and a half, and he told me he enjoyed experiencing the Bills game as a fan.
I asked if he's planning on going to the Bills-Texans game in his hometown of Houston next week, and he said he probably would not. Just as well, I said, the Bills are now 0-1 when you're in the building.
With a smile on his face, Wade quickly corrected me.
"29-20," he said, including his won-loss record as Bills head coach. You gotta love Wade.