There are not many people that can say they met their soulmate in preschool, unless you're Bills quarterback Matt Barkley and his wife Brittany, of course.
A movie style love story, Matt and Brittany were just five years old when they met at Mariners Christian School in Orange County, California, in the mid-90s.
"We met in preschool. So, we went to school together when we were five," said Brittany. "The story is, that Matt went home and asked his mom what a cheerleader was, and she told him, 'Cheerleaders cheer for the football players on the field. Why are you asking? And he goes, "Oh, because Brittany said she's going to be my cheerleader when I play football. That's when my name was first brought up."
Inseparable from the get-go, Matt and Brittany couldn't stop talking about one another, and before they knew it, their parents were close friends too.
"I have a pretty similar recollection of those first couple years – not far off at all," explained Matt. "We met in preschool and we kind of always liked each other growing up. We went to the same school but then in third grade, I actually transferred to a different school and during that time we ended up being pen pals – we wrote each other letters. We wrote letters about our soccer teams, all sorts of stuff. It's pretty funny to look back on. We had this cute little puppy love kind of all throughout elementary school and middle school."
If "The Notebook" style letters weren't enough to hook you, then this next chapter in their story will.
"We weren't mean to each other," explained Brittany. "Everyone knew we liked each other but we weren't holding hands or kissing, any of that type of stuff. Our parents set good boundaries for us. [They would say], 'You don't date in junior high. Brittany, you don't date until you're 16.'"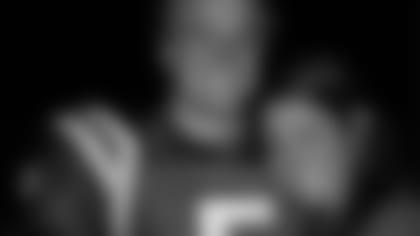 Although athletics separated the duo, taking Matt to Mater Dei High School to play football and Brittany to Northwood High for soccer, the spark that ignited nearly 10 years prior, was still very much there.
"He had to wait until I was 16 and it was right after soccer season. I remember [it was] my birthday and right when I turned 16, he asked me out and we did a lot of double dates and group dates all through high school," said Brittany.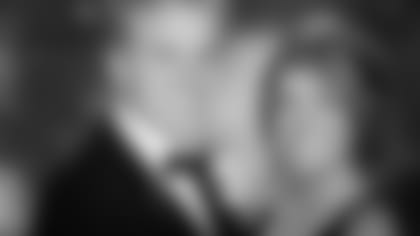 Sweethearts for most of their young lives up until that point, Matt and Brittany's relationship was tested once more when they went to college. However, the way they handled the situation was mature beyond their years.
"Matt committed to USC and we kind of knew we were going to go [our separate ways]," Brittany said. "I committed to go to Seattle Pacific University for soccer and so we knew we were going to be apart and we were the only people we ever dated and liked. We knew we loved each other, but we never told each other that we loved each other because that was something that you say right when you know you're going to marry someone. And it's not that we didn't know, it was just special to us. We actually planned our break up date and we kissed, and we broke up."
As part of their mutually agreed upon break up, Matt and Brittany didn't talk for three months. Yet, they couldn't shake their feelings for one another.
"We said we were going to be broken up for at least a year. So, we were as we said, broken for up a full year," said Brittany. "And then, I was actually dating someone, and Matt was pursuing me again. I was dating someone to show Matt that I'm not waiting. I'm not that type of girl that is going to wait for someone. I'm going to live my life. He came and Matt pursued me hardcore. He flew to Seattle, asked my parents where I was [and] said, 'Can I meet up with her?'…we finally met up and he said, 'Let's get back together. Are you ready for this?'"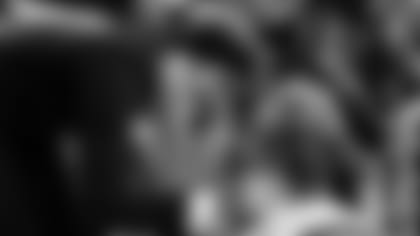 "I couldn't stop thinking about her," said Matt. "I dated around a little bit too, but nothing was the same. It was just almost further confirmation that I wanted to be with her. I knew that if we did get back together, it would be good. I think that break kind of confirmed that. It gave us a little bit of free time…It was tough at the time but probably worth it in the long run."
A huge testament to the strength of their relationship, Matt and Brittany dated long distance for their remaining three years in college.
"We were on the track that we knew we were going to get married because of distance," said Brittany. "You're not going to do distance just to do distance in college…"
Knowing full well that they had met their match, the two decided to tie the knot.
"Matt proposed to me back at our preschool that we met at. It was very special to me," Brittany said. "It was the perfect thing for our story just to be on that playground and then we got married right before his first NFL year in Philadelphia."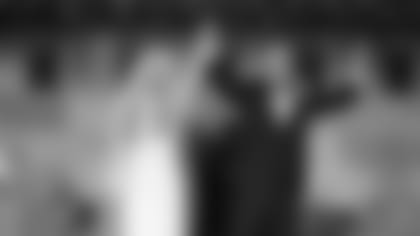 Despite a demanding NFL schedule, the Barkleys are able to draw upon their prior experiences for guidance.
"With football though, it's so great knowing Brittany for so long and playing in the league and already having that relationship," said Matt. "Rather than having to meet someone once I've already been in the league and you're not always sure of their intentions in the relationship…So, the fact that we've known each other for so long and we have a trust factor that runs much deeper than a materialistic level, is super comforting."
"I would say distance and dating helped so much because I feel like in the NFL there's so much distance in terms of their so busy during the season… I have to learn to be on my own and sufficient, but also confident in our relationship – even though we're not getting the best quality time in-season," said Brittany. "I feel so thankful because looking back, it really prepared our communication skills and everything that you need in terms of a foundation of like really knowing someone and now applying that in our job."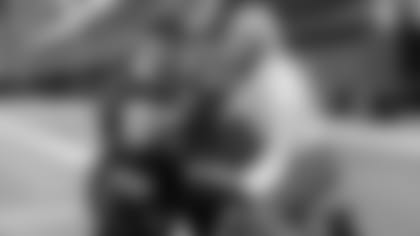 As they embark on the next phase of their lives – parenthood – the Barkleys are confident that together they can handle anything that life throws their way.
"When it comes to our kids, yeah, I mean regardless of if you're in the NFL or not, kids change everything," said Matt. "It's been a wild journey just learning how to be parents and at the same time, it's been really beautiful for me to see how Brittany is flourishing as a mom. I've known her for so long at a dating relationship…but then to see her natural instincts come forth as a mother, it's just a whole new chapter and it's really cool to be able to do that together."