Valentine's Day came early this year for Western New Yorkers at the Buffalo City Mission. With help from 14 Bills coaches, including coordinators Brian Daboll, Heath Farwell and Leslie Frazier, a special holiday-themed lunch was served to dozens of homeless and impoverished individuals on Wednesday. Teaming up with the Buffalo City Mission staff, the coaches, along with special guest Levi Wallace, had an opportunity to connect with their biggest supporters and to show how much they care.
"This is our second annual Valentine's community meal for the mission and the second [year] we had the Buffalo Bills coaches and staff on board…," explained Aubrey Calhoun, Associate Executive Director of the Buffalo City Mission. "This is a way that we can make sure that everyone in the community is feeling special and loved during the month of love for Valentine's Day."
The Buffalo City Mission, a non-profit organization that was established over 100 years ago, is available seven days a week to those in need. Thanks to the generosity of volunteers, the center can provide emergency shelter and meals to thousands each year.
"We have about 3,000 volunteers. They may come every Tuesday and serve lunch, or they may come to our Thanksgiving or Christmas outreach in the community," explained Stuart Harper, Executive Director and CEO of the Buffalo City Mission. "We've survived because of our volunteers."
For the coaches, many of whom volunteered at the Buffalo City Mission last year as well, the day of service was not only a great way to interact with the community, it also offered them a unique chance to bond with one another.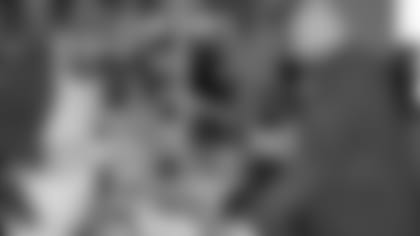 "No question [that this is a good bonding experience]," said offensive coordinator Brian Daboll. "I think Sean [McDermott] has done a really good job of bringing in the right kind of guys – people that want to give back, people that want to serve."
"These are Buffalo Bills fans," elaborated defensive coordinator Leslie Frazier. "I've answered a number of questions about our team and to hear people talk about, 'You guys are on your way [or] you're going to the Super Bowl' [is great].
"It's about affecting someone's life. This brings joy to my life along with the rest of our staff as well. Then it brings joy to them to be able to see us and be around us."
Despite being new to the Bills and to the city, special teams coordinator Heath Farwell got to see firsthand what Buffalo is all about.
"These people come here, they have their Bills stuff on – you just see the support," said Farwell. "Everyone you talk to here, they have our backs and that's what the city of Buffalo seems like it's like. I've only been here a few weeks, but I'm really enjoying it. [I'm] just enjoying the culture of what's going on – not just with our team, but with the community here."
Through their simple act of kindness, the Bills are optimistic that their efforts inspired hope and made a difference.
"Absolutely, [this makes a lasting impact]," said Calhoun with excitement. "Especially when you have the coaches and you also have the players that come as well. It really shows them that they're cared about. And what [a] great way to have the Bills organization be here and just take an hour or two of their time out to really uplift a community that's struggling every day. It's a blessing."