With an honest smile and childlike energy, Jajuan Harley begins the story he's told hundreds of times.
It's a story of promise, defeat, and resurgence – with a healthy dose of kids' toys and minimum wage – and it's a story Harley says he'll never tire of telling.
"No, no. I'll never get sick of telling it," he said, no conviction spared. "There were a lot of dark days at Walmart that I wouldn't want to relive.  But my story inspires people to keep going, and I feel like I could touch a lot of people and spread a message."
Eight months ago, as the rest of his current Bills teammates headed home for the offseason, Harley was trying to make ends meet, his dream to play in the NFL still motivating but distant.
"I needed money," he said. "So I went to every job you could name. I thought about the military. I tried getting a janitor position, Pet Smart, any job you could think of. Walmart happened to hire me for $7.73 per hour. Minimum wage. Working in toys."
A self-described "big kid at heart" and one to embrace his not-so-ideal circumstances, Harley said he actually had some fun with it. Most days, he didn't mind going to work. He'd run laps around the Walmart parking lot during his breaks, or escape to the fitness aisle and do some curls – anything to keep the dream alive while staying afloat financially.
It certainly wasn't the NFL, but it was a job.
It also certainly wasn't where Harley thought he'd be four years ago as a four-star safety recruited by a number of Division I colleges. The Tallahassee native chose Florida State, eventually transferring to Middle Tennessee State after an injury and some family matters. He declared for the 2013 NFL Draft after his junior year, but wasn't picked up, and didn't make the Seahawks or Broncos after tryouts. He even signed, but never suited up, for the IFL's Bemidji Axemen, mostly in an effort to get more film to show NFL teams.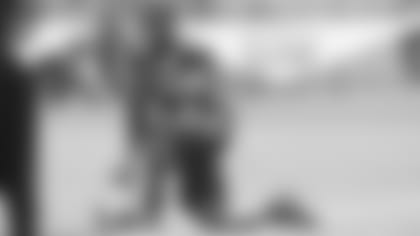 "I remember times I wanted to give up," he said. "I didn't want to go anymore. Times that I just thought it was over. But I kept believing. I thought about how it's a journey. And at the time it felt like a distance, because it was a distance. But at Walmart I was happy because I had faith thinking, 'I'm going to get the call. I'm going to get the call.'"
And one day in mid-January, he did.
"It was amazing," he said. "It was shocking. I hung up on (Bills Director of Player Personnel) Jim Monos because I thought it was a joke. I was working out back home at my high school, and I hung up and said, 'Stop playing.' But he called back and said, 'No, this is for real.'"
His NFL dream realized with work still to be done to make the roster, he brought his Walmart badge with him to Buffalo to remind him of the depths of his trial turned triumph, a tangible sign to back his belief that everything happened for a reason.
"I appreciate football so much more," he said. "That's why I'm happy I went through this because I feel like if I didn't, I wouldn't appreciate it this much. You go work at Walmart and you're on your feet all day dealing with customers and all the crazy stuff that goes on, and it makes you realize that football is such a great pleasure.
"It didn't just make me a better football player. It made me a better person."
He's become local inspiration back home, with friends, family and strangers knocking down his door to bring him to speaking engagements that he welcomes with open arms and humility.
"I tell my story because it's more than just about chasing athletic dreams," he said. "A lot of people have told me they've just wanted to give up on life, period. But to see my through my tribulations continuing on towards my dream, that inspired them to keep going."
And it's a good thing Harley never gets sick of telling his tale, because this certainly won't be his last.