On Monday evening, the Buffalo Bills held their annual Community Honors Dinner to recognize and celebrate the WNY community, alongside the Bills, for their off-field accomplishments.
Here are this year's honorees …
2022 Salute to Service Award - Reid Ferguson
The NFL's annual Salute to Service Award recognizes players, coaches, staff, and alumni who demonstrate commitment to honoring and supporting military and veteran communities. This year's Bills Salute to Service nominee is the current longest-tenured Bills player, Reid Ferguson.
Each season, the long snapper dedicates his time to honor active and retired military members. So far this season, Ferguson has hosted the "Thank a Vet BBQ" which benefited the Veterans One-Stop Center of WNY, and has visited the SPCA of Erie County to promote the Vets & Pets program and hang out with the SPCA's Veteran volunteers.
Ferguson has several family ties to the military, so in honor of them, he demonstrates his appreciation for our nation's military and their families through his continuous involvement in the Buffalo community.
"When I ask myself why does being nominated for this award mean so much to me, it is because of my family members, because of my friends, because of the local veterans and service members that I've met along the years that have shared so much with me about how they love the Bills but more importantly, our country," Ferguson said.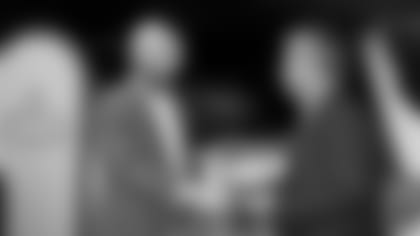 2022 Community Quarterback Award – Lisa and Samantha Sulkowski
The Buffalo Bills Community Quarterback Award recognizes individuals who exemplify leadership, dedication, and commitment to improving and giving back to our local community. This year, the Bills recognized two community quarterbacks, Lisa and Sam Sulkowski.
The mother-daughter duo started volunteering at FeedMore WNY almost 10 years ago. The two spend their spare time at FeedMore's warehouse sorting food donations, packing emergency food kits, and collecting donated food boxes to help feed the Buffalo community.
Any time a call is put out for extra help, the Sulkowskis are there to make FeedMore's mission come to life. Our partners over at FeedMore said, "Lisa and Sam are truly a shining example of not only FeedMore volunteers but of what a true City of Good Neighbors team exemplifies."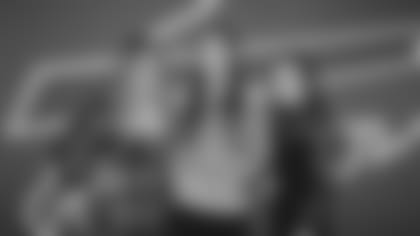 2022 Jr. Community Quarterback Award - Romello Early
RB Taiwan Jones and the Bills honored Romello Early as this year's recipient of the Buffalo Bills Junior Community Quarterback Award. This honor is given to a young person who has made a positive difference in Buffalo and Western New York through their community service.
Early, a seventh-grade student at Buffalo Charter Academy, noticed a classmate being picked on for the shoes he was wearing. Early said it "put a real bad ache in his stomach." So instead of looking the other way, he took action. The young boy saved up some money to buy his friend and classmate, Melvin, some new shoes.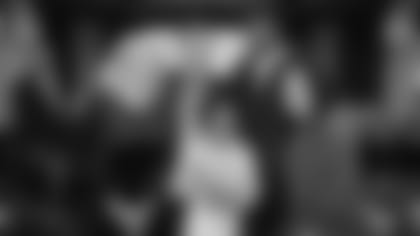 2022 Inspire Change Changemaker Award - Pastor James Giles
This year, the NFL introduced the Inspire Change Changemaker Award which recognizes and celebrates the impactful social justice work that everyday heroes are doing in their communities nationwide.
Buffalo's changemaker, Pastor James Giles, embodies all four pillars of the NFL's Inspire Change – Community Changemaker award through his dedication to criminal justice reform, youth education and mentoring, economic advancement, and police-community relations. Pastor Giles founded Back-to-Basics Ministries in Buffalo and has been responding to the needs of underserved communities in the City of Buffalo for over 25 years.
When Buffalo's East Side faced unexpected tragedy back in May, Pastor Giles served as a key leader in allocating resources for the East Buffalo community and bringing awareness to gun violence and injustice. Pastor Giles and the Buffalo Peacemakers continue to organize events in an effort to give back to the East Buffalo community.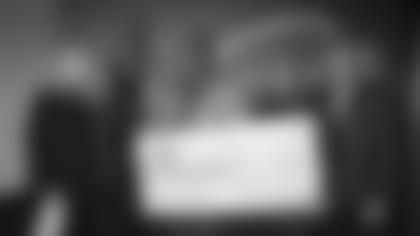 2022 Foundation MVP Award – Resource Council of WNY
Presented by Highmark BCBS of WNY
The Bills recognized the Resource Council of WNY as the 2022 Foundation MVP for their unwavering dedication to the East Side community and the remarkable services they provided in the wake of the devasting tragedy,
Following the shooting at the Tops Supermarket on Jefferson Ave, the Resource Council of WNY was quick to step up. The temporary closure of the supermarket resulted in limited access to food and toiletry items. But just two days after the shooting, the organization already had food distribution plans in place to help those in need.
The organization hosted a distribution every day until the end of May, and they not only continued these distributions for weeks but for months following the shooting. They distributed food and toiletry items to 78,206 individuals in just nine weeks thanks to the support of over 425 volunteers, in addition, they worked with partner agencies to add community-based services that included victim services, mental health and grief counseling, housing and utility assistance, a farmer's market, an indoor food pantry and more.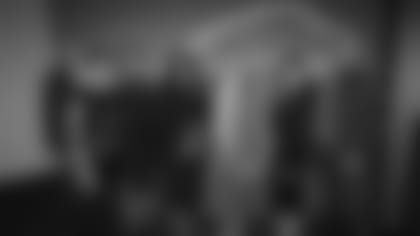 Community All-Star 2022 – Dawson Knox
Since his rookie year, TE Dawson Knox has been committed to helping families affected by pediatric cancer through the efforts of the PUNT Pediatric Cancer Collaborative. Knox's genuineness and dedication to the community earned him recognition as a 2022 Buffalo Bills Community All-Star.
Leading up to the 2021 season, Knox launched the "Knox Sox" Campaign and donated money based on his catches and touchdowns. The donated money was used to purchase non-slip socks for pediatric cancer patients in the Buffalo area and other PUNT programs. Dawson's Locker, also a part of PUNT, is stocked with gas and grocery cards, hospital parking, and cafeteria vouchers at the local hospitals here in Buffalo. In addition to these initiatives, the tight end spends many off days bringing smiles to patients at local hospitals.
"I'm a firm believer that we got to make the most of what we're given in life, and I think that anytime you put on a jersey in the NFL, you're given a platform to do some good stuff," Knox said. "When you go up into a kid's hospital and you put on that jersey you get to bring a smile to someone's face. It makes it all worth it … I can't thank them enough because they (PUNT) truly feel like they've given my football platform, a much bigger purpose."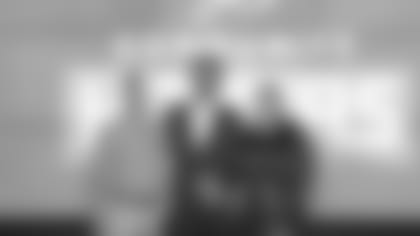 Community All-Star 2022 – Jordan Poyer
For the second year in a row, S Jordan Poyer is recognized as a Buffalo Bills Community All-Star. His off-field contributions are felt right here in WNY and in his hometown of Astoria, Oregon.
Poyer established the Jordan Poyer Foundation, which focuses on mental health and addiction advocacy which are two causes that are close to Poyer's heart. His foundation continues to support the Western New York Community by hosting events to benefit different programs at ECMC and most recently provided 210 Thanksgiving meals to dialysis patients and their families.
The safety has held a football camp in his hometown since 2014 for youth and hosted the first Jordan Poyer Open to help support future events and programs for his foundation. He represented the CMH Foundation last week for My Cause My Cleats and those will be auctioned off with all funds going directly back to the hospital.
Community All-Star 2022 – Micah Hyde
S Micah Hyde is recognized as another Buffalo Bills Community All-Star, also for the second year in a row. Micah and his wife, Amanda, launched the Imagine for Youth Foundation whose mission is to help children achieve a healthy, active, and educated life.
This year, Hyde's Charity Softball Game completely helped those who were affected by the Tops shooting that happened the previous day. Hyde expressed the importance of bringing the community together and the Imagine for Youth Foundation donated $100,000 of the proceeds to the Community Foundation for Greater Buffalo, to assist those who were directly impacted by the tragic shooting.
As we approach the holiday season, Hyde and the Kicks for Kids program will be gifting 200 pairs of sneakers to high school students within the city of Buffalo.
"This is something that my whole career of playing football, you want the recognition for what you do on the field, but I think the biggest thing is being recognized off the field for what we do in the community and what we do for the youth with my foundation," Hyde said.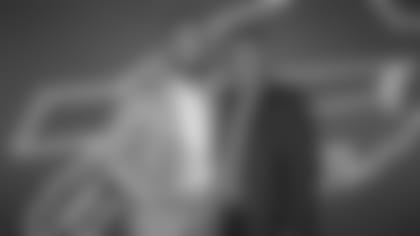 2022 Legend of the Year - Butch Rolle
Presented by The BFLO Store
The Legend of the Year Community Grant was created to highlight and support Buffalo Bills Legends who continue to demonstrate exceptional commitment to community service and philanthropic efforts in their respective location and communities. This year, Butch Rolle is recognized as the Buffalo Bills Legend of the Year.
The Butch Rolle Foundation helps students around the country touch down on college campuses by providing grants and scholarships. The organization's charitable efforts are aimed to provide assistance for low-income family students. "Our slogan is " I CAME BACK, TO GIVE BACK." Says, Rolle. We remain connected to the communities through our contributions, which allow us to help unlock students' educational potential to be productive and thrive."
To stay connected to the Buffalo community, Rolle engages with Bills Backers groups around the nation, and the former TE also performs annually at Jim Kelly's Kelly for Kids Foundation Golf Tournament & Gala.
"This community is like a second home, and it's important for me to give back and do things to help the kids out," Rolle said. "I'm honored, I love it, and being recognized by the Buffalo Bills and everybody for all that we're doing in helping kids is a great feeling."
The Buffalo Bills 2022 Walter Payton Man of the Year Award - Dion Dawkins
The Bills announced last week that OL Dion Dawkins was chosen as the Bills nominee for the 2022 Walter Payton Man of the Year Award. This prestigious award recognizes NFL players who have exhibited excellence on-the-field, and whose passion for making a lasting difference extends beyond the game and has led them to leave a positive legacy in their communities.
Dawkins has always been the first to sign up to attend a community event and has an almost perfect record for "Bills Community Tuesdays." He is involved in every NFL and organizational initiative including the Play 60 Challenge, Salute to Service Military and Veteran Appreciation, Crucial Catch Cancer Awareness, and Inspire Change Social Justice Awareness.
The offensive lineman started the Dion's Dreamers Foundation with the goal of providing mentorship and support to young men and women in underserved communities and to those in a place of mental, physical, and financial hardship. Between hosting events through his Foundation's efforts, and participating in Buffalo Bills and NFL initiatives, Dawkins continues to prioritize his community involvement throughout various neighborhoods in Buffalo.
"We give all of our time to the community which is you guys and I'm a true believer that this world is only going to work if everybody does everything together," Dawkins said. "There are so many different faces in this room and we're all here together because we're making the community better together."