Buffalo Bills Assistant Certified Athletic Trainer Greg McMillen was named the recipient of the 2013 AFC Tim Davey Assistant Athletic Trainer Award, announced during the 2014 NFL Scouting Combine in Indianapolis by the Pro Football Athletic Trainers Society.
"I am honored to receive the award and be recognized by my fellow peers," said McMillen. "The award is truly a reflection of all of the people that have played a role in my career including Dr. Robert Barton, Don Lowe, Abe (Ed Abramowski) and our organization's training staff and physicians."
"It's great to see Greg be recognized for his commitment and dedication to the field of athletic training with the Bills," said Head Coach Doug Marrone. "Greg is certainly deserving of the accolade. He is a member of one of the finest athletic training staffs, that does a terrific job with our players under the direction of Bud Carpenter, that I have been a part of during my football career."
The award was established in 2010 in Davey's honor. A former assistant trainer for the New York Jets, Davey passed away in 2010 following a career in the NFL that spanned 33 years. He was a member of the Jets' training staff from 1969-1977 before a stint in the team's operations department (1977-1991) and later in the NFL's game operations department. Each year, an assistant athletic trainer from the AFC and NFC is recognized with the accolade.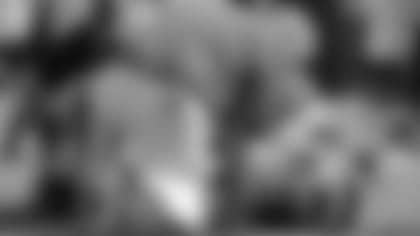 McMillen finished his 18th year as a full-time member of the team's training staff in 2013 after joining the organization in March of 1996. McMillen is one of four full-time athletic trainers on the Bills staff who are responsible for the daily needs and treatment of the athletes.
In 2007, McMillen and the Bills' training staff were honored as the NFL Athletic Training Staff of the Year by the Pro Football Athletic Trainers Society and Ed Block Courage Award Foundation.
Prior to joining the Bills, McMillen was the Coordinator of Sports Medicine at the HealthSouth Sports Medicine and Rehabilitation Center in Syracuse, NY from June of 1994 through March of 1996 after serving as the Director of High School Athletic Training Services at Onondaga Sports Medicine and Rehabilitation Center in Syracuse from July of 1993 until June of 1994.
McMillen also assisted the team on game days as a consulting athletic trainer during the 1990 and 1991 seasons and as a student athletic trainer during training camp from 1986-88.
A native of Elizabethtown, KY, McMillen received his degree in physical education with an emphasis in athletic training from Eastern Kentucky University in 1988 and was named the outstanding student by the National Association for Sports and Physical Education in 1987. He earned his master's degree in physical education with an emphasis in athletic training in 1990 from Syracuse University.