After trading up in the second round of last year's draft to select Dion Dawkins, the Bills front office and coaching staff were hopeful that he would provide stability at the tackle position. Fortunately, he has done just that. As Cordy Glenn struggled with injuries, Dawkins started 11 games, and played in all 16 in 2017. Dawkins believes that Bills fans should expect big things from him.
"A lot of leadership, a lot of tough days, and a lot of hard practices," said Dawkins. "The biggest thing is bringing some leadership to the table."
Second-year players do not always assume leadership roles, but Dawkins ability to step in last season and perform at a high level was admirable. Although he is expected to be the starter at left tackle in 2018, Dawkins understands that there is always something to improve upon.
"We need a lot of reps, and we need to do things over and over again," he said. "Mistakes happen when people don't practice things enough. Whether it is hand placement, footwork, or anything else; you have to keep working at it."
Dawkins' work ethic is sure to inspire those around him, but he says that he still draws from other guys in the locker room; especially Vlad Ducasse. 
"Vlad [Ducasse] is a leader. He's like a big brother that knows exactly what is going on," said Dawkins. "I am just taking everything in, just like I did with Eric [Wood] last year."
As for Ducasse, he is entering his second season with the Bills as well; and he is making the switch from right guard to left guard. When asked how he expects the transition from playing next to Jordan Mills to Dion Dawkins to go, he noted that there isn't much difference.
"It is all the same," he said. "You just go out there and do your job. The same thing goes for Dion, he is just going to go out there and do his job." 
The NFL is a grind, and Ducasse fully understands that. As a guard entering his ninth season, Ducasse likely understands the grind of the NFL better than most. He believes that the key to success in 2018 is continual improvement. 
"We just have to keep getting better and better every day, every week," said Ducasse. "That is my expectation of this group."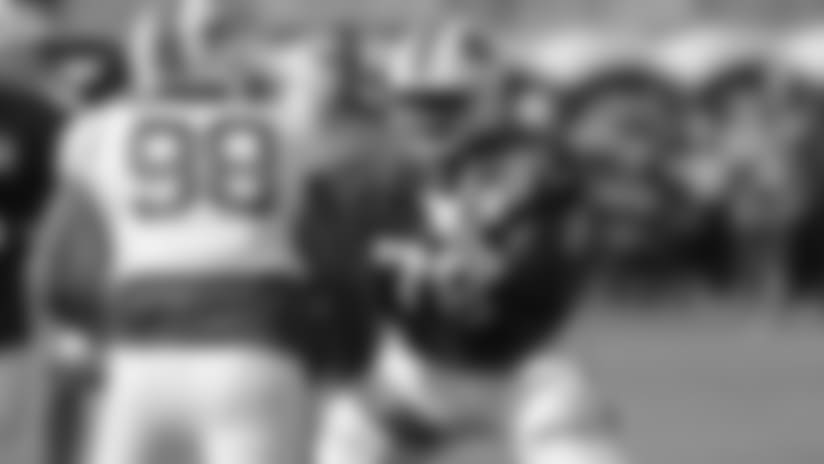 Another man on the offensive line that has followed the idea that continual improvement is necessary is John Miller. Miller played in and started just four games under the new coaching staff in 2017. However, he believes that accountability is essential at this level.
"Last year, unfortunately, I didn't do enough," said Miller. "That's in the past. I've come out this year with more focus, and I am ready to compete."
Miller is penciled in as the starting right guard, and he is enthusiastic about the current group of offensive linemen.
"We have a great group of guys here," said Miller. "I am excited about this year, and all of the new opportunities."
Miller's resiliency has not gone unnoticed, as Sean McDermott praised his ability to handle last year's challenges.
"I am proud of how he [Miller] handled everything last year," said McDermott.
As the regular season approaches, this group continues to develop camaraderie. With a young centerpiece like Dawkins, a veteran guard like Ducasse, and a man out for redemption in John Miller; the Bills offensive line could surprise in 2018.