With 40 receptions, 606 receiving yards and four touchdowns so far this season, it's safe to say that Emmanuel Sanders has made a positive impact for the Bills offense. Even with all he's done on the field, Sanders might have made a greater impact off the field in the Buffalo community in his first year here. 
Not even a month into the 2021 season, Sanders started connecting with the community and relaunched his foundation here in Buffalo. Most recently, Sanders hosted five families in the Dunn Tire Club for a holiday party this past Tuesday. Due to Covid regulations, Sanders couldn't attend the event in person. But he made the best of the situation and zoomed in, answered questions from the families and watched them open their presents. 
When the families first arrived, they were treated to a delicious dinner and were able to decorate their own Christmas cookies. Then the families were able to ask questions and talk to the Bills wide receiver, which made the event all more special. Sanders was asked about his career, what it was like to win a Super Bowl and why he started his foundation. 
Charmaine Jackson, a mother of one of the families who attended, was anxious at first to talk with Sanders. 
"It was a little nerve-wracking because of the status and who he is," Jackson said. "But it was cool that he was down to earth and willing to answer the questions."
After everyone had asked Sanders their questions, it was time to rip open the presents. Each family got their own Christmas tree and had about a dozen perfectly wrapped gifts to open. Some of the presents were UGG boots, board games, Nike shoes, jewelry, a variety of video games/movies and much more. You could see the delight on these families' faces throughout the whole night and at the end they were given one more gift. Each family received a football signed by Emmanuel Sanders. 
It pained Sanders that he couldn't be there in person. Given the circumstances, the wide receiver was still thrilled that he could be there via zoom to see the joy he brought to these five families.
"I am glad that I could join virtually as my foundation fulfilled five families' Christmas lists at the stadium," Sanders said. "The smiles on these kids' faces are something that I will always remember, and I am glad we were able to spread some Christmas joy."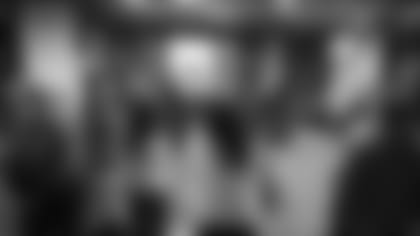 The Emmanuel Sanders Foundation worked with the United Way to select these families and give them a Christmas celebration that they'll never forget. For these families, it was nice to have somebody care for them and think about them this holiday season. Not only did they get to sit down and have dinner with their family members, but it also took away some of the stressors that come with the holiday season. 
"Oh, you have no idea," Jackson added. "It means a lot. Especially when people that don't have much around this time, it means the world to everybody. They have no idea how much it means to someone that is underprivileged, and that doesn't have much. So, just something like this, it means the world."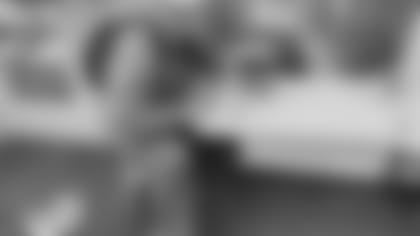 In addition to the event that Sanders put on, many other Bills players and coaches gave back locally to the Buffalo community or their hometown communities. 
The wide receivers worked together with the Y.W.C.A and adopted 18 kids from ages nine months to six years old and got them what they wanted off their Christmas lists. Wide receivers coach Chad Hall led this initiative and got each kid a winter coat, a Bills hat and two toys. A donation was also made to the Y.W.C.A on behalf of the Buffalo Bills' wide receivers. 
The Bills Toyota Rookie Club donated money to the Matt Urban Center located in Buffalo to be used for catering over 200 meals to those who need them most on Wednesday. The Rookie Club also adopted five families from the Rapid Rehousing program and fulfilled their Christmas wishes which consisted of different clothing items, gift cards and electronics. The Bills' rookies helped wrap the presents and signed all the gift tags.
Bills' safety Micah Hyde and his Imagine for Youth Foundation put on his annual 'Kicks for Kids' drive-through event for 153 kids in Lackawanna. On Tuesday night, families gathered outside of the Lackawanna Senior Center and in addition to new sneakers, each kid received an Imagine for Youth Foundation bag, an autographed Micah Hyde photograph, a bag of popcorn, hot chocolate and other holiday treats. 
In addition to giving back in Buffalo, Hyde and his foundation also ran this event for kids in his hometown of Fostoria, Ohio, as well as Cedar Rapids, Iowa and Detroit, Michigan. Hyde thinks it's always important to give back but especially around the holiday season. 
"It's important for me just because I feel like with the position I'm in, I'm able to," Hyde said. "I feel like I'm a role model and then on top of that growing up we didn't have that much money. I was circling every pair of shoes in the East Bay catalog, trying to get them for Christmas and knowing damn well that I wasn't getting them. I'm sure the kids out here in Buffalo and all around the nation are doing that same thing. So, for us to be able to do that for them is huge. And everybody loves a new pair of Nikes."
Jordan Poyer also gave back to his hometown of Astoria, Oregon. With the help of his father, they were able to work with local barbers and give free haircuts to the homeless and two hours of free laundry to anyone who needed it. They provided food, and from what Poyer heard, it was a really special event. Poyer was glad that even though he couldn't be there in person, he knew he was helping out his hometown. On Wednesday, Poyer explained why it means so much to him to give back.
"We're at a level where our influence has a lot of impact on people," Poyer said. "And it's just the little gestures, Emmanuel Sanders just got back today from (Demaryius Thomas') funeral over the weekend, and he said one of the things that he learned, that in life it's not about the money, it's just about the people that you affect. The people throughout your life that you might have had a conversation with 10 years ago, and they remember that conversation just based on how nice you were to them or the gesture that you made. So, friendship and camaraderie go a long way and I just want to continue to inspire and help in any way I can."
Many other players gave back to their hometown communities as well in this giving season. CB Damar Hamlin, who hosted a toy giveaway in McKees Rocks, PA. DE Mario Addison and his community partnership donated $10,000 and hosted his annual Toy and Coat Drive on December 18 in his hometown of Birmingham, AL. FB Reggie Gilliam donated presents to The P.U.N.T Foundation on Monday. CB Dane Jackson provided special holiday meals to the Pittsburgh-Langley K-8 School on Thursday. 
Bills' head coach Sean McDermott is immensely proud of all the things his players have been able to do this year and give back to people in the community who need it the most. He said that this type of thing gets lost this time of year with everyone focused on the playoffs and he is glad the players are getting the recognition they deserve. 
"I've been very impressed with the community involvement of our players, from young to old," McDermott shared. "From guys that just arrived here this year, to two guys who have been with us for multiple years. I think we do a great job, our CR department, our PR department as well, do a phenomenal job of getting those guys out there and impacting our community in a positive way. So much respect and appreciation. Hard to do in the midst of guys trying to do a job at a high level but really appreciate the way they're wired that way."