Sean McDermott is committed to making sure the Buffalo Bills are a strong team on the field, as well as off the field. So on the last day of OTA practice this week, McDermott invited high school coaches from Section VI to observe the Bills' practice.
Two of the more successful coaches in attendance at One Bills Drive were Rich Robbins from Canisius High School, and Mike Vastola from West Seneca West. Both were excited for the opportunity to watch an NFL workout.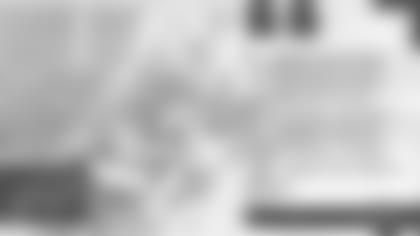 "It's always nice when the big team in town reaches out to the high school coaches," said Vastola. "You know the previous staffs had clinics, but we like the field experience and we're lucky to have gotten the invite and enjoy the nice weather. This is what coaches and football junkies like - seeing the game in action."
"It's outstanding," said Robbins. "Anytime a high school coach like me is able to be here, see some drills and watch the organization practice, see how things are done, and get to be around the Bills is a great day."
The opportunity also affords the coaches an opportunity to find new ways on how to run a practice or workout. Robbins said he knows that he will be taking things back to Canisius's turf.
"I love the tempo of practice. The music is playing and you see some of the things that we're doing already at our place, which is great," said Robbins. "You also get some new ideas and some different things for drills that we can incorporate into our program."
For McDermott, he understands more than anything that the Bills impact on the community is huge, and by giving this opportunity to high school coaches, he's paying it forward to more than just a few high schools.
"We as an organization feel it is important to connect with our community in a lot of different ways, and this is just another way we can do that," said McDermott. "We're all part of something bigger here. It's our community. It's not just the Bills community, it's not just Western New York, Buffalo, this is our community. So, going out to a football game on a Friday night, these [coaches] are out there working hard, and this just gives them a chance to see a little of what we do, not that it's all right, but it gives that chance to connect a little bit, for them to get to know us, and for us to get to know them."