It's a journey that began yesterday in Orchard Park, New York and will end 213 miles away in Canton, Ohio.
Joe DeLamielleure will walk from the fifty yard line of Ralph Wilson Stadium to the steps of the Pro Football Hall of Fame.
But it's a story and an inspiration that began some 20 years ago and almost 5,000 miles from Buffalo.
That inspiration, Joey Funderburk, was born without legs because of a rare birth defect, and was abandoned by his birthmother at a Romanian hospital.
Six years later, and by what she might call divine intervention, Chrystal Funderburk was on a mission trip to the orphanage where Joey was living, and said she knew at first sight she had to be his mother.
"I didn't plan on adopting a child at all, but I looked down into his eyes and I recognized him," she said. "He was my son. I thought, 'I know why I came here now.' He told me years later, 'I looked up at you in that hallway and knew you were here for me.'"
After a year and a half of adoption proceedings, Chrystal could finally take Joey home as her son, and begin to get him the medical treatment he so badly needed.
At 18 years old and a growing boy, Joey aged out of his prosthetic legs as well as the health insurance that covered them, which left the Funderburks – who had grown to include Joey's two sisters – in need of 120 thousand dollars for his new limbs.
"So that's when I said to him, 'Son you can't sit on the couch and expect legs to drop on your head. We just have to go out and get the money,'" said Chrystal. "We started selling donuts."
Remarkably, Joey made 40 thousand dollars through donut sales around his Charlotte, NC home, as well as through website donations, but it wasn't enough. After seeing his story on the local news, the national health show The Doctors took interest and connected the Funderburks with a hospital in Oklahoma, where they surprised the family by footing the rest of the bill for Joey's new prosthetics.
Not content to sit back and bask in their good fortune, they knew, much like the Hall of Famer they would soon meet, that it was now their turn to give back.
"Joey said, 'I want to see some other kids get homes. You changed my life and I want to do that for somebody else,'" said Chrystal.  "So we said let's start a foundation and help kids in the ways that God's blessed us. Let's get them adopted. Let's send them on mission where they can meet children or help children, and let's help them get the prosthetics they need, whether it be arms or legs, and give them a future."
Joey and his mom were connected with DeLamielleure through the owner of a local cheeseburger joint, who felt for Joey after hearing his story, and knew DeLamielleure had the notoriety to get the Funderburk's new charity, Grace's Lamp, on the map. It didn't take much for the generous DeLamielleure to jump right in.
"Once I heard his story I said, I gotta do something," said the 62-year old Hall of Famer. "It really hit home."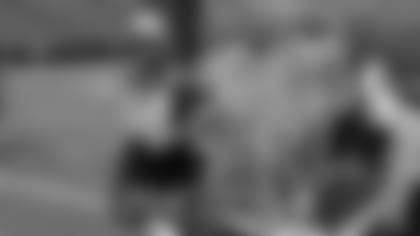 ](http://www.buffalobills.com/media-center/photo-gallery/Joe-Ds-Walk-from-Buffalo-to-Canton/a79175aa-9b31-4e73-b180-ba2469317f3b)
"We called him and never thought we'd hear back, but he's so gracious and kind, and 30 minutes later my phone rang," Chrystal said. "He's so funny. He said, 'This is Joe D. Tell me what you need.'"
What Grace's Lamp needed the most was a public figure to increase awareness of the issue and organization.
So during the 10th anniversary of his enshrinement, the 40th anniversary of his entrance into the NFL as the Bills number 1 draft pick, and the 50th anniversary of the Pro Football Hall of Fame, DeLamielleure pledged to 'Pound the Pavement for Prosthetics.' Starting July 10th and ending around July 20th, he will walk about 20 miles per day from Orchard Park to Canton.
"I consider myself a very blessed man" he said.  "I am walking to bring awareness and help support those young people who might not be able to walk."
"You'd think a guy with all of these credits would be stuck up," said Joey, with admiration and appreciation on his face, "but he is a down-to-earth, genuine, just wants to help people kind of guy, and we need more people like that."
To learn more about Grace's Lamp and donate to kids who've outgrown their prosthetic limbs and can't afford new ones, click here.