It was an opportunity that admittedly caught her by surprise. Yes, 2016 would be Kathryn Smith's 14th season in the NFL, and she had experience in college scouting and player personnel. Her last two seasons working directly with Bills head coach Rex Ryan, first in New York and then in Buffalo, also saw her job responsibilities channeling more toward the coaching side of the organization. But when Ryan offered her the full-time coaching position of Quality Control-Special Teams shortly after the close of the 2015 season it did catch her a bit off guard.
"I was surprised at first, but I also know Rex really puts a lot of faith in his staff and his people, so from that standpoint it made sense knowing I've worked with Rex directly and indirectly for a number of years," said Smith. "So he knows my work ethic and what I've done in the past, but it was a bit surprising that he came to me with this."
Unlike most coaches in the NFL, Smith carries the added title of pioneer as she's the first full-time female assistant coach in league history. While Buffalo's newest assistant coach completely grasps the magnitude of her hiring in a male-dominated business, Smith views her promotion as a stepping stone toward increased opportunities for women in her profession.
"Jen Welter did it in the offseason with the Cardinals so I think that was a big step," said Smith of Arizona's coaching intern this past summer at Cardinals training camp. "It's been pretty extraordinary the reaction, and I realize that it's groundbreaking. I might be the first, but I think very quickly there are going to be many other women in the league. So I may be the first, but I don't think I'll be the only one for very long."
Smith sees herself more as a spoke in a wheel rolling toward progress knowing there are far more women higher up the organizational ladder in the NFL than her.
"There are so many other females in very important roles in football organizations, whether it's in administration, athletic trainers, public relations, so many departments have women," she said. "Kim Pegula, for example, is our owner. I'm an entry level coach. So yes I might be the first coach, but I'm not the only woman in the building or dealing with the coaches or players on a daily basis. So that's how I'm looking at it."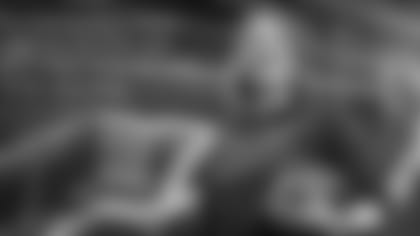 Bills owner Kim Pegula sees Smith's new position more as one that was earned through a dedicated work ethic and quality results, rather than a role than breaks through what had been an obvious barrier.
"Kathryn has been a part of Rex's staff for the past seven years and has proven that she does excellent work," said Kim Pegula in a statement. "While we understand the significance of this announcement, it's important to understand that Kathryn earned this position because she has shown she is qualified, dedicated and puts in the work needed for this role. We look forward to the contributions she will make to our organization in her new role."
Smith, 30, has spent almost her entire life in sports. From being a three-sport athlete in high school to a college degree in sports management, to beginning her career in the NFL as a game day intern, Smith has had a passion for athletic competition.
"I've always been involved in playing sports or being around sports," she said. "I worked with the men's basketball team at St. John's. Then getting in and starting at the bottom for an NFL team and just learning as much as I could and working as hard as I could really just fostered that passion for football specifically."
Over the past year in Buffalo, Smith had steadily been assigned more tasks with special teams and offense with a specific focus on certain special teams tasks pertaining to some of the same duties she'll have now in her new role. Ryan and special teams coordinator Danny Crossman were obviously impressed with her work. Working directly with Crossman and assistant special teams coach Eric Smith (no relation) last season has her confident that she will make a seamless transition.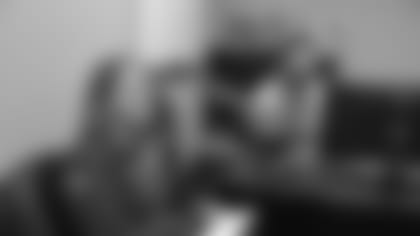 "I knew Eric a little bit when he was a player and then at the Jets he was a coach our last year there," she said. "Then he was coaching here and we were in very close proximity to one another in the office and we did some work together. He's been very helpful as far as teaching me things and just being supportive. I look forward to working much more in depth with him and Danny this coming year."
"Kathryn was in a football administrative role, but she's assisted the assistant coaches for years now and this is going to be that next step for her," said Rex Ryan. "To get her working on a daily basis with Danny Crossman and Eric Smith, I know she'll do a terrific job."
Smith's role will unfold in a step-by-step process as she gets adjusted to a full-time coaching role. Right now she's spending most of her time breaking down the special teams units of next year's opponents on tape. During the season she'll be heavily involved in readying the Bills scout team for practice every week to help prepare the starting special teams units for that week's opponent.
"I think starting in scouting and personnel really gives me a good foundation for understanding the game, the players, the positions," Smith said. "So I think that will just help provide me with a good base for now learning more of the specifics of what we do on special teams with respect to scheme."
Some of the nationwide response to her hiring has flattered Smith, and she has appreciated the support from co-workers and Bills players since the announcement. There were a couple of tweets in particular that she enjoyed.
"My top one is Barbie tweeting about my promotion," said Smith. "That was pretty awesome. The Girl Scouts of America tweeted about it, which I thought was pretty cool also."
Smith understands she's not just another NFL assistant coach. There's the added responsibility of being a trailblazer. That fact however, won't change her approach. She believes just doing the best job she can will take care of the added significance of what being the first woman in this kind of position means.
"My goal in this role overall is to do whatever I can to help the team win," Smith said. "For special teams specifically it's whatever I can do to help us have the best special teams unit and ultimately the best team. Just keep working hard, keep learning, keep doing what I have been doing and go from there."