---
---
They know they're the ones that quarterbacks look at for pre-snap tells. If a quarterback wants a sense as to what coverage he might get, he's looking at the opposing safeties.
But if you could peer inside the helmet of an NFL quarterback on a Sunday when he's facing the Bills defense in a passing situation, you'd see that signal caller not completely sure of what he's going to get.
Micah Hyde and Jordan Poyer in their two seasons together have become one of the best safety duos in the league when it comes to disguising what the actual play call is for Buffalo's defense.
"What I see on the field a lot from some of our opponents during the course of the season, and you hear it. They have a hard time understanding our coverages sometimes and what they are going to get based on what we have shown," said defensive coordinator Leslie Frazier. "It has a lot to do with what our safeties are doing and that has a lot to do with why we were number one in the league a year ago in pass defense."
---
---
Patriots head coach Bill Belichick still marvels at how both Hyde and Poyer technically put themselves out of position in an effort to hide the defensive play call until the snap of the ball, and somehow still get to their assigned spots to execute the call.
"They've always been good over the last couple of years with their disguise and the way their defensive calls complement each other," said Belichick. "The safeties do a great job of disguising and making it look like one thing and it turns out to be something else."
That often leaves opposing quarterbacks unable to find their best solution to the defensive call before the ball is in their hands.
"They do such a good job about giving quarterbacks looks pre-snap and then changing when the ball is snapped so now the quarterback, as he's dropping, has to figure now what coverage are you going to end up in," Frazier said. "Those guys add a lot to our defense beyond what they do athletically."
---
---
NFL Network analyst Daniel Jeremiah enjoys watching the way Hyde and Poyer push the limits of staying out of their assigned location for the play call until the ball is snapped.
"I was working in Baltimore when Ed Reed was there and Ed would do it," Jeremiah told Buffalobills.com. "You'd be watching it going, 'Oh boy Ed, they're getting ready to snap the ball. You better get to your spot.' He'd pull it off. To me it's a combination of having ridiculous range on the physical side of it and then having a timing and understanding from an instinct standpoint. There just aren't many guys who can put that together."
Carolina head coach Ron Rivera found his eyes gravitating to Hyde and Poyer during the two days of joint practices between the Bills and Panthers. Their play reminded him of his rookie year as a linebacker with the 1985 Bears when their starting safeties were Dave Duerson and Gary Fencik, who logged 10 interceptions that season.
"I like their safeties," said Rivera of the Bills. "I think because of who they have back there and the stuff that they've done. It's very similar to what I grew up with in this game. Just watching them execute I think they have a good duo back there."
"They do such a good job of working together," said Jets quarterback Sam Darnold of the Bills' safety pair. "It's almost like they are in each other's heads. You never know what coverage they can be in pre-snap. We do our best preparing to try and figure out tips whether it's the D-linemen or some of the linebackers, but they like to rotate late. A lot of teams are trying that nowadays, but they work really well together."
"Their secondary is one of the best in the NFL, so I think the respect for those two is right up there." NFL Network analyst Daniel Jeremiah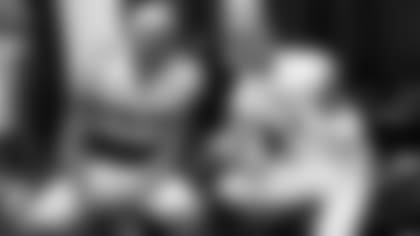 ---
---
Bills quarterback, Josh Allen, who sees how Hyde and Poyer operate in person more than any QB in the league, loves trying to solve the mixed signals they give every day in practice.
"I really believe we have the two best safeties in the league," said Allen. "How they move, 21 and 23 might as well be the same person on the field. They're moving in unison. They're very vocal with each other. They know what they're doing. They disguise things so well. It's a real challenge out there on the football field."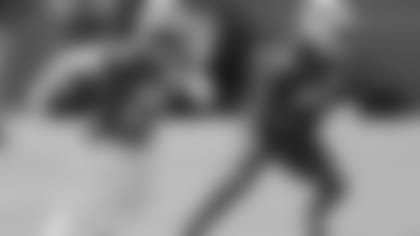 ---
---
So is there a way to see through the ways in which Hyde and Poyer disguise the true intentions of Buffalo's defense on any given play?
"It's hard to get over the top of those guys, so to me the solution is you take the layups where you can find the layups," said Jeremiah. "How do you crack that code? I think you stop trying to crack that code and take what they give you. That's how you have to work against them if you're going to have any success."
Now entering year three as a tandem in the Bills defensive backfield, Hyde and Poyer don't feel like they need to expand or diversify a lot of what they do. Though they have added other members of the back seven on defense to vary the looks pre-snap.
"The personnel tendencies that the other team runs, we have certain calls to go against them," said Hyde. "We know what they like to do and we have calls to try to beat those plays. Now for us, as we run those plays, do we set it up where we just run it? Or do we mess the quarterback up, or do we just disguise? Sometimes we're just freelancing. So you never really know what we're doing because now we've incorporated the corners and linebackers and it's getting pretty dangerous for the opposing quarterbacks."
---
---
Their rate of success and deep knowledge of the system has given them even more freedom to take risk and adjust on the fly if there's something they believe will put them in an advantageous situation to make a play.
"Our trust is implicit at this point," said Frazier. "They know the scheme as well as we do as coaches in some areas. When they see things, for example, they'll come to me and say, 'Hey coach, can we maybe take a look at this or take a look at that,' I'm listening. Probably eight out of 10 times, I'm going to say yes, go ahead and do it. They've earned that trust because of some of the things they've done for our defense."
That latitude to improvise is a big reason why the pair have logged 16 interceptions over the last two seasons.
"Just the amount of trust that the defense has put into Micah and me, it's a great responsibility to be able to go out there on Sundays with the team trusting us to make a call and to disguise," said Poyer. "We feed off each other. If Micah sees something he'll tell me to show this or that. He might see something that I don't and vice versa. So we'll continue to work, but it's nice to have a DC who trusts his guys."
After the Bills finished first in the league in pass defense in 2018, Hyde and Poyer are no longer a secret in league circles.
"Their secondary is one of the best in the NFL, so I think the respect for those two is right up there," said Jeremiah. "I think when they win some more games you'll see them get more national attention.
"When you talk about a pairing of two safeties, I don't know if there are many you would take before them. Just in how they work in concert with one another. I think there are other safeties who individually are better, like Derwin James, but the combination of those two… I can't put any other pair up there with them who can play off each other like they can."
*Eric Allen contributed to this story.