With thousands of fans lining the stands to get a look at the Bills prepping for the upcoming season, the cheers of excitement were many and the worries were few at Sunday's training camp practice. Among those in attendance at St. John Fisher College, was a particularly upbeat group of young men and women from Special Olympics New York.
As they eagerly awaited an opportunity to interact with their favorite players, the energetic fans caught the eye of new center Mitch Morse. A well-documented supporter of the special needs community, Morse, whose younger brother Robbie suffered a traumatic brain injury when he was an infant, instantly made his way over to greet the smiling guests.
Shaking hands, taking selfies, signing autographs and even exchanging contact information with his new friends, gave Morse a unique chance to forge a relationship with those in the Western New York community, while giving back to a cause he is deeply passionate about.
"It's great. The sense of community is always important," said Morse. "I think to have that in such a short amount of time being here, it's special and I really cherish it.
"It was just a great way to connect and kind of hear their story and how they're involved in the Special Olympics or throughout their community and it's always incredible to see how nothing really gets that crew down. They're always in great spirits and it's something that you can learn from..."
Although a small gesture in his mind, Morse touched the lives of those he met in ways he could never have imagined.
"It's just beautiful…because it's not something that they normally get to experience, and players are so kind to them," said Brenda Latimer, the mother of a Special Olympics athlete, as she fought back tears. "My son…has season tickets and he's come to every home game since he was five. And last year [when we were] here, was the first time he's ever met a player like this and had a [chance to get a] signature. And he goes to every game and is one of the loudest cheering them on.
"So, it's just a really good experience that they normally wouldn't get. We live in Mayville, so he goes to Chautauqua Lake school and he loves the Bills, and everybody knows that…He was on the front page of the newspaper at home with his Bills jersey at a Bills game for his love for the Bills."
Decked out from head to toe with red, white and blue team gear, it certainly wasn't hard to tell that Justin, who is 21 years old, is a die-hard fan. In addition to his Buffalo garb, Justin was also proudly sporting his medals, which Morse was impressed by.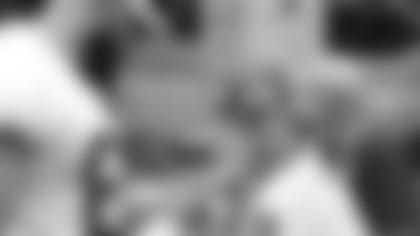 Although it lasted just a few brief moments, the encounter was enough to showcase just how big Morse's heart is.
"You could tell his compassion," said Latimer.
Bringing things full circle for the Bills veteran lineman, Morse thought of his deep love for his brother, which made the afternoon even more special.
"Absolutely. No doubt about it. It's a treat. It's a privilege to be a part of," he said. "As a member of this team, it's your duty. It's a privilege to be a part of a community and you've got to give back – even if it's just sharing some time. It's always fun for me. I mean, shoot, those people are a blast. It's always a good time."
Photos of the Bills signing autographs for fans during opening week at St. John Fisher College. Camp autographs are presented by Eaton Office Supply.