"My Daily Routine," a new buffalobills.com series presented by Supercuts, goes beyond the football field to give fans a unique glimpse of the Bills.
As a general manager, Brandon Beane keeps a very busy schedule. Between Bills games and college visits, Beane is frequently traveling. To give fans a deeper look at what his life is like on the road, Beane shared details on a recent trip that he took out west. From Thursday, Oct. 24, through game day at New Era Field on Sunday, Oct. 27, Beane breaks down life as a GM in the NFL.
Thursday, Oct. 24: Hitting the road
That Thursday, my flight left at 7:15 a.m. I got to the airport at 6:15 a.m.
Do you have a time that you wake up every morning?
No. I mean, generally, if it's just a normal day, I get up around 5:50 a.m. That's what my alarm is set for but some days, it depends on if I am on the road or not or if I have a flight that day. If I have a 7:15 a.m. flight, I have to get up earlier than 5:50 a.m.
Do you have an airport routine?
No. I have TSA PreCheck. I go through the line, because you walk right through, and I time it up to go right to the gate. I don't stop.
No. I don't drink coffee. I drink a soft drink or have an energy drink if I am tired.
What do you do on the flight?
On the flight, I will read through the background of these players. Our scouts have already been in there and they've gotten the background. I'm reading where these players are from, everything from A-Z. I'm learning about their family make-up, if they have a brother and sister who was an athlete in school. You're just trying to find out what their DNA is.
Approximately how many of those stories do you have to read?
It depends on the school. So, you're probably seeing an average of 8-10 per school. But, if you're going to these bigger schools, you could be reading 15-20. You know, the Alabamas, LSUs – those types.
More on visiting colleges
Are you preparing questions on the plane too?
So, I don't get to meet with the players. I'm meeting with, you start with, a pro liaison and then if you know a coach, you go down and talk to the strength coach. You ask them about their weight room habits, ask them about some of the things they do well physically. Sometimes these guys will give you an indicator of the things the players are going to test well on at the NFL Scouting Combine and sometimes they'll show you images of these guys when they got there and then now. You can see how their bodies changed. So, we'll see their weight progression, their strength progression.
How do you decide which trips you go on?
Basically, I'm trying to get to the games with teams to look at as much as I can. Sometimes it works during Bills road games. If we're playing the Cleveland Browns, maybe I'm going to time it up to go to Ohio State. You know what I mean? It doesn't always work that way, though. When we were in Nashville, I went to Michigan. It was an easy flight from Detroit right down to Nashville.
About how long are you at a college?
It varies. It varies on how long they'll let you stay at practice, how much access they'll give you, but schools have a film room. If I'm there early enough and they're done, I can just go in there and flip on some film. I bring film with me too. So, on the plane, I am reading background, but I'm also watching tape. Basically, I download games to watch and take notes just to fill time. Salt Lake's a long flight.
From there, I actually flew late Thursday night to Denver. Then I checked into the hotel late Thursday night.
Friday, Oct. 25: USC vs. Colorado
Then Friday, I get up and basically do film during the day. I'll also once our Bills practice is complete, if I can and have time, I'll download our practice and watch it since I'm not there – just to see how our guys look.
When you get to the hotel, do you go right to sleep?
On this trip, I watched the end of the game. There was like 10 minutes left in the Thursday Night game. I watched that and then went to bed. Then I got up to grab a quick bite.
Are you up early on Fridays during trips?
Out there, I was up at 5:50 a.m. because of the time change. That's what's always tough going west. But, yeah. I'm up watching film then I grab a bite to eat. I went for a jog at lunch and then came back and watched our practice. I downloaded that and then I started driving to the game. I get to the games about two hours ahead.
What do you do with that time before the game?
Well, you park, and you walk in. You need to go through all the entrance stuff. It's a little harder than going to our games. Then I go up to the press box. I have a seat in the press box and so I set up my Microsoft Surface, get out my binoculars, get out my notes and then about an hour and 15 minutes, an hour and a half, before kickoff, I'll go down on the field and talk to people that I know.
I knew several coaches on each staff from USC and Colorado. So, I talked to them and asked them about their guys.
Is it the same type of questions you ask on college visits?
Yes, the same kind of questions. I try and get to know them, try to feel them out. Then, I'm watching the game, watching the guys.
Sometimes I'm watching matchups like if there are two guys that are talented going against each other, I assess and think, 'How are they doing?' I can't watch everybody and every play. So, sometimes this series I'll think, 'Hey I'm going to watch these linemen going against each other. This series, I'm going to watch this wide receiver and cornerback.' I'm just trying to take notes on where they're at. For instance, does this guy play special teams? If he does, what does he play?  Anything of note that happens in the game, I write down.
Although you have to evaluate every position, is there one you gravitate towards or enjoy watching?
I just like watching good players. I enjoy watching players that are talented. Whether it's a defensive end, a quarterback, a receiver, you're going, 'Man, this guy's good.' You kind of find yourself, when you're watching tape, going, 'Man, this guy's killing it.'
After the game did you/do you normally meet with anyone or do you just leave?
Saturday, Oct. 26: Wisconsin vs. Ohio State
Did go back to our hotel after the game and fly out Saturday morning?
Yes. So, Saturday morning, I left at 4:45 a.m. Colorado time.
Did you follow the same process on the plane, or did you sleep?
No. I thought I was going to sleep on this flight, but I don't sleep well on planes. I threw on a little bit of film of those two teams – Wisconsin and Ohio State.
When you got to the game, what did you do?
Yes, so basically there, I went right to the game and then flew out to Buffalo afterward.
Saturday night: Back in Orchard Park
Did you spend time with your family when you got back'?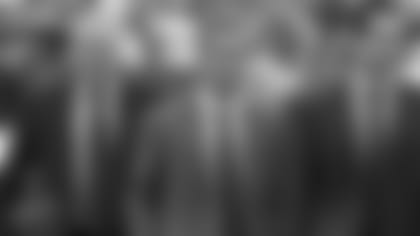 Sunday, Oct. 27: Game day at New Era Field
On game days, what time do you get to the facility?
I usually don't sleep that well the night before a game. It depends, but usually a night before a game, unless I got in way late and am beat, I don't sleep well.
Are you excited and anticipating the game or are you nervous?
Yes, I'm excited. The hay's in the barn. You can't really control much at this point. I can't go out there and play. So, it's that. But I get in here and sometimes Terry Pegula is here and I'll go through with him some of the things I expect and who's going to be down, who's going to be up in the game.
Where do you sit during the games?
So, we sit between the two radio booths. We've got John Murphy and Eric Wood to our left and the visiting to our right.
Do you have any official responsibilities leading up to kickoff?
Yeah, just going out and I'll watch our guys warm up and then I'm doing the same thing as on road trips. You'll see people you know from the other team like players, coaches, staff. It's normal greetings there. If I know some people that have field passes or something, I'll say hi to them. You know, I try and watch the start of their warmups also to watch any of their players to see how they look or see if I see anything that's out of the ordinary…maybe get an indication of what they're going to do. Then I'll go watch our guys warm up and as soon as warmups are over, I get on a cart ride to the box we sit in.