"My Daily Routine," a new buffalobills.com series presented by Supercuts, gives fans a glimpse of the Bills. Highlighting the intricacies that differentiate professional athletes from other individuals, as well as the commonalities that we all share, "My Daily Routine" goes beyond the football field.
My schedule is pretty much laid out, day by day. From getting up and working out in the morning to what I'm eating to practice. Bills linebacker Lorenzo Alexander
It's not often that you see double digits in the experience column for NFL athletes. It's even more rare to see a player revitalize his career at a time when most with the same number of years under their belt, would be winding down. At 36 years old, Bills Pro Bowl linebacker Lorenzo Alexander is still tearing it up on the field and one of the reasons he's still able to play at a high level, is because of his routines. Alexander, the Bills "fountain of youth" shared what a typical game weekend looks like for him, starting with Saturday morning and ending Sunday evening after a home game.
Saturday morning
Saturday morning, I'm usually getting up around 6:20 a.m. Then I come up here [to the facility] and eat breakfast.
Do you listen to anything when you're in the car on the way to the facility?
Yes, I listen to a lot of, I guess the specific qualification would be, gospel and hip hop. Andy Mineo, Benzo, McCray – there's a ton of guys out there…
That doesn't change. I like that genre of music. That's what I vibe to or gospel. When I'm doing Pilates though, I'm doing more gospel. Traditional gospel.
At One Bills Drive
My breakfast every day is the same thing. I eat a keto waffle, egg scramble and some bacon, with a cup of coffee.
Do you put anything in your coffee?
I'll do heavy cream and they also have this MCT oil from 'Perfect Keto. I'm out of the 'Perfect Keto' mix – I've been doing heavy cream, when I don't have that. So, those are the two options that I normally use.
Then I'll go down to the training room…and we'll do some hip mobs, some ankle mobs. They'll adjust my back, hips – just stuff to get [me] going, making sure I'm aligned. Unlike most guys, I actually do an activation lift…on Saturday morning to prime my central nervous system.
What does that activation consist of?
I'll do probably 15-20 minutes of Pilates before I do the activation to kind of activate my core and wake my body up. Then I go up to the yoga room that we have now [and] pretty much I'll…turn that up to 90 degrees, so it's warm in there and I can get a sweat and let my joints feel good to.
Then I'll go downstairs, and I've worked with Will Greenberg [assistant strength and conditioning] on kind of like an activation sequence, where I'll do five sets of four on the Keiser squat – like at 200 PSI and then I'll have three minutes between each set. Then normally, between each set, I'll do some other type of activation – whether it's a glute or band walks. I may do some more additional stretching, just depending on how I'm feeling things I want to attack in those three minutes.
Then I do two sets of three of 10-12-pound med ball tosses in the air and then I do four, 10-yard resistance sprints with chains. That takes me about a total of 30 minutes to do that and the Pilates.
Is this something you and the trainers came up with together?
Yeah, Will [Greenberg] introduced it to me. I've kind of adopted it. He's a great resource. He does a great job of educating himself and going to different seminars. This is just something I've added on. Last year was the first year that I did it. This is the second year of me doing this Saturday [workout] routine but I really feel like it helps – especially later in the year. Being an older guy, the first thing that I've always felt like leaves, is that hop that you feel. You feel like you have some juice in your legs to run or jump.
Late November, December when I wasn't doing this routine, my legs would feel dead and I didn't like that feeling. So, this helps a lot with that.
It sounds like you're working on your mind at the same time.
Yeah. Mind, body, soul. Just trying to get everything going the same direction, every day.
What comes after your 8:45 a.m. meetings?
Walk-thru is after all of our morning meetings.
Do you do anything after walk-thru?
No, [not at the facility]. I tend to head home. It depends, if we have a home game, it's a little bit different.
Family time
If we have a home game, I can get to the end of Zoie's soccer game because the boys play earlier this year. So, I can't get to see them play but I can catch the second half of her soccer game, which has been cool to see her play. She's gotten a lot better in her second year playing soccer.
Then sometimes I might have a community service event or something like that, depending. But if I don't have anything like that, normally I'll go home and take a nap because my son will nap – the baby. So, I'll try and get a nap in with him and let them watch a movie or something.
R&R
Before we go to dinner and after my nap, I will NormaTec for 20 minutes. It's…[for] compression and recovery.
Has that process helped you? How long have you been doing that?
I think I bought my first NormaTec when I was in Arizona. That was year 10 or 11. So, probably somewhere in there. It helps flush your legs out. It takes the lactic acid and swelling out of your legs.
Dinner
Then we normally do a family dinner around 5 o'clock. Sometimes I might even take them [the kids] to a bounce house around the corner…before we go to dinner. It all depends on how I'm feeling and the flow of the week and who's in town.
Do you eat specific food for dinner before a game? Does that matter to you?
Well, it typically does [matter]. Typically, we go to… [a restaurant] when I'm home. For some reason, everywhere that I've went [this season] has had ribs. So, I've eaten ribs for every meal this year for dinner. The New York games, obviously we played the same place [and stayed at] the same hotel. I've had ribs every Saturday night.
Would you ever switch what you have for that meal?
It will switch. It's just how it's happened this year, but I am little looser on my diet for Saturday night because I am carb-loading a little bit [more than]…the rest of the week.
More on his meals
Do you follow the keto diet?
Yes. My wife [and I], we just started that this offseason. She got into it and then I did it.
I am probably closer to the strict side…but like I said, I'll have some stuff Saturday night or after the game, we haven't gotten to that yet, that's not keto at all. I want to eat and feel good versus maintaining [the diet].
What do you do after dinner?
Then we come over here [to the facility] for chapel, which starts at 7 o'clock and then we go into our nightly meetings.
How long does chapel last?
Is this same type of schedule whether you're home or away with the chapel and the meetings?
Yes. Everything is here [for home games].
Saturday night
Then [at the hotel] I normally have a night cap – a cup of coffee with heavy cream.
Having coffee at night doesn't bother you?
I'll do decaf, but [no] it doesn't bother me. The only time it bothers me is if I drink the coffee, I can still go to sleep, but I can tell I sleep differently, if I have coffee right before I go to bed. So, I tend to do decaf now because I want to get a good, sound sleep.
What time do you go to bed?
I normally watch some shows on Netflix [before I go to bed].
What kind of shows do you watch?
It depends. I was catching up watching 'Snow Fall.' The 'Wu Assassins' is another show. [I'll watch] any kind of DC stuff…[like] 'Flash,' 'Supergirl' – I love all those types of shows.
How many hours of sleep do you need to perform how you want to on game day?
I have to get about eight hours. So, I'm normally in bed at 10:30 and getting up at, for home games, 7:15 a.m.
Are you a light sleeper or heavy sleeper?
I'm a heavy sleeper, especially initially when I go to sleep. I'm not moving. Obviously, the closer it gets to me waking up, I can hear things, but I sleep well.
Do you have your TV on when you sleep?
No. I turn it all off. I probably can fall asleep with the TV on… if I am tired, but I black it out.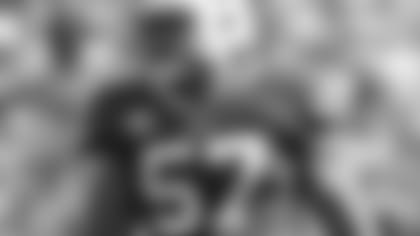 Game day
How do you wake up in the morning?
Just [using] my iPhone alarm.
What is the first thing you do when you wake up?
That kind of varies too, but for the most part, I just throw my clothes back on because when I've changed lately, I'll go back home and actually get dressed the way I want to get dressed for the game. So, I normally go back home. I'll listen to a playlist I have – I have a 'ride to game' playlist with similar artists like I mentioned earlier. [I] just [like to] get my mind ready to play [and my] spirit, body – all of that [ready] to go.
At home
When I get home, I get a chance to take a shower and put on whatever clothes I'm going to wear to the game. Then I can get 20, maybe 30, minutes to hang with the kids, watching morning cartoons and kind of hanging out on the couch. So, I get to snuggle with Myles and just kind of hang out and be [with my] family a little bit. That's something that I just started doing, which I really, really enjoy. The older I get in the league, [the more] I realize how important that stuff is versus just trying to be all focused and locked in.
Pregame process
Guys get here, I think, two hours before the game [since that's when] you have to be in the locker room. I'm here four hours before. I eat breakfast over here.
Yes. Keto waffles, egg scramble with sausage, mushrooms and cheese and spinach in it and four pieces of bacon. Then I'll have my cup of coffee with it as well. I'm normally the first one in the locker room – either me or Reid [Ferguson] depending on who kind of finishes first.
What do you do after you eat?
Walk over to the locker room…and just kind of start my pregame process. I don't technically need that long of time, but I like being in the space, where there's not a lot of people here yet and I can take my time. I don't feel like I'm rushed.
What does your process consist of?
When I get here, I see…[the trainers and] we start our process – the hip mobs, ankle mobs, [they] crack my back. You know, if I have anything that may have been bothering me that week, you address that as well. Then I go into my own 15-20-minute activation process after I see them.
Then I go out to the field at 10:30 a.m. for home games and do a 15-20-minute warmup on my own. Then I do probably five minutes of some pass rush stuff with John Egorugwu [Bills defensive quality control/assistant linebackers coach], just to kind of get…[the] fundamentals together. Then I bring it on in and see…our chiropractor…then I'll get dressed – everything but my shoulder pads. Then I'll get stretched out by Jason Oszvart [ strength & conditioning assistant].
[After that, I] put the pads on and then I'm ready to go.
I take some supplementation throughout that time too.
Do you have headphones in during this? Do you listen to the same kind of music?
Yes. I listen to a pregame list that I put together.
Are you superstitious at all?
I am, but I've tried to work my way out of that because I think when you're superstitious, you become more reliant on the order of which you've done [things] and not trusting the process or God and who you are and what you've done. So, I am but I try to work away from that.
Do you pray before the games?
Yes. We pray as a team before every game and then kind of throughout the process, I'm praying as well.
Postgame
I'll have a protein shake because we tend to go out to eat [after games] …My wife will typically, you know, ask me what I want before. Like my aunt was in town this week, so she made a bunch of dishes that I love, so it depends. I'm not worried about how much I eat or what it is. I just want to eat and feel good, enjoy it. [At this point] I'm starving because I really haven't eaten since breakfast. I've had a couple shakes and stuff but nothing that's holding me down.
Do you go to bed around the same time following a game?
Well, it depends. It depends on how I feel. I started [going in the] ice tub after games and…that kind of brings my body temperature back down so I'm able to go to sleep earlier because before I wouldn't go to sleep until like 2 or 3 a.m. But once I started doing that, I can at least go to bed at you know, 11:30 p.m. – 12:30 a.m. – even when all your endorphins are off the charts from playing a football game.