While most of the headlines coming out of Wednesday night's practice dealt with who was starting at quarterback for the Bills in their second preseason game, there were some quality plays at practice in one of the final evening sessions at training camp.
Kevin Kolb will be getting the start at quarterback as head coach Doug Marrone sticks to his plan of keeping the competition as equal as possible. Kolb's knee injury complicated things, but Marrone feels he has the quarterback battle back on track.
As far as what he's looking to see from Kolb, Marrone didn't have a checklist of items in mind.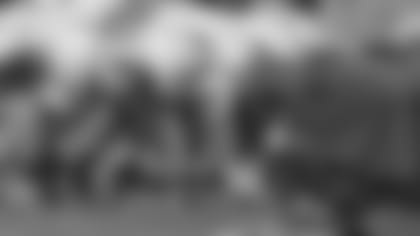 ](http://www.buffalobills.com/media-center/photo-gallery/Top-Practice-Photos-814/8f7caaf7-debf-42ee-b476-8e9cb25e41ad)"I'm looking for him to play, play football really. Nothing specific," said Marrone. "I just wanted to make sure he was healthy and I asked him if he was healthy then here we go because obviously it's a competition and we want to be equal. I told EJ, I said, 'EJ it's not a reflection on how you played. We thought you played really well for a guy that played his first NFL game.'"
Manuel will follow Kolb with undrafted rookie Jeff Tuel finishing up the game.
Alonso sitsStarting middle linebacker Kiko Alonso was sitting out Wednesday night's practice and will not see any action against Minnesota either.
"Kiko Alonso didn't practice," said Marrone. "He's cleared by the trainers, the coaches wanted him out there I'm resting him. I'm going to hold him out for a couple of days to make sure we get him back. I don't plan on him playing."
Marrone said Alonso has a mild shoulder ailment. What he also has is a high player workload in terms of reps in practice, one of the highest on the team in fact. So the Bills are using that data in making the decision to rest his body to avoid injury.
Stevie, Brad Smith returnOn the positive side of the ledger Stevie Johnson and Brad Smith returned to the practice setting from their hamstring injuries. Both Smith and Johnson participated in individual position drills and each got a couple of reps in 7-on-7.
"It felt good, actually, to be out there. It's not where I want it to be. I was hoping I could get into, get involved in practice but you know it's pulling a little bit but you know, everyday it's getting better."
"I was happy to see Stevie Johnson out here," said Marrone. "He had good work. I'm not going to play him in this upcoming game, but again it was great to see him out there along with Brad Smith."
Smith is closer to a full return than Johnson and has an outside chance to play Friday night. They're hoping to have Johnson back full go sometime next week, but that's not a guarantee.
"I think we're probably going to get him back somewhere in the Washington week and if we don't that's okay, but I think that's kind of a goal we're just pushing for."
"That's what we're working for," Johnson said. "I've been working with the trainers and the strength coaches to get right and hopefully I get there in Washington."
Sacks and picksThe defense looked downright ferocious at times as defensive coordinator was using a myriad of blitz packages, which led to sacks and interceptions Wednesday night. OLB Jamie Blatnick had three sacks during the team portions of practice. Arthur Moats again looked good as a blitzing linebacker as he shot through a gap for a tap out sack.
Alex Carrington, Keith Pough and Duke Williams also registered sacks on the night.
On the interception tally board, undrafted rookie safety Jordan Dangerfield pulled in a tipped pass by cornerback Don Unamba for an INT. Aaron Williams stepped into a passing lane to leap and snare another interception that he returned to the end zone. And Stephon Gilmore was the beneficiary of a miscommunication between Jeff Tuel and DeMarco Sampson making a pick along the left sideline.
Goodwin still lighting up practiceWide receiver Marquise Goodwin continues to turn in game breaking plays in the passing game. He took a deep pass over the middle by EJ Manuel across the field to the far sideline where he then turn up the sideline and outraced everyone to the end zone for a score.
Later in practice he took a quick slant from Kevin Kolb all the way across the field and to the end zone for another long score.
Goodwin's speed is backing defenders off for fear of getting beat deep, but the problem with that approach is you give him a free release and he's open on an underneath route, which he can also take the distance if he gets just a crack of space.
Lineup notesWith Kiko Alonso sidelined Arthur Moats was the beneficiary getting first team reps alongside Nigel Bradham. Top nickel corner Ron Brooks appeared to have his workload lightened Wednesday and Nickell Robey got some first team reps in the slot.
Don Unamba was the latest cornerback to man the spot opposite Stephon Gilmore on the boundary with the first unit. He had a couple of pass breakups and even got the chance to return a few kicks during a special teams segment of practice.
Duke Williams got first team reps at the safety spot alongside Aaron Williams. Da'Norris Searcy was another player that looked to have his snaps trimmed back Wednesday.
With Moats playing up with the starters, Chris White moved up to the second unit at linebacker.
Other players seeing reps with the first team from time to time on the defensive side of the ball included Jay Ross, Torell Troup, Jarron Gilbert and Marcus Dowtin.
On the offensive side of the ball there was some shuffling on the second and third offensive lines. Tony Hills was the new second team left tackle as Thomas Welch did not see a lot of action Wednesday.
For the second straight practice undrafted rookie Ryan Turnley got second team reps at center, while David Snow ran with the third unit.
On the team's third offensive line, second team right tackle Sam Young, flipped over to the left side with the threes. That kicked Zebrie Sanders over to right tackle.
Finally newest Bills signed LB Jamaal Westerman stepped right into the team portion of practice to get some second team reps at outside linebacker.
Kicker updateThere hasn't been much separation in the kicking competition between Rian Lindell and Dustin Hopkins. The kickers each attempted 12 kicks in practice Wednesday night.
Lindell was 11-12 with his only miss coming from 45 yards away on the left hash. His long was a 51-yarder. The most accurate kicker in team history connected on his last seven attempts of the night.
Hopkins was 10-12 with his misses coming from 35-yards out on the right hash and from 47 yards out that he mis-hit. Hopkins appeared to strike the top of the ball instead of the lower half and it barely cleared the linemen in on the play at the line of scrimmage. The line drive kick was never more than eight feet off the ground.
As has been stated, Hopkins leg strength is undeniable, but he still appears to be tinkering with his approach and follow through. It's a tough thing to be working on in the midst of a heated competition.
ScheduleThe Bills have a walk through session at training camp Thursday before they head back to Buffalo for Friday night's preseason Kid's Day game against Minnesota. Buffalobills.com will have full coverage. Kickoff is at 7 pm.