When you're a football coach who has made as many stops as David Lee you've seen a lot in your career. You recognize the pluses and minuses of every job along the way. That's why returning to Buffalo for a second time to coach on the Bills' staff was an easy call for him to make.
Lee, who was officially hired Monday by new head coach Rex Ryan, expressed his excitement about being back on Buffalo's staff.
"You leave a place and you just think, 'Golly I'm going to miss some people.' The people in Buffalo were great to me, great to our staff," Lee told the John Murphy Show on location in Mobile at the Senior Bowl. "The greatest thing about being there were the people and you can't say that about everywhere I've been, but you can there and I'm certainly glad to be back. Excited about what Rex is going to do with this entire organization. It's going to be fun to be part of it."
Lee previously served on Buffalo's coaching staff under former head coach Chan Gailey during the 2012 season, replacing George Cortez, who took a head coaching job in the CFL. That season however, proved to be the last of Gailey's tenure with the Bills. In that 2012 campaign Lee was responsible for helping Ryan Fitzpatrick to the highest single-season passer rating of his career (83.3) until this past season in Houston (95.3).
Having worked with college quarterbacks as well as young pro quarterbacks, Lee comes into the job with the Bills more than prepared to help EJ Manuel further develop his game. Most recently Lee was tutoring Jets quarterback Geno Smith. And though Smith has certainly had his peaks and valleys as New York's starting quarterback, he showed some signs of progress in the final quarter of the 2014 season.
"Rex and I talked about it, he had some inconsistency and the up and down part is what killed us," said Lee of Smith. "He would get loose with the football. We played good enough defense to win over there both years, but his play it'll cost you and it cost us. But he also did some great things. The last five games this season he was the seventh-rated passer in the league. He had a perfect passer rating in his last game at Miami. The potential and ability is there."
Lee sees a lot of the same potential in Manuel, though he has appeared in less than half the number of starts (14) as Smith (30).
"I'm excited about EJ Manuel. I liked him coming out and I'm looking forward to working with EJ, that's for sure," Lee said. "I remember that Florida-Florida State game and he took off and he beat a fast Florida secondary with his legs two or three times. I know what he's capable of doing. We've just got to cut him loose and let him go play."
That should be music to Manuel's ears. The soon to be third-year quarterback said much the same thing after he was relegated to backup duty in Week 5 this past season. He lamented the fact that he was playing too robotic in an effort to please the former coaching staff. He vowed to "cut it loose" when his next opportunity arose.
Bills head coach Rex Ryan believes there is a good deal of upside in Manuel, and he believes Lee will be able to pull it out of him.
"When Geno came in he came from a spread offense, never took a snap from underneath center, never had three step drop, five step drop, seven step drop—it was all foreign to him. The fact that he started every game for us since his rookie year—that was tough… for anybody. David never flinched one bit. He just got to work, working on guys constantly. He'll do the same thing with EJ and everybody else."
Lee felt the previous staff held Manuel's natural abilities back at times, particularly when it came to making use of his legs to gain yardage.
"I thought so, but I wasn't there coaching him. I haven't really studied him much the last two years," he said. "I've had my hands full on the other side of the ball. But I know I'm looking forward to it. He's got a good skill set. He's tall, and I know he's a class person and he's smart. He is really smart."
In fact Manuel made a pre-draft visit with the Jets at their Fairlawn, New Jersey training facility and Lee, then the quarterbacks coach with New York, put Manuel through the paces.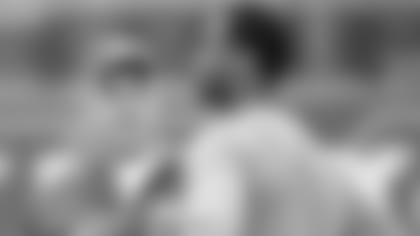 "We flew him in before the draft and I gave him a test," Lee said. "I gave him a pamphlet to study and told him I was going to test him the next morning. It was long and detailed and he aced it. He didn't miss anything. No other quarterback that came in did that, but he did."
Lee sees a lack of patience in the NFL when it comes to developing quarterbacks. Naturally any team that drafts a quarterback high is looking for quality play to improve the fortunes of their team sooner rather later. But with a lot of college systems not translating well to the NFL game, the learning curve can be steep.
"Russell Wilson and Andrew Luck have spoiled all the ownership and they've spoiled all the general managers because they see a couple of guys do it," he said. "But if you really look and study this thing Andrew Luck was in a west coast system at Stanford. Same thing for Russell Wilson at N.C. State and then he went to Wisconsin, same thing. When you compare that to some of the other quarterbacks who were in different systems like Geno (Smith's) system, Case Keenum, Brandon Weeden, it takes some of those guys longer.
"Those two guys, Wilson and Luck, being in that system four or five years they had much fewer adjustments than these other guys from footwork, to reads and progressions. Basically years ago that's what happened. Guys came out from college and it took them a while to learn the pro game. Those two guys knew the system and jumped in there and they were going right away."
Lee still believes time is needed for most college QBs entering the draft, and more importantly patience when a young signal caller is showing signs of progress.
"I'll never forget this story that Bill Parcells told when I was with him in Dallas," said Lee. "He told us if you draft a guy in the first three rounds and he shows some flashes and does some things that excite you, you better give him that third year. He said Tom Landry taught him that."
Whether EJ Manuel is on the cusp of a breakout season is difficult to ascertain at this point, but Lee is going to do his level best to get him there.
At the same time Lee along with Buffalo's personnel department will be scouting potential prospects at his assigned position to consider in the draft at the Senior Bowl this week.
"I talked to (general manager) Doug Whaley and we're looking at all these guys," said Lee. "No one guy in particular. We'll start interviewing them and watching them in practice."