Bills Head Coach Rex Ryan is one of many in the NFL hit hard by last weekend's passing of former Jets Defensive Lineman Dennis Byrd.
The former second round pick of the Jets in 1989, Byrd died tragically in a traffic accident near his home in Oklahoma. What makes his story memorable is the long struggle Byrd went through to walk again, after suffering a catastrophic injury while playing for the Jets.
And even though Byrd was long gone from the Jets roster by the time Ryan took over as head coach in 2009, the two crossed paths.
Dennis Byrd is remembered for his courage and perseverance in learning to walk again after breaking his neck slamming head-first into a teammate during a late November game in 1992. He was left paralyzed and underwent vigorous rehabilitation for several months to regain the ability to walk.
His NFL career long over, Byrd reached out to then Jets Coach Rex Ryan before New York played the Patriots in a playoff game.
"He actually sent me his jersey," Rex said this week. "One day I get this package and there's a jersey in it. I couldn't believe it. Dennis had sent me the jersey they cut off him when he was paralyzed in a game. I was blown away by it."
Ryan was so impressed, he wanted Byrd to address his Jets team before a critical playoff game against New England in 2010.
"I invited Dennis to come spend some time with our team before we played New England in a playoff game," Ryan says. "He identified for some reason with that Jets team. When he got up and spoke to our team, oh my gosh. It was amazing. There wasn't a dry eye in the place. From that point on, all of our guys in that room took a piece of Dennis with us."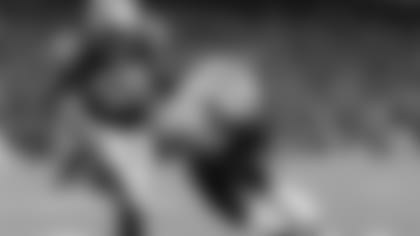 The Jets captains for that playoff game, LaDainian Tomlinson and James Ihedigbo, carried the jersey to midfield for the coin toss before kickoff. And Jets players were quoted as citing Byrd's speech before the game as a motivation for their playoff win over the Patriots.
The news last weekend that Byrd passed away in the auto accident at the age of 50, has been on Rex Ryan's mind for the last several days.
"Dennis was an unbelievable guy," Ryan says. "He was an inspiration to me and to many others. Just a tremendous person.  A great passion for life—a great passion for football, too."