The Bills' 24-10 victory over the New England Patriots marked their first divisional win of the year, and it came at a crucial time in the season now that the calendar has flipped to December.
The resilient mindset in the Bills locker room resulted in successful complementary football against the Patriots for their third win away from Orchard Park in just 12 days. Prior to that stretch, no team in NFL history had played three consecutive road games in a span of 12 days. The Bills outscored their opponents 83-58 the last three games and have now beaten the Patriots in three straight meetings.
"A divisional win is important," head coach Sean McDermott said. "We knew coming in here it was going to be tough against a good football team, and they're really well-coached and prepared every week. We're thankful to get a win, and in the division on top of that."
With five games remaining on the schedule, the Bills' 9-3 record currently holds the top spot in the AFC East and is second behind the Kansas City Chiefs in the AFC. While those standings can change by the end of Week 13, the Bills knew how significant getting the win in Foxborough was as they aim to keep that top spot moving forward.
"I know each division win is big," safety Jordan Poyer said. "We got another division game next week; I think we got two in a row actually … All of them are big, especially when you go on the road. Third road game in a row, you can really look at it like that, a third road game in a row to be able to go and go into a hostile environment like this and play the way we did is huge."
While Buffalo struggled at the beginning of November, losing two straight games, the team stuck with each other and didn't let their mentality suffer.
"Little bit of road warrior mindset," WR Stefon Diggs, who tallied 92 receiving yards and one touchdown in Thursday night's victory, said. "No matter where we play, who we play, we gotta play to our standard. It was definitely something that we went in with the mindset of just one play at a time. We had some guys banged up; guys continued to get banged up. Really playing one play at a time and really getting back to being us."
"We could have used every excuse in the book, but our guys, we work extremely hard," QB Josh Allen added. "We care about each other. We care about each other's families, and I think when you have that type of love in the locker room, you're going to find ways to win football games."
Traveling on the road for three games in such a short time span is no easy task, especially for a team that isn't 100% healthy. During that stretch where it felt like the Bills spent more time on a plane than they did on the practice field, center Mitch Morse said their head coach treated the team like professionals and gave them an opportunity to get their work done while allowing everybody to take care of their bodies at the same time.
"It's a testament to the guys for being pros, detailing their work when we needed to, and then when we had that opportunity in walkthroughs and practice taking advantage of it," Morse said. "For us, it was just playing complementary football, trying to put our defense in an advantageous situation, making their offense a little more one-dimensional in the pass, and just keeping points on the board."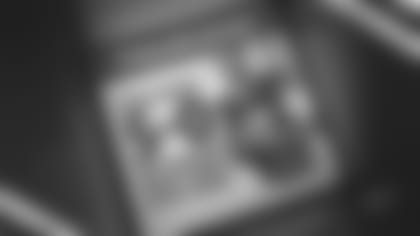 There's a sense of relief in heading back to Buffalo knowing that's where the team will be for the next two weeks. After all of the travel, injuries, illnesses, and hard-fought games, the desired home stretch comes at a time when the team needs to reset and rest up before they tackle what's left of the regular season.
And since the Bills' next game against the New York Jets is just over a week away, the few extra days off are highly important, especially for those who are still dealing with a lingering injury.
"A little mini-bye here, which is good timing for our guys, getting guys healthy, kind of a nice little reset as we move back home and we know we've got some divisional games coming up," Allen said. "We've got to put our best foot forward and try to find a way to win some football games here."
While the team looks to take advantage of what the schedule gave them, Diggs recognizes the importance of not completely taking the foot off the gas over the next few days.
"We got a couple of games rolling in the right direction and I feel like that's the baby steps, baby steps on where we're trying to go," Diggs said. "Setting that standard is huge. We don't want to have too much time off where we come back with a lull ... So, I feel like it's going to be something when we get back to work, we're back to work. Try to do what you can these next few days, get your body right, but when they blow the whistle, we gotta go."
When the whistle does blow next week, the preparation begins for the Jets, who are also chasing the division title. After falling just short in a matchup against Jets earlier this season, the focus lies on what's ahead and not behind for a Bills team that's looking to add another divisional win to their record.
"If you keep looking in the past, you're going to trip going forward," LB Tremaine Edmunds said. "Each week is its own. In the end, we just gotta keep going. That's what this game is about. We're going to celebrate this one for sure, but come next week, we gotta flip the page and continue to get better because it's not going to get any easier."
The Bills celebrated their ninth win of the season in Gillette Stadium in Week 13.