Day one consisted of mostly individual drills. Coaches stayed away from team-based work, so we saw Sammy Watkins and the rest of the wide receivers working on getting in and out of breaks, minicamp invitee Kenny Guiton perfecting his dropbacks, and Cyrus Kouandjio and Seantrel Henderson focusing on their two-point stances, among other things.
"Now that the draft was pushed back and these players will have a shorter turnaround to the OTAs and when other players come in, what we want to do as a staff is make sure that they're in shape, which you expect them to be," head coach Doug Marrone said. "Two, we want to make sure they know the drills that we do and the technique that we play so that we don't have to waste a lot of time when the OTAs start and we're on the field with them. The next thing obviously is to learn the scheme. That's really a big thing so that they can come out and compete right away."
Watkins Watch
All eyes seemed to be focused on Watkins. Already assuming a leadership role, the fourth overall pick was the first wide receiver lined up for each new drill.
"As an athlete you have to love the grind," Watkins said. "You have to love what it takes to be great. This is what it takes, being out there every day and getting coached up and competing with the guys that you're playing with."
Early on, it seemed like playing with a new QB was proving to be a challenge for both he and Guiton. Watkins was running crisp routes and Guiton had zip on the ball, but some throws were misplaced. On one deep comeback route by Watkins, Guiton was expecting the Clemson product to break a different way, resulting in a ball landing five yards away from him.
But the chemistry became more apparent as the 90 or so minutes of practice went on. In one-on-one drills with DBs, Watkins grabbed a nice ball near the sideline on a 15-yard comeback route. Guiton placed the ball just far enough away from the outstretched hands of undrafted free agent S Kenny Ladler that Watkins was the only one who could make a play on it.
The only drop Watkins had all day was early in the practice on a quick slant route when Guiton's pass was just a bit too low, Sammy reached down for it but was not able to hold on. Outside of that, every ball thrown Watkins' way was snagged and brought in.
"First day out, I think it went pretty good overall. I still have a lot of things to work on. I'm still in shape from two months of doing all the draft stuff and the combine stuff. I just have to keep doing what I'm doing, watching film and being coached up," Watkins said.
Eye on the O-Line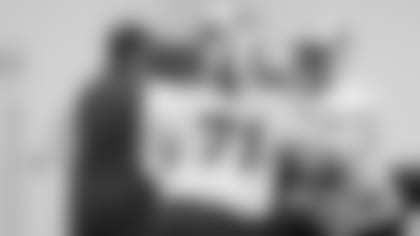 A clear emphasis in the draft was picking up big offensive linemen who excel in run blocking. The emphasis on the run game continued today as Kouandjio, Henderson, Cyril Richardson and the rest of the offensive linemen were working on perfecting their first steps and exploding off of the line of scimmage.
"All three of those kids are impressive from what they can do," Marrone said. "From a footwork standpoint, from an athletic standpoint. It's going to be one of those things where it's how good are they moving someone that is 300 and something pounds on the inside? How good are they about stopping someone who is 265 pounds and runs a 4.4 on the outside? From that standpoint we try to work them inside out, meaning that we work with power first."
Defense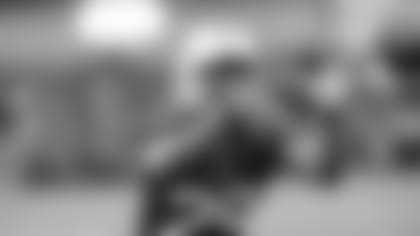 A large portion of day one for the defensive players was spent doing special teams drills. The defensive backs practiced getting a release as gunners in punt coverage while the linebackers lined up in punt protection. For many of these rookies, they know that making an impression on special teams could be a deciding factor for coaches when making cuts later in the preseason process.
"All I care about is what you're going to do now that you're here," Marrone said. "That's the one thing I control. I control who plays and who doesn't play. If you want to play, do it right there."