Bills head coach Sean McDermott provided an update on cornerback Tre'Davious White and linebacker Von Miller on Monday afternoon.
White suffered an Achilles injury at the end of the third quarter in Sunday's game against the Dolphins and was carted off the field after the team huddled around him to show their support.
"He tore his Achilles, so he'll be out unfortunately," McDermott said.
White was coming off his first healthy offseason since tearing his ACL in Week 12 of the 2021 season. The CB played in just 12 games before getting injured again and looked to be getting back to his All-Pro ways.
"Knowing Tre, once he gets his feet back under him, he'll be fine. He's a resilient young man," McDermott said.
White is known as a leader amongst his teammates and an important player to the locker room too. After the game on Sunday, several players said to keep White in everyone's thoughts and prayers.
"It breaks my heart, it really does," Josh Allen said on Sunday. "Not sure the extent of it, but you never want to see your teammates on the floor pounding their fists. It just sucks. He's worked his ass off to get back to playing the way we know Tre can play football and it truly breaks my heart."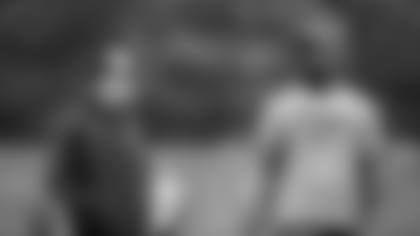 Miller started the season on the reserve/PUP list due to an ACL/knee injury that he suffered in Week 12 of the 2022 season. After missing the first four games, the LB is eligible to return to the field. 
"He will practice, and we'll just take it one day at a time," McDermott said.
Miller registered eight sacks and 12 quarterback hits in his first season (11 games) with the Bills. The defensive line will be excited to get their star back but have been off to a hot start as they tie for the league lead in sacks (16) and quarterback hits (32).