For the 15th time in their careers as either coordinators or head coaches, Sean McDermott and Sean Payton (and their respective teams) will face off against one another Monday night.
McDermott, who worked in various assistant roles in Philadelphia, first faced Payton while the longtime Saints coach worked with the New York Giants. They would go on to face each other numerous times during McDermott's time as a defensive coordinator in Carolina.
"He is who he is for a reason. He's done a phenomenal job," McDermott said Wednesday on Payton, who won a Super Bowl in 2010. "A ton of respect, we've gone against each other numerous times, countless times in the NFL South for years and we've had our battles. He's just a phenomenal head coach, leader and is really smart. I'm not surprised that they're playing the way that they are, beating the Chiefs and then just watching the team come together."
After starting 0-3, the Broncos rode a two-game win streak into their bye last week. They defeated the Kansas City Chiefs 24-9 in Week 8, handing the reigning Super Bowl champion their second loss of the season.
The Broncos defense received criticism nationwide after allowing 70 points to the Miami Dolphins, the second-highest total in the Super Bowl era. McDermott thinks that since then, their unit has seen improvement.
"It just seems like they're coming together defensively," McDermott said. "They're holding people to fewer and fewer points obviously since that game and it seems like they're coming into their own just overall as a team and I think that starts with the head coach."
McDermott's Bills got the best of Payton's Saints in their last matchup when the Bills defeated the Saints 31-6 in New Orleans. This time, it will be McDermott who will enjoy home field advantage.
Payton praised McDermott and said that coming out of Highmark Stadium with a road win is no small task.
"I've always respected him, I think he's a heck of a coach and a guy that I think a lot of," Payton said. "This is a team that's been contending for the last however many years and coming off a loss, it's always a tough place to play historically this stadium, especially this time of year."
Creating a legacy
After not practicing Thursday with a shin injury, veteran safety Jordan Poyer was a full participant in Friday's practice.
Should Poyer play as expected, he will take the field for the 100th time as a Buffalo Bill. A four-time captain and a leader on the defense, Poyer has been an integral part of the organization since signing with Buffalo before the 2017 season.
McDermott, whose first season as a member of the Bills organization was also in 2017, looked back fondly on his first time coaching Poyer and his counterpart safety Micah Hyde during Thursday's time with the media.
"What they've been able to do and what they've been able to experience with their careers and watching them grow and develop," McDermott said on the duo's impact on the team. "I've looked back at some old film and they were just young pups back then and now here they are, the veterans of our group."
Center Mitch Morse, who has been with the Bills since 2019, had high praise for Poyer, who he called a "consummate professional."
"You see Jordan Poyer play football, he only knows one speed and only knows one way, and that's to put his nose into it," Morse said after practice Thursday. "He plays with such passion and such competitive drive and he wants to win and wants to execute his defense. Six days out of the week, he's very Zen, very in tune with himself and everything and then come Sunday, he's a lunatic, and I think that's boded well for him."
For Poyer, his 100th game is "just another" of the remaining eight regular season games that the Bills are intent on winning.
"It's meant everything," Poyer said on his time in Buffalo. "I've been able to grow as a person, been able to grow as an athlete and I'm still growing and it's taught me a lot of lessons that I'll continue to take on for the rest of my life."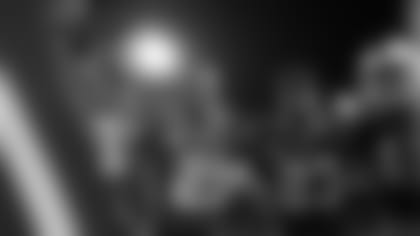 Salute to Service
If unable to make the game Monday night, consider donating your tickets via the Bills mobile app. By donating tickets to Vet Tix, you can donate tickets to troops and veterans or the United Well. Tickets can be donated up to two hours before kickoff. More information can be found at this link.
Injury Report
The Buffalo Bills will have one more practice Saturday before their Monday night game. Players with injury designations are as follows:
Full: QB Josh Allen (right shoulder), DE Leonard Floyd (illness), LB A.J. Klein (back), S Jordan Poyer (shin), LB Baylon Spector (hamstring)
Limited: LB Terrel Bernard (concussion), WR Stefon Diggs (back)
Did not practice: CB Christian Benford (hamstring), S Micah Hyde (neck/stinger)