After a week of watching the 110 prospects practice in the Alabama sunshine, the Senior Bowl game will be the icing on the cake. And even though this year's Senior Bowl lacks the luster of years past, there are plenty of intriguing prospects ready to take the field at 4 p.m. Saturday from Ladd-Peebles Stadium. The game will air nationally on NFL Network.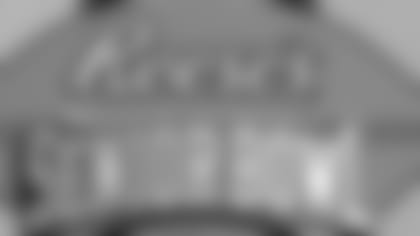 ](http://www.buffalobills.com/news/senior-bowl.html)
With more than 100 underclassmen declaring for the draft and 30-or more invited seniors electing not to attend this year's bowl game in Mobile, the ranks of the future NFL stars were depleted. But Mike Mayock of the NFL Network, who will be the color analyst for Saturday's game, says the talent began to show itself as Senior Bowl week went on.
"Some guys chose not to compete," Mayock told BuffaloBills.com. "But the thing about the Senior Bowl, it brings out the best in a player. You're fully padded two days in a row. Competition comes out. "
With that in mind, here's a list of some of the most interesting NFL prospects to watch in Saturday's game, based on observation during the practice week:
WIDE RECEIVERS
JORDAN MATTHEWS-VANDERBILT (SOUTH #87)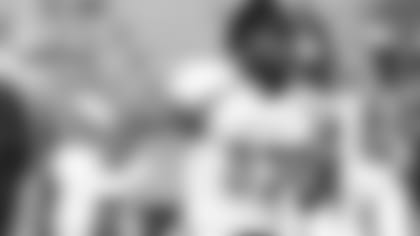 Clearly the best in this group and he seemed to get better as the week went along. After struggling on Monday, working on timing with the brand new quarterbacks assigned to his South team, Matthews got better and better. At 6-3, 207 pounds, Matthews has the size the Bills are looking for especially in the red zone.
Mayock was impressed with Matthews work this week and he says speed only goes so far.
"What's nice about him is his toughness and his hands," he said. "He's not going to beat you with speed, but he's going to beat you with his body type, his toughness, and his hands."
CODY HOFFMAN-BYU (SOUTH #2)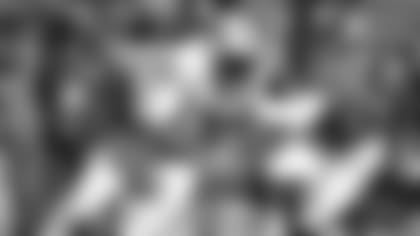 At 6-2, 210 pounds, Hoffman is not a giant. But he seemed to tower over the rest of the wide receivers in Mobile and all of the defensive backs. Hoffman made several tough sideline catches using his height and good hands and he seemed to run well enough. He caught 157-passes in his last two seasons with the Cougars and Mayock says he's worth watching.
"He's a big, good looking strong kid," Mayock said after the Thursday workout. "My concern with him-- I think he's a one speed guy. I don't see him getting in and out of breaks as well as I'd like to. But outside the numbers and in the red zone, back shoulder throws, fades, he's got great size. He can go up and get it. "
LINEBACKERS
CHRIS BORLAND-WISCONSIN (NORTH #44)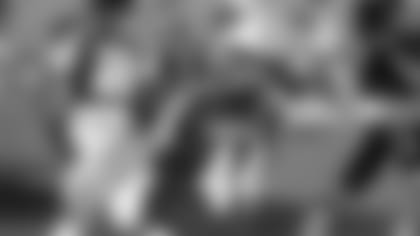 His speed, athleticism and anticipation were on display all week long at the Senior Bowl workouts. Borland forced 15 fumbles in his career in Madison, indicative of his big play potential in the pros.
Here's the hangup—he's only 5-11. That's about 3-4 inches shorter than the prototypical NFL linebacker.
Borland was asked this week if he feels he has to compensate to make up for his lack of height.
"I've never been six-two, so I don't know what that's like, he said. "I don't really think about it on the field, I understand it's a hang up for some people, but that's fine, I believe I can play."
MICHAEL SAM-MISSOURI (NORTH #55)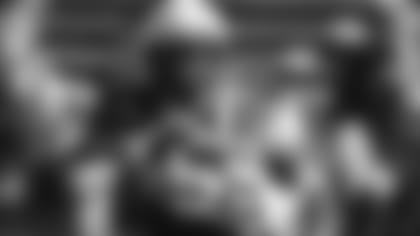 Sam was solid in the Senior Bowl practices at every turn. He's big, tough, and physical. And he looks like he can run all day.
OFFENSIVE LINE
ZACK MARTIN-NOTRE DAME (NORTH #72)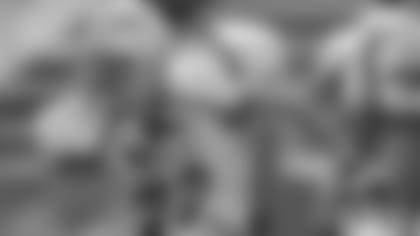 One of the stars of the Senior Bowl workouts, Martin got work up and down the offensive line for the North squad. He played at left tackle for the Irish, but he may be better off at guard. On Wednesday morning, Martin worked almost exclusively at left guard and more than held his own against pass rushers.
Mayock says watching Martin work this week confirmed his belief that the big lineman is going to go in the first round in May.
"I knew he was a technician, "he said. "I knew he could play, I figured he could play all five positions, but I think he confirmed the fact that he's going to be a top twenty type of player."
BILLY TURNER-NORTH DAKOTA STATE
(SOUTH #72)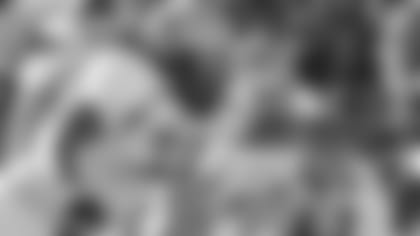 Turner is a massive (6-5, 310 lbs.) prospect from a small college who did not look out of place at all this week going up against players from the big schools. He's the type of linemen who may gain the most from his work at the Senior Bowl this week.
During the Wednesday South practice, Turner was observed getting a great deal of work at right guard, although he also took snaps at tackle during the week. On several plays in a 9-on-7 run game drill, Turner overpowered his man with punishing drive blocks. And he showed a knack for staying with his blocks and finishing off his man.
QUARTERBACKS
DEREK CARR-FRESNO STATE (SOUTH #4)
Even though he's David Carr's brother, he wears #4 in homage to his favorite NFL quarterback-Brett Favre.
Derek Carr came to Senior Bowl week with a good reputation and his work here may have propelled him into a first round selection.
While not huge, Carr's arm is big enough. He showed accuracy, mobility, and maybe most prominently, confidence in his game.
JIMMY GAROPPOLO-EASTERN ILLIOIS
(SOUTH #10)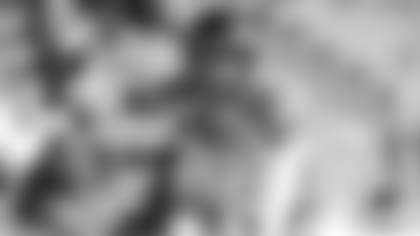 The second best quarterback at Senior Bowl week (after Carr), Garoppolo came directly to Mobile after a week on display at the East-West Shrine game. He's another small school player who has improved his draft stock with a strong showing against the big boys this week.
Garoppolo seems very mobile and his passes were accurate. He quickly picked up the scaled down Senior Bowl offense and always seemed in command on the field.
Senior Bowl Executive Director Phil Savage extended the invitation to Garoppolo just a few days before Senior Bowl week, after seeing his work in the Shrine game. And Savage, former GM of the Cleveland Browns, has positive reviews for the Chicago native's work.
"He's got quick feet, quick eyes and a quick release," Savage told BuffaloBills.com. "I don't know that he's got the shotgun arm talent that's going to put him the first round, but I suspect he's going to go in the second or third round."
RUNNING BACKS
JERICK McKINNON-GEORGIA SOUTHERN
(SOUTH #24)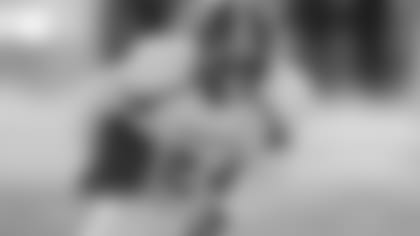 It was hard to get excited about most of the backs at the Senior Bowl workouts, but McKinnon probably had the best week of all of them. An option quarterback at Georgia Southern, who also caught some passes, McKinnon has quickly adapted to the role of scat-back. He consistently was able to get the edge and pick up big chunks of yardage downfield.
"He got more acclimated and more comfortable with what he was doing," Phil Savage said of McKinnon. "He's got a place in the league as part of a backfield by committee, and that's really the direction that most of the teams are going nowadays."
DAVID FLUELLEN-TOLEDO (NORTH #34)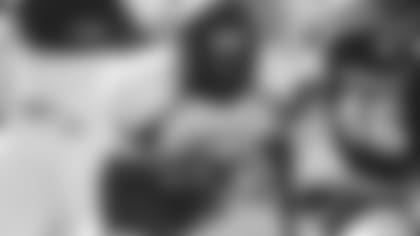 There's local interest in Fluellen because of his Western New York roots. He's the all-time rusher at Lockport (N.Y.) High School and he went on to a productive but injury spotted career at Toledo.
Fluellen is coming off a broken ankle suffered last fall, and the Senior Bowl workouts were his first football practices since then. After a somewhat slow start to the week, he picked up the pace by the middle of the week and he may get a chance to show more in Saturday's game.