Now more than a year removed from a traffic violation that led to a one-game suspension for violation of the league's substance abuse policy Nigel Bradham has a lot to be thankful for. He knew right when he was pulled over his life had veered onto the wrong track. For the Bills linebacker it was the stumble in his life that he needed to get back to being the goal-setting player that had previously achieved everything he put his mind to.
His first two NFL seasons with the Bills were rather ordinary for a player that was highly decorated through high school and college. Playing on special teams and platooning on defense at linebacker, Nigel Bradham admits he was not taking a professional approach to his young NFL career.
"I was just taking it for granted and I had kind of gotten lost in it because I wasn't really playing much at the time," said Bradham of his misstep off the field. "When I realized I had gotten into that and then I saw the negative media, people on my case and it was like, 'When are you going to learn?' And you realize you could lose that opportunity."
Facing facts
Bradham's poor judgment off the field made his situation difficult for his family to take. The son of a single mother, who already had one son incarcerated, making a poor off the field decision that could take him down a similar path would be too much for his mom to bear.
"He didn't even call me, he texted me," said his mother Rose Rucker as to how she learned of Bradham's incident. "He said, 'You need to click on this link and read.' I was thinking what? That's not like him. So I texted him and said, 'Boy you better not have me click on no link. You better call me.' So then that's when he called me and I said, 'Nigel! What is wrong with you?' I also had a lot of other choice words."
Rucker appealed to her son. She told him he was given a gift being an elite athlete, so why mess it up?
"I told him, 'You don't understand that this is a gift and God is behind you so all this other stuff is unnecessary. Don't mess your life and your career up.' I keep telling him his destiny is for him, not for me. His goals and everything he's trying to do in life is all about him. Nobody else, no coaches, teammates, friends, it's all Nigel. Nigel is the only one who can control his destiny."
That was the same message Bradham got from his older brother Homer. In the midst of serving a second prison sentence for selling drugs, Homer Bradham was less than pleased with his younger brother's choices.
"He was upset," said Bradham of his brother's reaction. "And it wasn't just him. It was my whole hometown."
Growing up in Crawfordville, Florida, just south of Tallahassee, Bradham's hometown is small and is almost surrounded by wildlife refuges and the Apalachicola National Forest. In those parts Bradham and his athletic exploits are wholly familiar to everyone who lives there. His misstep may as well have been national news in Wakkula county. Fortunately it didn't take him long to change his course, especially knowing how much he did not want to disappoint the brother he looked up to for as long as he can remember.
Don't follow my lead
With Homer eight years older than Nigel, Bradham's older brother was a larger than life figure. With no father in the picture Homer served as Nigel's male role model. Their mother saw Homer as more of an uncle for Nigel. Nigel saw more.
"To me he was more like my father because I grew up without a father," he said. "He pretty much taught me a lot about life, how to work hard. He would play football with me in the yard and just pretty much make me rough and physical and be tough."
Wanting to be just like his older brother, Nigel would wear Homer's clothes even though in many cases they hung loosely off his body. With their mother working two jobs to support them and rarely at home because of it, the two boys were very close.
For Homer basketball was his sport, but he also played football. An injury brought his athletic career to a premature end and with their mother working day and night, Homer felt compelled as the man of the house to try and offer financial support. Nigel's older brother fell into the trap of making fast money.
"He was selling drugs, and he got caught up in that lifestyle but the whole time, he was making sure I would never even been around there or around that stuff," said Bradham.
By the time Nigel had reached middle school the authorities had caught up with his brother. Prison time soon followed. After serving his time he was released only to make the same mistake again. He is now serving in Wakkula County and isn't scheduled to be released until 2019.
"He hasn't seen one of my football games since I was in middle school," said Bradham. "He started getting into trouble when he was young and the whole time he was doing that stuff, he was doing it to try to help [my mom] take care of me, but they were just bad decisions."
Seeing the most important person in his life next to his mother go the wrong way resonated with Bradham. It led Nigel to set high marks to achieve, and he made a personal promise to accomplish every one of them.
Goal setter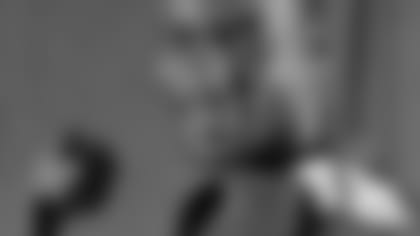 Bradham was hooked on football at a very early age. His mother remembers Nigel picking up a football at age two and he has never put it down since.
"Basically as a child he just loved football. His brother played little league. He was barely in school when he was saying this is what I'm going to do," said Rucker. "This is my life. I'm going to play football."
Bradham would beg his mother to go to his aunt's house. Rucker's sister lived directly behind Doak Campbell stadium on the campus of Florida State University. Bradham would stand by the fence of his aunt's backyard and intently look for flashes of color pass by narrow vantage points on game days.
"[My aunt's house] was right across the street from the stadium so I had the perfect view," he said. "But the stadium is like a castle so you couldn't really see the whole game but you could see spurts."
Hearing the crowd and witnessing the success of the Seminoles had him bound and determined to be just as successful.
"I guess that's what inspired me, just seeing that," he said.
Bradham's goals began not long after his brother went away. Without his brother to lean on anymore Bradham took it upon himself to chart his own course. It was a course that would take a much different path.
"He basically set his own goals," said Rucker. "He told me he was going to play in the high school All-American bowl when he was 13. At the age of 16 he told me that I would be watching him on Saturdays and Sundays. So he has fulfilled those dreams which I'm very proud of."
Bradham was an accomplished running back and linebacker in high school and despite his mother's Gator leanings, Bradham also vowed he would play his college ball at Florida State.
Largely a home body, Bradham would come home from school after football practice, fill his mother in on his day and retire to his bedroom. There he'd take care of his homework and bury himself in videotapes of practice or the upcoming opponent on their high school schedule.
He never made a list of goals to put up on the wall of his room or in his locker at school. Once it was set it sat in the forefront of his mind.
"The main thing for me is once it's in my head and that's what I want to do, then I'm going to do it," said Bradham. "I'm going to figure out a way to get it done. So to me, that's why I never had to write down goals. Even today, I don't write down my goals. I just know in my mind every day I'm going to think about that because that's what I want to do so I'm going to work to that."
Re-dedicated
His college years at Florida State were very successful as he led the team in tackles for three straight seasons and served as a team captain. He was also one of six players on the team to receive a community service award.
A fourth-round pick of the Bills in 2012, Bradham just assumed his athletic career as a pro would continue on the same upward arc it had been traveling since his early teens. Truthfully though Bradham as a rookie and second-year player did not dedicate himself to the game he loved in a truly professional way. He wasn't going through the motions, but he also wasn't putting in the extra time to truly be great.
Toward the end of the 2013 season Bradham began to put in more time at the office. More film study, extra reps after practice, more questions for his coaches. His run-in with the law had set him straight.
"I definitely realized (what I had to do) after the last game of the season last year. That's when I started trying to get back to being a pro and doing everything right. My mentality of the game before was I want to be one of the best linebackers to ever play the game."
Once again Bradham was fully applying himself to his profession. That was soon followed by some other pretty monumental news. He was going to be a father.
"When I found out I was having a baby that kind of pushed me too," he said. "Now I have a whole other person, which is my own, that I have to be a role model for, and I want him to follow in my footsteps. You kind of have to be the right person and be a perfect role model."
Bradham and his fiancé Nia Davis became the proud parents of Nazir Bradham this past September. Looking into his son's eyes for the first time was all that was needed to ground him even more.
His son's name is Muslim in origin and means 'supporter,' but it's the Bills linebacker fully intends to be the supportive father he never had.
"When I see him, I just think about having somebody who's going to grow watching me just like I watched my brother," said Bradham.
After staying out of trouble for six months the charges against him were dismissed. Still, serving that one-game league-imposed suspension in Week 1 this season was, as he described it, the worst week of his life. It was then when he saw how quickly the game that was his livelihood could be taken away.
"When you're actually suspended it's different," he said. "You feel different. I was at home sitting on the couch. I had to watch the game on TV and I was just sitting there. That's when it really hits you because you really feel like you're not a part of the team. I can't see anybody, can't talk to anybody, can't go to the facility. I was on my own."
Mentors and peace of mind
Bradham finally feels his career is back on the upward ascent he assumed it would be traveling when he first entered the league. He now fully understands the commitment the game takes to excel in football.
His coaches have praised him for his dedicated approach, which they feel is the main reason that he has nearly doubled his previous career high in tackles and been one of the defense's top playmakers this season.
He has also surrounded himself with more of the right people, including Hall of Famer and fellow Seminole alum Derrick Brooks.
Brooks was a mentor to Bradham when he was playing at Florida State. A part of the same football tradition, playing the same position and hailing from the same part of Florida, with Brooks a Pensacola native, the two would talk on the phone and catch up when Brooks attended games.
Then they drifted apart. Bradham already well on his way to getting his house in order, spotted Brooks at the Hall of Fame game this August between the Bills and Giants and re-introduced himself.
"He was on the sideline and I went to shake his hand, he talked to me for a second and we took a picture, then we exchanged numbers," said Bradham. "I just told him, 'It's been a long time since I've seen you, really.' I think the last time that I saw him was my sophomore year at Florida State. So it had been a good four years since I saw him. We were just talking on the sideline for a little bit. Now we talk every week, which is good. He sends me little messages every week and we just talk."
The conversations are not about football. They're about life and helping others.
"He has so many little charities and foundations for kids and school and stuff," said Bradham. "That's pretty much what I'm learning from him as far as how to do that. He's showing me how to give back to the community and help kids with school and stuff like that. Pretty much help me build a foundation and everything like that. So I can have opportunities that he has."
It sounds like Bradham has another goal in mind.
The linebacker still visits his brother every time he's home. Though his brother made the wrong choices Bradham and his mother still believe he's a good person. That's why Nigel still abides by a lot of the life lessons Homer taught him.
"I'm trying to live his plan, but do it the right way and the way he instilled it into me to do," Bradham said. "And just be positive with everything. Just be the guy he wanted to be and do the things he wanted to, as far as giving back to my community and everything. That's the right way."
And the right way is the only direction Bradham wants to go, which gives his mother and himself peace of mind.
"Seeing all the things that happened to me and understanding life now, and how you build a foundation - because now my family is my foundation - I know I can stay on the right path and I'm not going to let that one little incident hold back my whole career or mess my career up," he said. "It's just that one bad decision I made when I was young, and I'm going to make people forget it."
From Florida State to Orchard Park: The career of LB Nigel Bradham in photos