Having been added to the roster just 10 days earlier, TE MarQueis Gray really made a statement on Sunday against Cleveland with his two catches for 71 yards.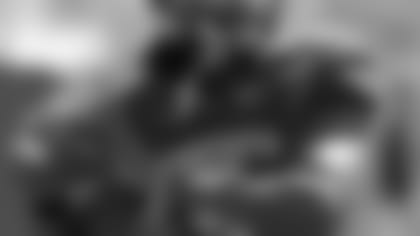 Perhaps even more interesting is that he's a quarterback at heart.
"I've been a quarterback all my life," he said. "That was the only thing I was comfortable with. I was comfortable with the ball in my hand every play."
Gray grew up in Indianapolis, IN and attended Ben Davis high school. He was a three-year starter at quarterback for the Giants and even played a little wide receiver during his senior year. His junior year was his best – in part due to an injury senior year – throwing over 1,100 yards and connecting on 12 touchdowns.
Part of the reason he gravitated to the quarterback position was having his childhood hero – and the Bills opponent this week – QB Peyton Manning right in his backyard.
"Everybody looked up to Peyton Manning, everybody wanted to be Peyton Manning," Gray said. "I just loved the way he carried himself as the leader on the team and everything."
Gray's high school numbers were enough for college scouts despite the injury. He had big name programs such as Oregon and Purdue knocking on his door, but ultimately settled on the Golden Gophers at the University of Minnesota.
"It took one visit there and I just fell in love with it," he said of why he selected Minnesota. "I'm a big city guy and because I knew I was never going to go home during the summer, [I would] have something to do in the summer while I work out and get ready for the season."
Once he got on campus, Gray was forced to sit behind four-year starter Adam Weber at quarterback but his athletic abilities didn't go to waste. He started in the Wildcat package where he averaged 5.6 yards per attempt. His sophomore year he was a full-time wide receiver, grabbing 42 passes for 587 yards and five touchdowns.
It wasn't until his junior year when he was given the starting job under center where he had 108 completions for 1,495 yards and a rating of 114.5. His ability to be a dual-threat QB came in handy, too, as he ran for 966 yards on 199 attempts.
When college came to a close, his 2,000 career passing yards and 1,000 rushing yards garnered enough attention from NFL scouts to earn him a spot at the NFL combine. There he worked out at multiple positions and began to accept the fact that if he wanted to play at the pro-level, it probably would be at a position other than quarterback.
"Growing up I just wanted to be a quarterback, but reality set in," he said. "I felt like playing something where I could stick around and that was playing tight end, using my athletic ability.
"I just wanted to play in the NFL. So whatever they needed me to play, that's where I was going to work at and train to be."
Getting to the NFL in 2013 as an undrafted rookie, it appeared tight end would be the fit. He bounced around for while playing with the Niners, Browns, and as early as this year, the Vikings – who the Bills beat in their final drive.
"I remember talking trash to some of the guys," Gray said with a chuckle. "I was mainly doing special teams and I got a tackle on a guy and we just talked a lot of trash. Now to be on the other side of the ball with these guys, now they're my brothers. That's part of the league. You never know."
What's different about being with the Bills than past teams, though, is that he is getting real snaps with the offense – which means having to learn a new playbook, something that's easier for him having a quarterback's mindset.
"Being a quarterback, your job is to know everybody's position but now I just have to focus on tight end and that's a lot easier than knowing everybody else's," he said. "[It helps] Finding those open gaps in defenses, recognizing the coverage and where to get the releases from, so it helps out a lot."
As for his time in Buffalo, it's been a whirlwind. He was picked up off waivers in the heart of that historic snow storm but flew right to Detroit where the team was traveling to practice and play. When he got there, he didn't even have a practice jersey – he had to borrow one from the Lions.
Once back in Buffalo, he and coach Nathaniel Hackett dove into the play book to begin learning the offense. Less than a week later, he was making those big plays at Ralph Wilson Stadium.
"It's been wild," said Gray. "You just have to be able to overcome adversity."
Gray is enjoying Buffalo a lot. For one, he's used to the cold having been in Minnesota for a few years (according to Gray, it's "a lot colder in Minnesota"). He also loves to go out and explore local cuisine – which Buffalo certainly has. In the short time he's been here, he's hit up local favorites Duffs for some Buffalo wings and Kentucky Greg's in Depew, NY.
But before he is a football player, Gray is a husband and father of a daughter and twin sons, so he would love to make Buffalo his final stop and settle down.
"I'm tired of switching teams and learning new play books and meeting new players," he said. "If I could stick around here for a while, that'd be the best thing for myself and my family."