10. The weather outside might be frightful.
But rocking the Ralph is so delightful! It's going to be a chilly, wet one on Sunday, but we know you'll show up and show out. In Western New York, we know no other way.
9. The stadium will be radiating…
Heat, that is. Based on that forecast, for the first time in 2015, the radiant heaters will be turned on in the clubs giving a toasty gameday experience for all those under their warm glow. Sure, that means we're getting away from the temps everyone loves, but that also means we're getting closer to the meat and excitement of meaningful football late in the year.
8. #BillsOverBengals
If the fan favorite hashtag of the week stays true, the undefeated Bengals will walk out of our house with their first blemish, and we'd be happy to hand deliver it.
7. We're going monochromatic.
It's a big word for a big game. We'll be sporting our Sunday blues against Cincinnati for the first time since we beat Green Bay in a monster home game at the end of the 2014 season. We might be wearing it, but let's hope the Bengals are the only one feeling blue after the game.
6. Shady's back?
As the modern prophet Marshall "Eminem" Mathers III once proclaimed, "Shady's back." We don't know for sure, but if McCoy's recent Instagrams are any sign, we could see the return of the running back on Sunday. Tell a friend.
5. We can stay comfortably about .500.
A 4-2 record sounds a lot cleaner than 3-3, and wouldn't it be nice to lead over to London with a little momentum? It's still early in the season, but for that reason and more, it's a big game.
4. Ruben Brown is leading the charge.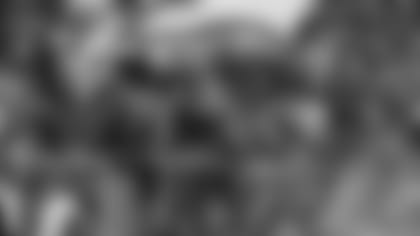 Wave to him atop the tunnel as the Bills head onto the field charged up for Sunday's game!
3. The wait for 11:30 a.m. is on.
Sammy. Tyrod. Percy. Shady. The injury list is long, and there are many questions yet to be answered about who will play and who won't. Rex has kept 'em guessing, but at 11:30 a.m. on Sunday when the list of inactive players is announced, we'll know who will start at QB, WR, RB and more wearing the blue on blue to beat the Bengals.
2. It'll be a playoff atmosphere.
Rex issued a challenge this week that he knows Bills fans will not only accept but celebrate. No doubt about it, it's going to be loud.
1. We're home.
Well before the halfway point in the season, we'll have been through half of the home games in 2015. So soak it all in, Bills fans – from the tailgating to the atmosphere to the noise inside a rocking Ralph Wilson Stadium.