1. Early focus on the red zone
Bills head coach Sean McDermott sent a message to his players on day one of training camp.
From the start to finish of practice, every team segment took place in the red zone. Often times red zone segments don't even begin until two or three days into camp, but that was not the case at St. John Fisher on Thursday.
"Coach explained to us why in our meetings (last night)," said Josh Allen. "Typically games are won or lost inside the red zone and in the two-minute drill. We started off in two minute and then went heavy in the red zone. That was just kind of starting camp on the right note. Everything happens a little quicker in the red zone. There was some good and not so good today. It's the first day of camp. We have a lot of practices to get some of these things fixed up. Communication was big for us and I thought as an offense we jelled and communicated really well."
Buffalo's offense ranked 16th in red zone touchdown percentage last season at just under 60 percent conversion. More importantly they had the fourth fewest red zone possessions with just 37 on the season. Only Jacksonville, Miami and Arizona had fewer opportunities.
Flip it over to the defensive side of the ball and red zone defense was a weak point for Buffalo's second-ranked defense in 2018. The Bills ranked 30th in red zone defense when it came to keeping opponents out of the end zone. Opponents scored touchdowns almost 71 percent of the time once inside Buffalo's 20-yard line. Only Kansas City and Tampa Bay allowed touchdowns more often.
"We know games are won and lost down there, so on the first day getting that constant repetition is going to be good for us," said Tremaine Edmunds. "We'll take it a step at a time getting better at it and getting everyone on the same page."
On the field Thursday, Allen and Matt Barkley combined for three consecutive touchdown passes early in 7-on-7 red zone work. Allen found John Brown in the back right corner of the end zone for a score. Then Barkley rotated in and hit Andre Roberts who toed the end line for a TD. Ray-Ray McCloud then got his toes down in the back of the end zone for the third score.
Brown also had a pair of touchdowns early in 11-on-11 red zone as he worked the right side of the field, first for a seven-yard scoring play and then later in rear right corner of the end zone.
Allen threaded the needle between a few defenders to hit Zay Jones for a score.
And McCloud pulled in a pass from Tyree Jackson late in red zone team work, although DE Darryl Johnson may have had a tap out sack on Jackson before the ball was away.
Among the highlights for the defense during those segments, EJ Gaines and Trent Murphy teamed up on a tackle for loss as they both got good penetration on a run play to stop LeSean McCoy.
Gaines also had an interception at the goal line on a pass over the middle.
Edmunds had a tackle for loss on another run play by himself as he knifed into the backfield.
Jerry Hughes had a sack on a play action keeper by Josh Allen, as he won on an inside move and got to the QB before he could take off through the hole.
Micah Hyde, Hughes and Matt Milano all got into the backfield on a run play for Devin Singletary and had him wrapped up for a loss.
Hyde had an interception in the end zone on a pass breakup by Gaines on a pass intended for John Brown.
Kurt Coleman had a sack on a blitz call and Jaquan Johnson had a pass breakup on a pass intended for Tommy Sweeney at the goal line.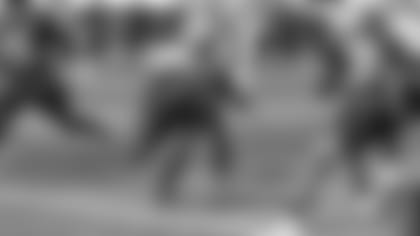 2. Offensive line happy with communication
As the ball was rolled out Thursday there were some interesting lineups for the first, second and third offensive line units.
The starting group left to right consisted of Dion Dawkins, Quinton Spain, Mitch Morse, Jon Feliciano and Cody Ford.
Spain and Feliciano missed parts of spring practices due to injury, so it was unclear where they might line up to start camp, but both were in the starting lineup.
One of the two constants up front has been Dawkins at left tackle, who is in prime shape to excel after a down sophomore season, and he was very encouraged by the way the men up front communicated on day one.
"Everything feels right so far," Dawkins said. "It feels scary with how right everything feels. It's only day one, but it feels like week three of camp. Guys are flying around. Guys are talking. Guys know exactly what they're doing. It feels like everybody knows their role."
The starters executed relatively well. There were some plays won by the defense where they got good penetration on a few run plays and on some blitzes, but the offensive line also opened up some good holes, blocked well on some screens and worked well on some combination assignments.
"It's about repetition. It's about getting in there and getting it done," said Morse.
As for the second offensive line, left to right it was LaAdrian Waddle, Wyatt Teller, Russ Bodine, Spencer Long and Ty Nsekhe.
Nsekhe was one of the standouts with the second group at right tackle and was glad to see so much work in the red zone.
"We had a whole bunch of looks and a whole bunch of blitzes in (red zone) so it was good to get a crack at that pass blocking on day one," he said.
Nsekhe fully understands being in a competition at tackle, chiefly with Cody Ford, that he needs to perform every single day.
"I've been doing this a long time, so I'm ready for anything," he said. "I'm like a tool box."
Nsekhe's state of readiness was evident amongst the entire contingent of linemen. They know they've got a lot of eyes on them, not just on the sidelines, but up in the stands as well.
"Guys are taking it extremely serious," said Dawkins of his fellow linemen. "It feels like guys really want to win. Guys aren't worried about the personal stats. Guys just want to get 'W's. 'W's equal championships and championships equal legacies and guys understand that. It just feels cool."
3. Dawson Knox gets bulk of first team reps
Dawson Knox was afforded an extended opportunity during spring practices when Tyler Kroft and Jason Croom missed most, if not all, of OTA and minicamp practices. The rookie made a very good impression in the spring, and that has apparently earned him a golden opportunity in training camp.
On Thursday, Knox was the primary receiving tight end in regular or two tight end personnel packages with veteran Lee Smith as the primary blocker.
"It was pretty similar to what we were doing in OTAs," said Knox. "It was good having that strong foundation. If I would've come in today without all those reps from the spring my head would've been spinning. It's good to come out and reinforce everything and get those cobwebs out from the break. The experience I'm getting right now I'm really thankful for just so I can start working on one thing a day to get better at."
Knox didn't turn in a ton of plays on day one. He was targeted just twice with one reception and the other broken up by double coverage. But it's clear that his offensive teammates and the coaching staff believe he has something to offer Buffalo's passing game as a rookie.
"He's an extremely smart player and he's very athletic and he's doing things the right way," said Allen. "At Ole Miss you won't see the stats on the page, but what he can do on the field is really impressive. We've been able to grow together. He and Tommy (Sweeney) are studying the playbook a lot and they know their stuff. I don't have to worry about pointing him in the right direction. He definitely has the tools to be really good."
Those athletic tools offer offensive coordinator Brian Daboll a lot of options when it comes to lining up Knox to find advantageous matchups.
"That's what is fun for me when coach Daboll can move the tight end around and expose mismatches and run certain routes where we might be the first look," Knox said. "That's one of my favorite things in the offense is the versatility of being able to line up anywhere on the field."