1 – Offensive line in flux?
It was not the performance head coach Sean McDermott was looking for on offense. With his rookie quarterback getting the start, Buffalo's offensive line struggled mightily against Cincinnati's quality defensive front.
It compromised what many hoped would be a convincing performance by Josh Allen in the quarterback competition. Allen was often left scrambling away from pressure, and at times unable to do so altogether.
"We're going to have to look at the tape. There was a lot going on there," said McDermott. "We've got to make sure we're helping him with protection and catching the football and not beating ourselves with penalties. We'll start there and the rest we have to look at the film."
"It's bad," said Groy. "I'll take the first hit. It was embarrassing as a unit. I'll take the first blame. As an o-line we need to get better. That was on us, 100 percent."
On the Bills first four possessions they ran just 14 plays and gained just 28 total net yards. That was due largely to subpar play up front. Buffalo surrendered three sacks on those first four series.
"I would say it comes back to technique stuff," said Ryan Groy. "We weren't at our best. We need to come back and look at what we can improve on. We just weren't playing as a group. It was one guy losing here, me losing there. We've got to get better."
There was a healthy dose of shuffling on the interior of the Bills offensive line on a series-by-series basis early in the game. By the third offensive series Vladimir Ducasse was rotated out with Ryan Groy moving out to left guard and Russell Bodine coming in at center.
Come the fourth series, Groy flipped to right guard and Miller sat out. Variations of that guard rotation continued for the remainder of the half.
McDermott said the different combinations were planned going into the game.
"Just trying to make sure we cover our bases with what could happen in a game," he said. "If Ryan does start at center and we get an injury at guard and what we might have to do based on who might be active or inactive. Just making sure we're being thorough with that. That was planned ahead of time."
Over the final four series of the half, Buffalo ran 15 plays gaining just 10 total net yards, for a halftime total of 38. They also surrendered two more sacks, though Cincinnati coverage downfield forced Josh Allen to hesitate on the final two quarterback takedowns.
Allen completed just six of 12 passes for 34 yards.
Buffalo's starting offensive line has been unchanged since training camp. When healthy it has been left to right, Dion Dawkins, Vladimir Ducasse, Ryan Groy/Russell Bodine, John Miller and Jordan Mills.
When asked if a change might be considered in light of this latest performance, McDermott is holding off until the game tape is reviewed.
"I need to look at the film to see what was going on exactly inside. I have a pretty good feel for it right now," he said. "In order to do a thorough and accurate evaluation, especially with interior line play, you've got to look at the film."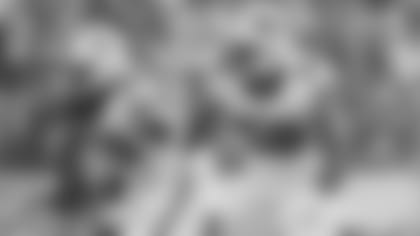 2 – Edmunds and Milano take a step
Tremaine Edmunds and Matt Milano are going to be the two linebackers who see the most time on the field on defense this season. They are the two strongest coverage backers on the roster, so they're out there in the team's nickel package.
On Sunday, Milano and Edmunds had their best individual performances of the preseason. Milano flashed early with good coverage on Tyler Eifert preventing a potential touchdown with a pass breakup.
Late in the first half, Edmunds had strong coverage and almost came up with an interception that could've gone for a touchdown the other way on a pass intended for Tyler Boyd.
Edmunds appeared to play more confidently after that near interception. He came up with two tackles for loss on successive series and finished the game tied for the team-lead with seven total tackles.
"It was about the flow of the game," said Edmunds. "Things started coming to me and I started making more plays. I wish I would've had that pass breakup. I've got to come away with those."
"Experience is big and with Tremaine," said McDermott. "The reps he's getting are valuable. From what I saw on the field, he was making some plays in the run and the pass game. That was good to see."
Milano also had seven tackles in the game. Jordan Poyer was the other.
The most encouraging part of the progress made by Edmunds and Milano was the way the pair played off one another as they proved to be a productive tandem.
3 – Croom makes case, Murphy cements role
He had just one reception for 22 yards in the preseason, but tight end Jason Croom put together a strong training camp and demonstrated improvement in his blocking as well as the pass game. It all came together in the second half against the Bengals.
Facing a 2nd-and-10 from the Cincinnati 17-yard line, Nate Peterman found Croom out in space in the right flat and the tight end did the rest. Croom leaped over one diving defender took off toward the sideline and dove over another defender at the three-yard line to reach the end zone for a 17-yard touchdown.
"I saw Jason flash this evening and he made a big play for us on offense," said McDermott.
"It felt good," said Croom. "It's the first time I've been in the end zone since 2016 when I was a senior."
On the next series, Croom worked the middle of the field where again Peterman found him for a 21-yard pickup. The two receptions might look pedestrian on the stat sheet, but the athleticism that Croom displayed is the one element that puts his playmaking ability on another level from the other tight end candidates sitting behind starter Charles Clay.
"I just continue to work at it," he said. "Whatever I'm not good at I continue to work at it and try to learn more. It's finally clicked. I'm still learning a lot, but I know more than I did before.
"The game is, matchups. Improving all aspects of my game helps so I can be used in those matchups where the defense doesn't know what personnel to put in the game."
"He's shown up," said McDermott of Croom. "He's made plays not only in games, in the three games that we've played, but also in practice. Then working on the consistency, again a young player. You see him making plays and at the end of the day that's the name of the game, the guys that can make plays."
Meanwhile Marcus Murphy looks like he's locked up a spot on Buffalo's 53-man roster. With McCoy sitting out the game with a sore groin, Murphy again proved to be the team's most productive back gaining 58 yards on 11 carries (5.3 avg.)
"I'm feeling good," said Murphy. "I'm just trying to keep going. I'm trying to make the most of every opportunity and improve every week."
Murphy's ability to squeeze through holes and gain yards after contact has made him an asset in Buffalo's offensive backfield. Couple that with his first team reps Sunday as the primary punt returner and it appears he has put himself in position to earn a roster spot next weekend.