Josh Allen spoke for just about everybody in Buffalo when he was asked during his weekly press conference what he wished for this Christmas. 
"Just go out there and execute on Sunday," the quarterback said. "That's all I can ask for."
To say Allen will be a crucial player for the Bills as they seek to reclaim the AFC East lead over the New England Patriots in Foxborough would be like saying Santa Clause is crucial to Christmas. 
But who else might make the difference? Here are five players to watch on Sunday.
1. Harrison Phillips, DT
We can presume the Patriots won't run the ball quite as often as they did back in Week 13, when quarterback Mac Jones attempted just three passes on a windy night inside Highmark Stadium. 
That said, running has been a staple of the Patriots' attack. The Patriots rank second in rushing attempts (320) and third in rushing yards per game (141.3) since Week 5. They are 1-3 when rushing for less than 100 yards, including their loss last week in Indianapolis. 
This brings us to Phillips, who has started two straight games at defensive tackle – including last week, when usual starter Star Lotulelei was active. Phillips edged Lotulelei in snaps, 44-22. He has played at least 58 percent of defensive snaps in each of the past six games. 
As The Athletic's Joe Buscaglia pointed out after the game, the results were positive when Phillips was on the field against the Panthers. Panthers running backs averaged 3.92 yards per carry on 12 attempts. That number drops to 1.29 yards per carry on seven attempts when Phillips was on the field, according to TruMedia. 
It was the same story one week prior in Tampa Bay. Buccaneers running backs averaged 5.50 yards per carry overall but averaged just 2.36 yards per rush with Phillips on the field.
Of course, these numbers are at least partially circumstantial and are derived from a small sample size. But defensive coordinator Leslie Frazier confirmed Phillips' improved play of late. 
"He's not having to think about things, he's just making plays because he's healthy now," Frazier said. "He understands schemes and how people want to try and block him. He understands our defense and he's making a big difference for us on the interior. Creates more confidence for our defense having him out on the field. It's great to see."
2. Emmanuel Sanders and Isaiah McKenzie, WRs
Sanders was a full participant in practice on Thursday and is set to return after missing Week 15 with a knee injury. His presence became more important on Friday, when head coach Sean McDermott announced Gabriel Davis had been placed on the reserve/COVID-19 list.
The veteran receiver has had to deal with adversity over the past month, losing friend and former Broncos teammate Demaryius Thomas unexpectedly on Dec. 9 and sustaining his injury against the Buccaneers three days later.
"He's a true professional," Allen said. "He's been getting a lot of rehab, a lot of work. He's been able to maintain the same positive energy each and every day that he's been around us. So, super grateful for that. When he's back out here playing with us, we don't expect anything but that juice and that energy and that focus, so we're going to need him going forward. He's gonna be ready for the opportunity."
With Sanders set to reclaim his outside role in the absence of Davis, the door is fully open for McKenzie to claim snaps in the slot in place of Cole Beasley. Beasley was placed on the reserve/COVID-19 list on Tuesday.
Beasley has only missed one game over the past two seasons, when the Bills had their playoff spot locked up ahead of their home game against Miami in Week 17 of last year. McKenzie caught six passes for 65 yards and two touchdowns in the victory.
3. Dawson Knox, TE
The absences at receiver only emphasizes the importance of Knox, who has had a career year despite missing two games due to injury. He has nearly doubled his previous career highs in receiving yards (527) and receptions (44) and is tied for the team lead with eight receiving touchdowns. 
His Week 13 against the Patriots was an outlier. The Patriots defense – which has allowed a league-best 368 yards to tight ends, according to The Football Database – came up with timely pass break ups to hold Knox to two receptions on six targets. He has not caught less than half of his targets in any other game this season. 
Knox also could become a primary target for Allen in the red zone in the absence of Davis, who had scored four touchdowns over the past three games. Knox's five scores in the red zone this season are tied for fourth among NFL tight ends.
4. Devin Singletary, RB
Singletary has seized the role of featured back over the past two weeks, culminating in his busiest game of the season against Carolina. He set season highs in carries (22) and rushing yards (86), opened the scoring with a 16-yard touchdown run, and played 93 percent of offensive snaps.
It was a dramatic difference from just two weeks prior, when the Bills activated three running backs against the Patriots and played Singletary on 48 percent of offensive snaps.
How much the Bills choose to run will bear watching in itself. The Patriots allow 4.6 yards per carry, which ranks 28th in the NFL, though that number was inflated by Jonathan Taylor's 170-yard night last Saturday. That said, the weather in Foxborough is forecasted to be far calmer than the previous meeting, and the Bills have attempted the fifth-most passes in the NFL.
But when the Bills do run the ball, it will be interesting to watch whether Singletary continues to get the call.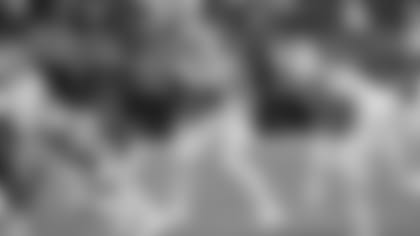 5. Matt Milano, LB
When the Bills needed a play to keep their comeback hopes alive in Tampa Bay, it was Milano who stepped up. The linebacker burst through the line and sacked Tom Brady for a 10-yard loss on third-and-6 in the fourth quarter, putting the ball in the offense's hands for the game-tying field goal.
Milano has shown a propensity for game-changing plays all season. His 13 tackles for loss are tied for seventh in the NFL, fourth among linebackers. The players ahead of him is a list of the game's elite: Nick Bosa, T.J. Watt, Micah Parsons, Myles Garrett, Robert Quinn, and Aaron Donald.
Milano is one of two NFL players with at least 70 tackles, four passes defended, and 13 tackles for loss. The other is New Orleans linebacker Demario Davis.
"He's playing with so much more confidence on the field," Frazier said. "Part of it is he's been in this system now for four or five years. He's very comfortable with Tremaine (Edmunds), who is his side mate. Along with having a group of guys around him that he's comfortable with. I think that has a lot to do with the way he plays. He plays fast, he plays physical, very productive. ... He's having an outstanding impact season."