5. Allen and the offense turning the tide
In his return to the playing field, quarterback Josh Allen put on quite a show. In a heroic effort, Allen threw, ran and stiff armed his way to victory and ignited a spark in the Bills offense. His energy is contagious, and his teammates are feeding off it. As the rookie leads his crew behind enemy lines this weekend, he'll look to continue to keep the offense sailing in the right direction.
4. Young players making big waves
It's no secret that the Bills have a pretty young team. With a good chunk (35%) of the team's offensive and defensive snaps going to first and second year players, it's been impressive to see what they've been able to accomplish. Even though some of these guys, such as undrafted rookie Robert Foster who has managed 199 yards receiving in just two games, have only just started getting their feet wet, they've made plays. Another youngin' who is earning his stripes is sophomore Matt Milano, who is tied for the league lead in takeaways. First-round pick Tremaine Edmunds has also been a force for the Bills and is leading the team in tackles.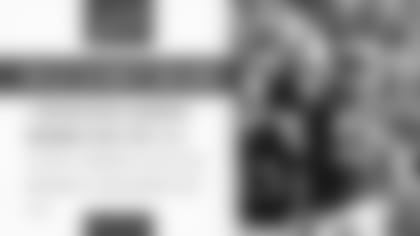 Send out the life preserver because Kyle Williams is on the loose and coming for your quarterback. The longest tenured Bill is having a heck of a season and is showing no signs of slowing down. The 13-year vet needs just 1.5 sacks to reach 50 for his career and after last week's performance, where wreaked havoc on Blake Bortles, sacking him 1.5 times for a loss of 13.5 yards, we know it can be done.
"The Bills defense" is a phrase that really packs a punch these days. Inciting fear in the opposition, the unit has proven time and again this season that they're not one to mess with – especially when it comes to passing yards allowed per game. The best in the league at defending the pass, Buffalo is only giving up 193.7 yards per outing, a stat that's been made possible thanks to several members of the Bills secondary including safety Jordan Poyer and cornerback Tre'Davious White. Poyer is just one of two safeties in the NFL right now with at least 60 tackles, one forced fumble, one sack and three picks. Meanwhile, White has been a lock on the edges, making it near impossible for quarterbacks to hit their target when he's on the case.
I think I can speak for most Bills fans when I say that there's little more satisfying than beating a division rival on the road. That's exactly what Buffalo is looking to do this Sunday when they head south to the Sunshine State to take on the Miami Dolphins. Riding a two-game win streak, the Bills will look to keep the good times alive while defeating an old foe in the process. The Bills have won three straight against Miami and will look to make it consecutive wins on Dolphins' turf for the first time since 2006-07.