The beat goes on for the Buffalo Bills as they look to lock down a playoff spot. They play their next two on the road, starting this Sunday night against a red-hot Steelers team. Pittsburgh has won three in a row and seven of their last eight, after starting the season with a 0-3 record. And this week's game is a primetime showcase for the Bills and they will play their first Sunday Night Football game since 2007.
Here are some of the top storylines this week as the Bills get set to head to Pittsburgh:
1. CLEAR CUT PLAYOFF PICTURE
All it takes is a win, one win, for the Buffalo Bills to claim a playoff spot. The New York Times Playoff Machine says they've got a 95 percent chance to make the postseason now.
But the battle in Pittsburgh could be viewed as a battle for the fifth seed — the Steelers' 8-5 record puts them one game behind Buffalo for the fifth spot. The Steelers finish up with two road games, at the Jets and the Ravens. The Bills still must play at New England before finishing the regular season at home against the Jets.
The Titans and the Texans might also be part of the late season juggling of the fifth and sixth seeds, so stay tuned.
2. BILLS LOOKING FOR OFFENSIVE RECOVERY
Buffalo needs to regain its footing on offense after struggling to score 17 points and post 209 yards of production against Baltimore.
It was the Ravens blitz that caused problems. Baltimore produced six sacks, blitzing on 67 percent of the Bills pass attempts, and totally disrupted Josh Allen and the Buffalo passing game.
So why wouldn't Pittsburgh, second in the league in sack percentage, do the same?
"You never know," Sean McDermott said this week. "It is a copycat league and we try and respect that as well, and make sure that we are dotting our "i's" and crossing our "t's" as relates to some of the challenges that we faced (Sunday), not just offensively but defensively and special teams as well."
3. STEELERS HAVE A 'STEEL CURTAIN' AGAIN
The impetus behind Pittsburgh's late charge for the postseason? It's no secret — it's the defense.
The Steelers have given up an average of 16 points per game in their last eight, their 7-1 stretch. In five games before that, they surrendered 22 points per game.
They're the fifth-best defense in the league (Buffalo is third). They lead the NFL in sacks (48) and rank second in interceptions (18).
They're another serious challenge for a Buffalo offense that is still finding its' way.
"They're really good," Bills offensive coordinator Brian Daboll said. "They can rush the passer. They can stop the run. I think they're first in takeaways, second in the league in negative plays, first in sacks. Good situational football team, they're 7-1 in their last eight, 3-0 in their last three. They have a lot of good players. They have a good coaching staff."
There will be Edmunds' on both teams Sunday night at Heinz Field. The Edmunds brothers from Ringgold, Virginia will be on both sides of the field.
Bills linebacker Tremaine Edmunds is coming off one of his best games in the Ravens matchup. For the Steelers, his older brother Terrell plays strong safety. They were the first brothers selected in the first round of the same draft a year ago. Tremaine went to the Bills (16th overall); Terrell went to the Steelers (28th overall).
But there's more. The oldest brother Trey Edmunds was a free agent signee of the Steelers last year and he plays fullback. Trey has 22 carries this year and Tremaine might have to tackle him.
Their father, former Miami Pro Bowl tight end Ferrell Edmunds, might have to wear his old Dolphins jersey Sunday night to avoid taking sides.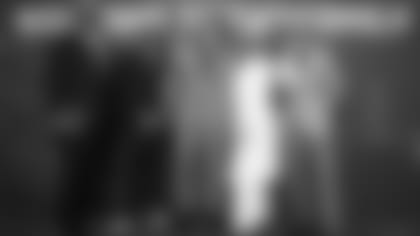 5. STEELERS PLAYMAKERS MAY BE READY TO RETURN
A Pittsburgh offense that once featured Big Ben, LeVeon Bell, and Antonio Brown has fewer offensive standouts now. But they may get a couple of them back from injury this week.
Wide Receiver JuJu Smith-Schuster reportedly is ready to return from a knee injury. He's missed the last three games.
Bruising running back James Connor may play Sunday night also. He's missed the last three games with an injured shoulder that is likely to need surgery at the end of the season.
6. MIKE AND SEAN AND WILLIAM AND MARY
It used to be the cradle of presidents. George Washington, Thomas Jefferson, John Tyler and James Monroe all received degrees from the College of William and Mary in Virginia.
Now, it looks like the cradle of NFL coaches. Both of Sunday night's head coaches, Sean McDermott and Mike Tomlin, are graduates of William and Mary. They were teammates on the 1994 team there coached by Jimmye Laycock, who spent 39 years coaching the Tribe.
McDermott credits Laycock's organizational prowess in helping him establish his program in Buffalo.
"Yeah, absolutely," McDermott said this week. "He ran a pro-style program and I remember getting a handbook the very first summer camp and it was all rules, regulations, policies and procedures. It's probably somewhere in my basement now. He just did things the right way and for me going on campus. Mike [Tomlin] was there when I was a freshman, and what a great example of what it means to do things the right way both on the field as a captain the way he led the football team, and off the field as well."
7. I'VE BEEN WAITIN' 12 YEARS FOR SUNDAY NIGHT
It's back to the national TV stage for the Bills, and although the audience won't be as big as Thanksgiving Day, it will be big. NBC's Sunday Night Football is not just the highest-rated football broadcast, it has been the top-rated show on television for several years.
The Bills haven't played on Sunday night since November 2007, when they lost a brutal matchup to New England in Orchard Park. Overall, Buffalo has played 20 Sunday night games in history, winning 10 and losing 10.