The Bills welcomed in a prospect that is considered to be among the elite prospects in the entire draft class Tuesday. Texas A&M WR Mike Evans toured One Bills Drive and met with Buffalo's offensive staff. He was joined by USC center Marcus Martin and Georgia Southern RB Jerick McKinnon.
WR Mike Evans
With his athletic career rooted in basketball during his grade school years, Mike Evans didn't start playing football until high school. His basketball background however, is what is going to make him an early pick in the 2014 NFL draft.
Evans (6-5, 232) looked like a man among boys the last two seasons at Texas A&M. Johnny Manziel's favorite target put up almost 1,400 receiving yards this season to average better than 100 yards a game along with 12 touchdowns.
Averaging better than 20 yards a reception Evans proved time and again that when it's a jump ball it's usually his. One of the reasons why is he's got the longest arms in the receiver class at more than 35 inches making him even taller than his listed height.  
He has build up type speed, but ran a solid 4.53 40 time at the NFL combine and has a portfolio of long touchdowns where he pulls away from defenders after the catch. NFL scouts wonder if Evans' big body provides physical NFL cornerbacks with a big target to jam at the line of scrimmage, but the lanky receivers loves going against press coverage.
"When I've faced it, I've had my career days, so," said Evans. "I like man coverage. If you watch my film, I think you'll see that I like it, and I embraced it."
Evans will need to continue to refine his route running skills, but the physical mismatch he offers has drawn comparisons to Tampa Bay top receiver Vincent Jackson. Buffalo's interest in Evans is far from surprising as GM Doug Whaley has said time and again they'd like to add size to their receiving corps. Whether Evans is still on the board when the Bills are on the clock at nine seems iffy at best.
C Marcus Martin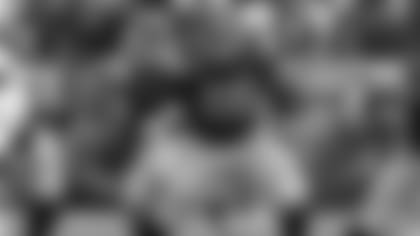 The USC pivot man has a natural tendency to play low enabling him to win leverage battles and has a nasty on field demeanor that's attractive to a lot of NFL scouts. Thought Martin (6-3 1/2, 320) is light on his feet in pass protection he packs a strong punch and is consistent in turning away powerful interior defenders.
Martin has a quick first step out of his stance in the run game and can effectively move defenders back off the line. A three-year starter, Martin first played at left guard where he logged 20 starts in his first two seasons. He transitioned to center in 2013, which is where he projects in the NFL due to his short arms and lack of ideal height.
"I was really focused and concentrated on developing my game, learning how to snap, trying to understand our offensive scheme as best as possible," said Martin. "And it was something that played a pivotal role with me being successful this year at center."
Named a captain as a junior, Martin has good leadership qualities and is a dependable and accountable player. He's projected as a late second or early third round draft choice.
RB Jerick McKinnon
McKinnon (5-9, 209) was an option quarterback at Georgia Southern who projects to running back in the NFL. His compact build helps him win most leverage battles and he gets up to top speed quickly.
A shifty type rusher, McKinnon shows good elusiveness and can weave his way through closely bunched defenders, but he's mainly a downhill runner.
"I love to make plays," said McKinnon. "I can make defenders miss and feel like I have good balance and patience. Pressing to the line, I can make a cut and get north-south real quick."
Scouts will have to project his ability to read and run between the tackles since he didn't do much of it as an option QB. McKinnon showed at the combine that he can make the reception and smoothly transition up field, but his small hands and short arms are a bit of concern especially in pass protection.
He did put together an impressive combine workout clocking a 4.41 40 time, a 40 ½-inch vertical an 11-foot broad jump and a running back best 32 reps on the bench press.
Willing to fill any role asked of him at Georgia Southern McKinnon has solid intangibles and projects as an early day three selection.