On Saturday afternoon, Bills linebacker Von Miller hosted his first 'Von's Vision Reveal Day' in Buffalo at Highmark Stadium where he provided fashionable prescription glasses to 200 local in-need students, just in time to go back to school.
"I wear glasses, they wear glasses and if we don't connect any other way, we both wear glasses and we both struggle with our vision," Miller said "And you can be cool doing it. That's one of the best parts of this day is just revealing the glasses to all the kids and seeing the excitement on everybody's faces."
Von's Vision Foundation is focused on serving the city of Buffalo. On May 21, the foundation hosted local students who needed prescription glasses at Atwal Eye Care's Cheektowaga and Orchard Park locations for eye exams and 'pick your pair' day where they picked out their glasses frames. Saturday, Miller presented these children with their brand-new glasses that they picked out back in May.
"With great power comes great responsibility," Miller said. "We have a huge platform here with the Buffalo Bills, and you want to use it for good."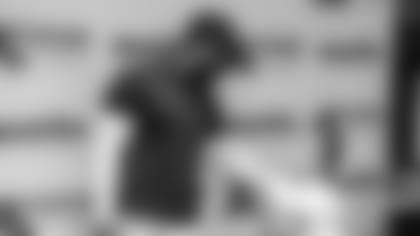 Miller shared that there's more meaning behind the event than just new glasses; he hopes that he's able to give kids confidence.
As a kid who wore glasses growing up, Miller would sometimes walk into school with his glasses taped together because he had slept on them the night before, so he wanted to make sure these kids felt confident walking into the classroom on the first day of school.
"To even out the playing field in a classroom for these kids, especially, getting ready to go back to school, is huge," Miller said. "I feel super blessed, and I feel super excited for the kids."
Demi Eaton, 8, of Buffalo shared that it felt amazing when she picked up her glasses from Miller and put them on for the first time. Last year, Eaton's teacher noticed she was having trouble reading the board from the back of the classroom, so she moved Eaton to the front so she could see better. This upcoming school year, Eaton is looking forward to returning to her normal seat now that she has her new glasses.
"I had to squint to see the board so these glasses will help me a lot when I go back to school and when I'm in the classroom again," Eaton said. "I like this nice green-blue color and that's my favorite color, so I'm excited to be able to wear them at school."
Von's Vision was also an impactful event for parents. Damian Kilber, father of Emery, 5, and Lilith, 4, is grateful for Miller's generosity to the Buffalo community, specifically for how much he helped his two daughters today.
"It's very exciting to be able to give them something as cool as this and see their faces light up when they got the new glasses is just excellent for a parent," Kilber said. "To be able to see in school is crucial for them, so it's going to make the school year exemplary for them."
After the kids picked up their glasses, they headed over to the photo booth to get their picture taken with Miller so they could remember this day forever.
"Whenever you're doing something for somebody else, whenever you're playing football for somebody else, it just brings the most out of you and it just feels good," Miller said. "This makes me feel good to be able to provide for these kids and provide excitement."
Bills hosted Return of Blue & Red practice on Friday, Aug. 5 at Highmark Stadium.