It might have just been coincidence or maybe it was fate.
Either way, a decent case can be made that LeSean McCoy is exactly where he's supposed to be as a member of the Bills.
It turns out that McCoy has some interesting ties to the Bills front office. McCoy attended Bishop McDevitt High School - the same school as Jim Monos, the Bills director of player personnel.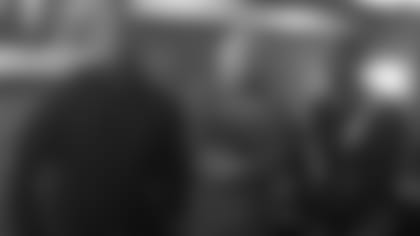 Director of Player PersonnelJim Monos scouted LeRon McCoy (left) at Indiana University Pennsylvania.**
"My friends kept telling me I had to check out this running back at our alma mater," Monos recalled. At the time, Monos was a scout for the Philadelphia Eagles and had already scouted LeSean's older brother, LeRon, at Indiana University of Pennsylvania.
Monos took his friends' advice and watched McCoy in a state playoff game against Central Dauphin. LeSean lived up to the advance billing. The junior carried 42 times for 387 yards, caught two passes for 127 yards, and scored five touchdowns.
"From then on I knew I wanted him on a team I was part of," Monos said.
That wish became reality in March, when the Philadelphia Eagles traded McCoy to the Bills in exchange for linebacker Kiko Alonso.
"The way the trade went down made it even more exciting," Monos said. "It's fun to add him to the rest of the talented free agents we brought in and traded for."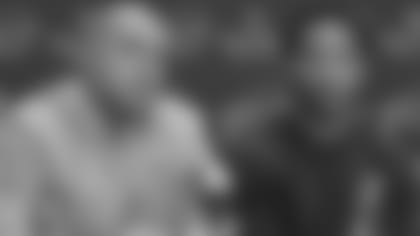 "The way the trade went down made it even more exciting," said Jim Monos.
McCoy's connection with the Bills organization doesn't stop there. General Manager Doug Whaley and McCoy both attended the University of Pittsburgh.
"We had a special relationship when I was with the Steelers and with Pitt not only because I went there, but our training facilities were in the same building so when (McCoy) got recruited we knew he was a big name," Whaley said. "He's elusive, he's instinctive, and he's got speed. He is a game breaker and a game changer. I wasn't only excited for him, but for Pitt as well."
With the new coaching staff in place, the Bills front office has been putting together a roster that fits the schemes of the new coaching staff. Offensive coordinator Greg Roman strongly believes in a run-oriented, "ground-and-pound" approach, and McCoy appears to be the kind of player who can help Buffalo succeed.
McCoy has the NFL's third-most rushing yards (6,792) and fourth-most rushing touchdowns (44) since the Eagles drafted him in the second round in 2009. He finished last season with 1,319 rushing yards, third-most in the NFL.
So is it fate or a coincidence that Whaley, Monos, and McCoy all are on the same team?
"He's elusive, he's instinctive, and he's got speed.  He is a game breaker and a game changer."Bills General Manager *Doug Whaley
---
"We always say in this business, 'Never say never,' because in this business, stranger things have happened and you never know who you're going to work with, who you're going to have on your team, who you're going to play with," Whaley said. "It's one of those cosmic things that happens in the football world every once in a while. It's kind of funny, but we are excited about it."
Whaley, coach Rex Ryan and the rest of the Bills organization are hoping that the excitement from the additions of playmakers such as McCoy, wide receiver Percy Harvin, and tight end Charles Clay translate to a potent offensive attack this season.
"The name of this game is scoring touchdowns and that's what this guy does," Whaley said. "We just keep trying to get playmakers on our squad and he's one of the premiere playmakers in the league and we are excited to have him. Hopefully everyone in the league is a little nervous for us and hopefully everyone in Bills nation is as excited as we are to have him."