Most Bills fans who have taken the time to look at the career of new quarterbacks coach Ken Dorsey will know that he helped push Cam Newton's game to elite status when the Carolina quarterback won the NFL MVP in 2015. Some might even remember his days as the quarterback of the national champion Miami Hurricanes in 2001 where he compiled a 38-2 record as a starter.
But no one in Buffalo knows Ken Dorsey the player, or coach, better than Bills QB Derek Anderson. And he knows what Dorsey will do for Josh Allen's game after witnessing him in action with Newton in Carolina.
"I think he just added new ways for Cam to learn," Anderson told Buffalobills.com. "The way that he runs the meetings, you don't just sit in there listening to him preach about a play or scheme. It's very player involved. He asks questions, you give responses. There are competitions in the meeting rooms. It's designed to push your thinking to go forward."
Anderson saw how Dorsey made Newton a more cerebral player, as the quarterback learned to rely more on his football smarts and a bit less on his God-given athletic ability.
While the Browns offensive coordinator, Rob Chudzinski, certainly deserves a lot of the credit for helping Anderson have a career year that season with 29 touchdown passes and almost 3,800 yards passing, Anderson saw Dorsey, his backup, as a valuable confidant in the quarterback room.
"He's always been a great source for me just to lean on," Anderson said. "When I was playing my best, he was a guy in the room most of the time with me watching tape and bouncing things off me. He was helping me and was a huge factor in 2007 when I had my best season. He and I have had a great relationship over the years."
Dorsey, who had played under Chudzinski at Miami for the last two seasons of his college career, was familiar with the Browns offensive system, and passed on valuable scheme solutions to Anderson so he could succeed on the field.
"Ken in practice would relay some things to me that maybe Rob told him. He was a great resource for me because I was getting information from him about things he had done in the past in that system that worked for him, or something he and Rob talked about in passing," said Anderson. "It was really good for me. Sometimes it's good to hear it from another player as opposed to from your coach. Now I've seen it come full circle for him and it's been fun to watch."
Now Anderson will likely take on a similar role as a backup to Josh Allen and help relay the messaging from Dorsey to Buffalo's starting QB.
After working under Dorsey for five seasons in Carolina, Anderson expects him to equip Allen with the same problem-solving skills that he gave Newton.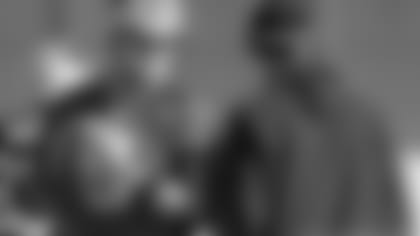 "He's very detail-oriented," said Anderson. "He understands the game at an elite level. Even if there's a thing he doesn't understand he'll get an answer for you. He relates well with players in the room. He helped Cam (Newton) a ton. That's where I saw him grow as a coach. He came in Cam's third year and the way he ran our meetings and the way we learned in our room, that was cool for me to watch."
Anderson recognizes that Dorsey will be working in a new scheme under offensive coordinator Brian Daboll, but he doesn't see that as a hurdle of any kind for Buffalo's new quarterbacks coach.
"He'll fit in and make it work," said Anderson. "I'll guarantee you that right now he's studying the things that we learned through the course of the season. He's obviously adding things and changing things.
"I'm sure (Brian) Daboll will still be in our room and be in our meetings and heavily involved, but I think it's just nice to have another guy in there who played the position and understands it and has been around a lot of good players. I know that he'll be ready to go and when we come back in April he'll have the answers."