Q: Can you talk about the first half there? Your offense probably played as well as it's played in maybe a month in that first half. Let's start there, and we'll get to the second half later. The first half kind of won the game for you.
A: Yeah, I thought we were dynamic in terms of the mix of run-pass and opened it up down the field a couple of times, which kept them a little bit off balance at times. We were running the ball effectively and then the play-action was working. Tyrod [Taylor] did a good job of really getting a lot of people involved in the passing game as well so I thought Rick [Dennison] called a really good game and it was good to see. In particular, [it was good] to score three times in that first half, I think it was, so that was big.
Q: This is the first time you've won six games at home since the last time you went to the playoffs. How much does that mean to you to really establish the home field here?
A:  Yeah, that's huge. That's huge. We know how important winning at home is. The guys talk about it a lot. We talk a lot about defending our dirt. That's something that's out there, that's a saying that's out there now. Playing in Western New York, you've heard me say it before, it's a special place to play in this stadium and in front of our fans here. Can't say enough about it in terms of the effort that the fans put forth to come and support us and stuck by us all season long. Kyle [Williams] did a great job last night talking to the team about what it means to play here and I think the players took it to heart [and] took a lot of pride in it. 
Q: Coach, the three interceptions. It's been a long time since you've had that many in a game, at least six weeks. Your assessment of that?
A: Important part of the game. Important part of the game. You've got to get takeaways on defense and special teams and then protect the ball on offense and special teams. That was key for us, and obviously winning the game like we did at the end with the interception, and playing smart football this time going down when we knew and obviously finished off the game.
Q: It looked like movement or mobility wasn't an issue. How did your knee feel throughout the game today?
A: I felt good. Using my legs was definitely part of the game plan. Like I said earlier in the week, the training staff did a great job over the past two weeks of getting me ready to get back out there playing and back to feeling normal. Credit goes to them, along with hard work and God himself.
Q: That was the first time you guys scored a touchdown on your opening drive for this season. How much does that change the whole outcome of the game when get off to a start like that, and be in the rhythm you guys were in earlier?
A: It definitely changes a lot. Coach [Sean McDermott] talks to us a lot about starting fast, something we haven't done so well this year. First drive of the game as well as coming out of halftime and going out and putting up points too. It's definitely something that I focus on and we were able to go out there and execute well and put up points. It's a momentum booster for us as an offense but as well for our team.
Q: Do you allow yourself to just wrap your mind around the possibilities that are here given that you haven't been to a playoff yet, with this team? You haven't done it as a starter. Your team as a whole, this team as a whole, when you see a game like this and what this team's fit for, what do you allow yourself to embrace?
A: Really just take it one game at a time. Yes we got the win today, but there is a bunch of things that we could have done better in all phases, special teams, defense, and offense. I think very good teams look themselves in the mirror after a game like this and still try to figure out ways were we can get better. That's what we have to do to be the team that we want to be moving forward.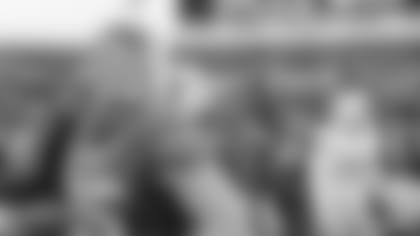 Q: Richie [Incognito] said that if anybody said you were 8-6 or 6-2 at home in August we'd be laughing at you guys. No one is laughing at you guys. What do you make of it where this team is at right now?
A: It is no surprise. Day in and day out you spend the time with these guys. You see the way they work. You see the way they care about their teammates and the way they care about preparing. Everybody wants to win but not everybody is willing to prepare. These guys are willing to prepare. These guys are willing to get ready and pay the cost Monday through Saturday. The record is not perfect, we wish it could be better, but that's why we are what we are this week because of the guys in this room.
Q: At this point in your career how good does it feel to essentially be playing meaningful football down the stretch? You haven't had that a lot. You haven't had that much lately.
A: It's fun. It's good to get up in the morning and go have everything you want to accomplish right in front of you. Then go get to work, help your teammates, and get ready and prepare. It's all a lot of fun.
Q: Can you walk us through your two scoring plays? First the run and then the catch when you had a mismatch with the lineman.
A: The first run was just I ran to the right, guys blocked it up. My last guy's a safety and I just out ran him. But I mean, they blocked it up. That's all I could say, they guys really blocked well. Then on the mismatch, it was a linebacker, which he knew it would be a hard match up. But we've been working at that all week. We didn't think that we would get a linebacker to go out with me. So, when we see it, we were surprised. I looked at Tyrod [Taylor] like, hey this an early Christmas present. It worked though. I came outside and scored a touchdown.
Q: How different does this team feel to you, if at all, compared to a previous Bills team you've been on?
A: We're finding ways to win. We're all accountable. Guys are really accountable. They come early, they leave late. There's a thing where coach asks all the players questions to see their preparation for the weekend. Guys are on it. Guys are looking at old film on a team for a year or two years before. That's something I do just because I've been around for nine years, but young guys are doing it. Everybody's prepared. Guys are on time for meetings. It's like they want to be here. They want to win and they're ready to put everything on the line to do that.
Q: Does that say to you that this is the type of team that could in fact at least do its part to get you to the playoffs?
A: Oh yeah. Listen, I've been on a lot of good teams with a lot of talent. But the good teams I've been on, like the attitudes' like this, being on time, being accountable, holding the guy next to you accountable. Not wanting to let your teammates down. A lot of guys put a lot on the line. Guys are sore and banged up after games because they're putting everything they have to that, to their craft. That's what you want for a team to be successful, and that's what we're doing.
Q: You obviously had one of the interceptions today, can you just talk about the importance of those takeaways? You guys are 6-1 this season when you have two or more takeaways in a game.
A: Coach [Leslie] Frazier does a good job of emphasizing that throughout the week. If you're plus-2 in a game, your chances of winning the game is like 80%. That's our goal each and every week - at least get two takeaways and win the turnover differential. We were plus-3 today, and our chances jumped up to 90%, so we came out with the win.
Q: 6-2 at home, best mark for this team at home since 1999. Sean [McDermott] talked about it earlier in the year about defending the home dirt, how important was it to do as well as you did this year?
A: That's the message. That's been the message since coach got here and after the rookies got here. He emphasized that in rookie mini-camp too. We did a great job. It's not what we want, we wanted to be 8-0, but 6-2 is not bad. Now, we go on to New England and try to continue to win, and get to the playoffs [on] a streak.
Q: The Dolphins have been playing so well offensively as of late, you guys really held them out of the end zone until the end. What was the key today going into the game and the execution?
A: The big thing was stopping [Kenyan] Drake early on. He had some runs, but they weren't really too explosive. They got away from it, put the ball in Jay's [Cutler] hands, and he threw us some picks. Guys capitalized on the ones he overthrew, and threw to them, and I think that's what ultimately came down to it at the end. We were able to put some pressure on them, whether it was [Cap] Capi, Jerry [Hughes], Kyle, Eddie [Yarbrough]; just a good up front, four-man rush today, I thought. I think that kind of gave them some issues as well.