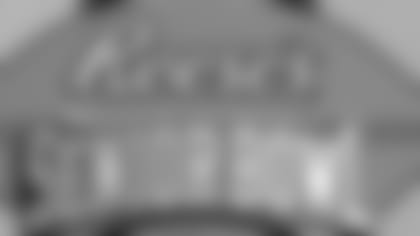 ](http://www.buffalobills.com/news/senior-bowl.html)
» Auburn DE Dee Ford: Ford has been one of the stars of the week, according to several scouts I spoke with on the practice field. Evaluators have been impressed with his first-step quickness and burst in pass-rush drills. Additionally, Ford has shown the ability to turn speed into power off the edge and dominated offensive tackles with his overall athleticism.
In run drills, Ford has been surprisingly stout at the point of attack despite measuring in at 6-2, 240 pounds. He has not only held his ground in one-on-one matchups, but he found a way to set the edge using his speed and athleticism.
With the NFL placing a premium on edge players with speed, quickness and explosive rush skills, Ford has certainly made a strong case to be included as one of the top pass rushers in the 2014 class.
» BYU LB Kyle Van Noy: Van Noy has flown under the radar at the Senior Bowl, but scouts are very impressed with his disruptive skills and versatility. He has played four positions -- DE, SAM, WILL and MIKE -- and displayed exceptional playmaking skills at each spot.
Van Noy is a very good athlete with impressive instincts and awareness. He is a ball magnet in space, with a natural feel for reading and reacting to the passing game. As a rusher, Van Noy is sneaky smooth off the edge. He isn't the most explosive pass rusher but has a knack for sequencing his moves and bending around the corner on speed rushes.
Although I don't see him as an every-down rusher based on my assessment of his college game film, I definitely believe Van Noy could thrive as a blitzer in nickel situations. He has a feel for slipping through cracks to get to the quarterback, which is critical to succeeding as a rusher at the next level.
Notre Dame's Zack Martin might be the best tackle in this year's class. Texas A&M's Jake Matthews has kind of been given that spot, but Martin is showing this week that he has a strong case for that title.
A couple of other offensive lineman that have caught my eye this week -- Clemson's Brandon Thomas and Michigan's Michael Schofield. Thomas is a tremendous athlete, and his future might be at guard. I like what I've seen from him. Schofield is playing guard, but to me he looks like more of a right tackle. He never received that much attention at Michigan with so many eyes being focused on OT Taylor Lewan, but I think Schofield is doing a nice job this week and could help his stock.
Keith McGill, Utah Utes  
Role: Press corner  
NFL comparison: Brandon Browner  
NFL fits: Seahawks, Jaguars, Packers  
Given the size of some of the more prolific receivers in the NFL today, there is an increased need for bigger cornerbacks who can match up with them in press coverage. As we mentioned on Monday, there are several bigger corners in practices this week, and McGill is one who has stood out both days so far.  
McGill has pretty good instincts in terms of his overall awareness and route recognition. He also does a good job of finding the ball in the air and playing it. He had some ups and downs this season, and there are aspects of his game he needs to clean up (his hip fluidity can improve). But because of his size, he doesn't need to always be in ideal position to be disruptive to a receiver's route and make a play on the ball when he's forced to turn and run. He really knows how to throw his weight around -- not all big corners are aggressive, physical and competitive, but he has been all three in practices.  
He needs to improve his press technique, but he has the tools to do it. McGill's size will be tempting for teams. He's 6-3, 214 pounds, which is slightly bigger than Richard Shermanwhen he was coming out of school (6-2, 205) and roughly the same size as Browner when he was coming out (6-3, 221). For teams in the middle rounds looking to add size at cornerback, particularly one who can hold his own in press coverage, McGill could be an intriguing option. 
Here's who impressed —on Day 2 of Senior Bowl preparation.
Jordan Matthews, WR Vanderbilt
Matthews quickly earned respect from his new teammates during the very first day of practice. Auburn CB Chris Davis described Matthews as the best wide receiver on the squad after going against him during Monday's practice.
Matthews built on a strong initial effort and continued to play at a high-level during the South team's second practice.
As the wide receivers went through their route progressions early in practice, it quickly became apparent Matthews is the smoothest among those participating in the game. He is fluid out of his break and creates separation. There is very little wasted motion.
Matthews also displayed tremendous body control. He caught a pair of passes along the sideline, where he kept his feet in-bounds despite falling out of bounds during the catch. The second catch along the sideline was highly impressive since Matthews had to adjust on an under-thrown pass as he contorted his body to make the reception.
There were a couple drops due to poor passes, but Matthews generally plucked the ball with ease out of the air.
Matthews entered Senior Bowl week as the top rated wide receiver prospect on the rosters, and he continues to prove why during each practice.
-Keep an eye on Western Kentucky's Antonio Andrews as a back who could have an early impact on an NFL team. He was easily the best back from both squads during blitz pickup drills, showing the strength to absorb contact and ride defenders away from the quarterback. He caught the ball well again today and showed patience and burst in the team session.  The Hilltopper does all the little things but he must continue to prove that he's beyond the fumbling issues he had in college.
Florida defensive back Jaylen Watkins took to coaching very well and looked increasingly more confident with each rep. Soft with his hand usage on tape, Watkins progressed nicely with his press technique and earned the praise of his position coach. Even when he didn't land a clean jam, makeup speed and route anticipation allowed him to recover. He's an athletic corner who got his hands on throws today and proved himself to be coachable.
Ra'Shede Hageman, DT, Minnesota (6'6, 318 lbs)
Hageman is built with long arms and a naturally long frame, and through two days of practice has used both to his advantage. Through the use of truly explosive first-step quickness, he converts quickness to power and runs through contact, both on the interior and on the edge. He has also shown a variety of pass rush moves and good hand technique. Displaying great functional strength and playing with outstanding leverage, he has been one of the most dominant defensive linemen at the Senior Bowl thus far.
Chris Borland, LB Wisconsin (5'11 3/8", 245 lbs.)
Chris Borland has shined at both practices, displaying the most athleticism and versatility of all the linebackers. While shorter than ideal for a linebacker, he was consistently fast when reading and reacting to the run. Vitally important in today's pass-first NFL, Borland has proven that he can excel in zone and man coverage. The most impressive area of his game this week has been his pass-rush skills. He has consistently demonstrated the explosiveness, change of direction, flexibility and a wide variety of pass-rush moves to defeat pass block.
If you haven't watched Charles Sims (RB West Virginia), get to a computer right now and dial up some YouTube highlights, because this young man is special. Yesterday, while riding to the South practice (a 30-minute drive where I was crammed into the backseat of a Jetta with B/R writers Matt Bowen and B.J. Kissel), Matt Miller compared Sims to Chicago Bears running back Matt Forte. 
It's a great comparison, because Sims is a fantastic do-it-all type of back who doesn't waste a lot of motion in his running. As such, he ends up moving faster than he looks and drives through contact. Scouts call that "converting speed to power," and Sims does it as well as any back I've seen. 
More impressive, during practice today, was Sims' ability to accelerate through his breaks. That's a rare ability for a traditionally built running back, and it gives Sims the chance to really make things happen even when the blocking hasn't been perfect. 
One of the few players who looked like he could hang with the athletic Ebron in coverage was Northern Illinois' Jimmie Ward. The safety who played his high school games at Ladd Peebles was comfortable dropping into the deep middle and playing up tight in man coverage. In one-on-one drills against wide receivers, Ward excelled covering Josh Huff of Oregon and Shaquelle Evans of UCLA.
Utah State cornerback Nevin Lawson was just as impressive as Ward. In man coverage drills, Lawson could stick on a receiver's hip and mirror perfectly. He fared well against taller receivers and the shorter quick receivers like Wake Forest's Michael Campanaro. The issue with Lawson was when he played off coverage. He doesn't flip his hips open fast enough to turn and run with receivers.