It was a special afternoon on Sunday, Aug. 4, for Bills fans who attended practice at St. John Fisher College to see the team prepare for the upcoming season. The warm summer day was made even brighter for members of the Bills Speaker Series who were treated to an exclusive visit by Bills Owner/President Kim Pegula.
Gathering for lunch and laughs, the guests listened attentively as Pegula covered a variety of interesting topics and addressed questions. Throughout the thoughtful discussion, Pegula spoke highly of Bills fans, taking the time to thank them for their unwavering dedication to the team and generosity to the entire NFL community. These characteristics, which have come to define Bills faithful, were on full display during the afternoon.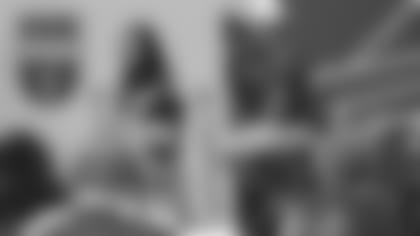 In true Bills fashion, the event brought in passionate fans from around the country, including seven-year Club Seat Member Barbara Regan and her good friend Cathy Peck, who racked up serious air miles in the process of flying from the Golden State.
Although Regan has lived in Orange County, California, for the past 24 years, she's never forgotten her roots. Originally from Wellsville, New York, her commitment to the Bills is ingrained in her DNA and is something that distance simply cannot take away from her. In fact, Regan makes the nearly 6,000-mile round trip to Orchard Park to watch Bills games consistently throughout a season and even makes a point to visit Fisher to see the team practice.
Peck, who was born and raised in Cheektowaga, New York, but now also resides in Southern California, has similarly been a Bills fan since she was born. Bonding over their love for the team, the two forged an immediate friendship when they met six years ago and now regularly watch games together whenever they can. Regan has even brought Peck to New Era Field to cheer on the Bills in person.
 "She had her Bills stuff on and I had mine," said Regan of Peck when they first met. "If you're a Bills fan, you're instant family. That's how it works."
"We watch football every Sunday Regan's in town -- when she's not in Buffalo watching the game," said Peck. "Barbara's dedication is off the chains. She's probably one of the most passionate Bills fans I've ever met. So, her energy just rubs off on all of us as we all watch together. We're one big happy Bills family."
First-time Speaker Series attendees, Regan and Peck were beyond ecstatic to have a chance to add another Bills memory to their collection and for the interaction with Pegula.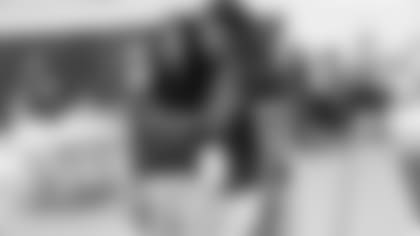 "I thought it was wonderful," said Regan. "I thought Kim was really transparent, just really open. I really enjoyed it.
"She was extremely articulate, and you can tell her heart is into doing this," remarked Peck. "She really cares about this franchise."
As they anxiously await the start of the Bills football season, one in which Regan will be attending three road games in addition to Bills home games, they reflected on what sets Bills fans apart.
"I just love the team and I love the experience back here," said Regan in reference to why she decided to get season tickets. "I have so many friends back here. So, it's just a real bummer when it's February and there's no football and I have to…wait until August gets here.
"It just means everything [to me to be a Season Ticket Member]. I don't really even know how to explain it. I love our club reps. They totally spoil me and take care of me throughout the season. You just kind of feel like you have part of the team when you invest in the team as a Season Ticket Member."
Proving once again that the Bills have the best fans in the NFL, Regan and Peck will continue to wear their Bills gear proud from coast to coast.
If you are interested in becoming a Bills Speaker Series member, please contact the Buffalo Bills Ticket Office at 1-877-228-4257.