Despite his busy schedule, Bills General Manager Brandon Beane recently took time to celebrate his birthday. This year, however, the festivities were more than he could've imagined. With the help of his extended Bills family, Beane received a few surprises that he'll never forget, when he joined a group of 150 Season Ticket and Club Seat Members for the second installment of the Bills Speaker Series.
Held at Bills Training Camp, presented by Connors and Ferris, the event gave guests a one-of-a-kind opportunity. Not only did the Bills faithful get to hear from Beane, they too were surprised when they got an unexpected visit from Bills Owner Terry Pegula. After addressing the crowd, Pegula and Beane opened the conversation with a question and answer session.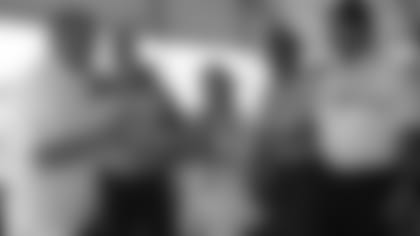 While participants were ecstatic for the exclusive interaction with members from the team's front office, there was no one more thrilled than 14-year Season Ticket Member, Tim Assing. A London, Ontario, resident, Assing got a major shock of his own back in May of this year, when he was on the phone with his Bills Account Representative.
"As a Season Ticket Member, you can get tickets before they go out to the public and a bunch of my friends always want me to get tickets," explained Assing. "So, I'm on the phone…and all of a sudden there was some commotion in the background and she [the Account Representative] got off the phone and I thought we got disconnected and [then she] said 'I have a special surprise for you'…Next thing you know, Coach Sean McDermott was on the phone talking to me and then Brandon Beane the general manager came on the phone after. It was pretty amazing…I was shocked that they'd talk to a regular fan."
Now, just a few months later, his story has come full circle. When making the drive to St. John Fisher College, Assing, who was encouraged to come to camp by McDermott and Beane, never expected that he'd get a chance to meet one of them.
"This is my first time [at a Bills Speaker Series event] and it was absolutely amazing," said Assing. "I didn't think it was like this...Never [did I think I would get to meet Brandon Beane] …but that changed today."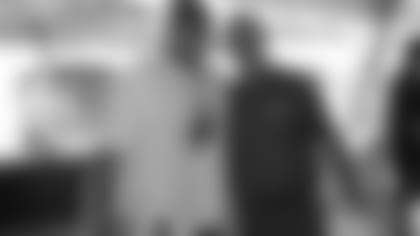 Before the event was over, the Bills' staff and Season Ticket Members had something special on the agenda. In honor of Beane's birthday, he was presented with a cake. Smiling with joy, Beane thanked the guests. To cap a memorable event, Beane and Pegula signed autographs and took photos with fans. Bills Owner and President Kim Pegula also stopped by to show her support.