1. Fans show support for Eric Wood
Anyone that follows the Buffalo Bills knows that once you're a Bill, you're a Bill for life.
This couldn't be truer for Bills Legend Eric Wood, who made his way back to Orchard Park last Sunday to 'Lead the Charge.' As he stood above the tunnel, proudly waving the Bills flag, Wood was flooded by the collective sound of nearly 70,000 fans cheering to welcome him home.
His former teammates, including veteran defensive tackle Kyle Williams, were equally as excited to see Wood and many stopped by to say hello to the Pro Bowl center on the sidelines.
The support for Wood continued Monday evening, following the team's 13-12 win over the Titans, as over 150 Bills Season Ticket and Club Seat Members paid a visit to New Era Field for a chance to hear from him. The event, which marked the third installment of the Bills Speaker Series, gave the group an exclusive opportunity to learn more about what Wood is doing now that he's retired and to ask him questions. Joining Wood was his longtime teammate and friend, Kyle Williams.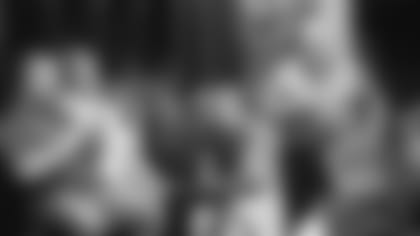 Moderating the session, which was held in the team's game day locker room, was Radio Voice of the Bills John Murphy. As the dynamic duo took their seats, you could see the participants' faces light up with excitement. In typical Wood and Williams fashion, the evening was filled with friendly banter, jokes, laughter and nostalgia. To cap the event, the pair signed autographs and posed for photos.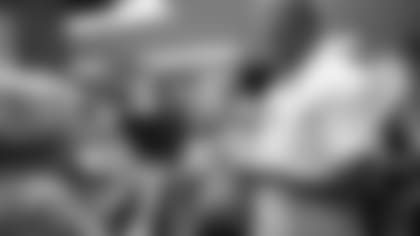 Many in attendance, including 31-year Season Ticket Member Rich Dekowski, were thrilled and thankful for the special evening.
"I've been a Season Ticket Member for 31 years and these events are wonderful," he explained. "I mean, it gets you up close and personal with the players and for them to give back to us, as we give to them, it's worth its weight in gold…It's awesome…to be preparing for their next game and giving us the time, it means a lot to us as a fan [and as] a person."
Another Season Ticket Member, Dennis Davidson, explained that the event strengthened his connection to the team.
"I think the National Football League really should be proud of guys like those two men up there today," he said. "If I had asked a question, I would have told them how much I respect those guys because they're not only good on the field, but they're terrific off the field and they represent this community in a very positive way."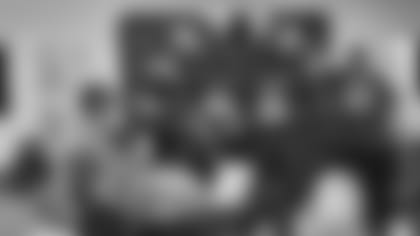 2. Bills huddle up for a worthy cause
It's common for Bills players to use their day off to give back to those who support them week in and week out. This was certainly the case this Tuesday for Bills Deon Lacey, Lorenzo Alexander and Taiwan Jones. Teaming up with the American Dairy Association North East and the United Way of Buffalo & Erie County, the Bills hosted the annual Hometown Huddle event at Buffalo Public School No. 93 Southside Elementary.
While at the school, the Bills joined students for a Character Playbook Lunch and Learn program, powered by EVERFI, where they focused on character development, the importance of building healthy relationships and health and wellness activities with the Fuel Up to Play 60 program.
As they ate lunch together, the kids were able to talk to and get to know the Bills – something they're likely to remember for the rest of their lives.
"Now more than ever it's crucial to empower students with the knowledge and skills needed to take care of themselves – both inside and out" said Brian Cooley, EVERFI's President of Sports and Entertainment. "The Buffalo Bills and United Way of Buffalo and Erie County have shown a true commitment to bringing social and emotional learning to their community through the Character Playbook program. We are thrilled to have this program involved in this celebration with American Dairy Association North East and Fuel up to Play 60 to promote and encourage healthy futures for our youth."
3. Phillips pays it forward
It's not surprising to see that Bills rookie Harrison Phillips is already making a difference in his new hometown. The Stanford product was known just as much for his big heart as he was for his big plays in college. Fully embracing Western New York, Phillips recently took a trip to Bornhava – an early childhood center for children with developmental disabilities. While at the center, which provides programming to assist the young children and resources for caregivers, Phillips met with children, family members and staff. Channeling his inner child, Phillips enjoyed spending time on the playground with the youngsters and providing encouragement along the way. His support was well-received by everyone he met.