Imagine for a moment, working your whole life to reach one goal and at every stop along the way, someone is waiting there to tell you that you aren't good enough. You aren't fast enough. Someone reminds you that your chances of reaching the goal you set out to achieve are slim at best. It's not just a story that lives in imagination. It is the story of Bills wide receiver Brandon Reilly.
"I've kind of been the underdog my whole life," he said. "I've always carried a chip on my shoulder."
Reilly's underdog mentality resonates with Bills fans, and his journey to Buffalo includes a few bumps along the way.
Brandon and the entire Reilly family have fought through ups and downs, and his father Paul would certainly attest to that. Paul Reilly battles myelodysplastic syndrome, or MDS. The condition is a fairly common form of cancer which does not allow immature blood cells to develop into healthy red blood cells. Sometimes described as "pre-leukemia," many MDS patients eventually develop what is called acute myeloid leukemia.
The elder Reilly has pushed through chemotherapy treatments, doctors visits, bone marrow transplants, and a bevy of other challenges; and Brandon has been amazed by his father's strength.
"Even when he was in the biggest struggle of it all, he would text me every day asking, 'How is football going?' or 'How did practice go?'" he said. "That really shows that when I am doing well out here and having fun, that is what he loves to see."
In the grand scheme of things, football can seem trivial, but Reilly says that his parents are the reason he does what he does.
"My goal is to make my parents proud," said Reilly. "Hopefully I can make the team this year and they can come up and watch some games. That would be a special moment."
STEPPING UP AS A COLLEGE WALK-ON
In his first two seasons with the Nebraska Cornhuskers, Reilly was buried on the depth chart, making just nine total catches for 109 yards over that span. He appeared in just seven of a possible 24 regular season contests in those two years.
Reilly blossomed in his junior season under former Nebraska wide receivers coach Keith Williams and led the Big Ten Conference in receptions with 40 catches for 754 yards and four touchdowns. His accomplishments that season put Reilly on the NFL's radar, and he believes he owes most of his success to Williams.
"He was great with the mental and physical side of things. He helped me learn how to run routes better," Reilly said. "He always told me, 'I think I expect more out of you than you expect out of yourself.' I really sat back and thought about that and it showed that he believed in me, so I started to believe that much in myself."
MAKING A CONNECTION IN BUFFALO
One thing is certain, the people of Buffalo have always appreciated somebody who is willing to sacrifice their own well-being to produce for their hometown team, and Reilly appears ready to do just that. However, a new challenge in 2018 will be molding his strengths to the scheme of new Bills offensive coordinator Brian Daboll. Fortunately, Reilly believes that Daboll and him are a nice match.
"There is a lot of room for creativity and to be a crafty, savvy receiver in his offense," said Reilly. "I think that his style fits me very well."
Reilly says that his aggressive mentality shows up in different facets of his game.
"Getting open and making the tough plays is my biggest strength," he said. "Sometimes it might not always feel good getting hit, but you're going to get hit either way, so you might as well make the catch."
Reilly's mentality and background have ingratiated him with the hard-working people of Buffalo. However, his humility remains at the forefront of his personality as Reilly seemed a bit uncertain as to why Bills fans connect with him.
"Ultimately, I'm not sure," he said. "I think that they just saw that I always play hard and that I'm not scared to take hits. I made some contested catches last year, so I think that that really resonated with them."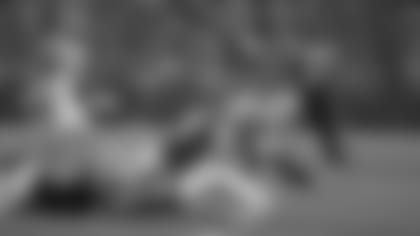 Reilly joined the Bills as an undrafted free agent in 2017 and endeared himself to Buffalo fans with his first NFL touchdown catch in a preseason contest against the eventual Super Bowl champion Philadelphia Eagles. Although he was activated to the team's active roster for the final five games of 2017, Reilly did not appear in a regular season game. Part of the reason why, he says, was his inability to contribute on special teams; a skill which he says he has focused on as of late.
"When I did get moved up last year that was the reason why," said Reilly of his early lack of attention on special teams. "You can only have 46 suited up in jerseys and that's why I didn't get a jersey. I have certainly focused more on that this year in hopes that I can get out there on Sundays and help this team on special teams as well."
Veteran wide receiver and special teams contributor Andre Holmes has been a mentor for Reilly in both the receiver room and in the special teams phase of the game
"That has been my role for my whole career to this point," said Holmes. "I always try to tell the young receivers that special teams is extremely important. I told him [Reilly], 'To continue your career and to be out there, you need to be able to be out there on special teams.'"
Although special teams play a big role in the game, some receivers are reluctant to focus on that aspect of their game, and Holmes says that it is not uncommon to see that.
"A lot of us never played special teams in college," he said. "You just have to learn to take it as seriously as you would at receiver."
Off the field, however, Reilly has connected with a key member of the Bills secondary – Pro Bowl safety Micah Hyde.  Reilly has been living in Hyde's house this offseason.
"He's been a great mentor to me," said Reilly. "He's taught me about how things work in the league, so Micah has been very beneficial for me."
Hyde noted that he understands the struggle of young players who are uncertain about their future, and that he was more than happy to take Reilly in.
"It has been good," said Hyde of having Reilly around his house. "I understand the situation that some guys are in on the team, so I have just tried to help him out as much as I can, and Brandon is a good kid."
Reilly's fit in the Buffalo offense is unquestionably important, but his fit within the culture that has been cultivated by general manager Brandon Beane and head coach Sean McDermott is perhaps even more significant. Luckily, Reilly says that he is proud to be a part of everything that has been crafted by the Bills staff in Buffalo.
"As coach [McDermott] says, he's building a culture out here and it's a great culture," he said. "One I am proud to be a part of."