They're plays that might not seem like much at the time, but had a much bigger impact upon further review. You can watch any play back from Sunday's game on NFL Game Rewind. Watch TV, condensed or All-22 coach's tape of the game. Subscribe now.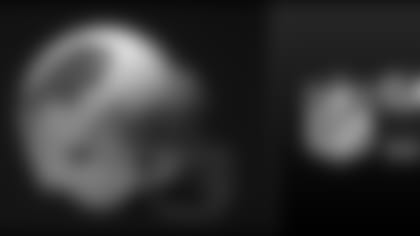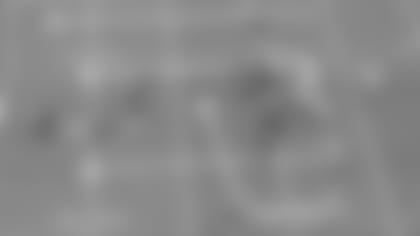 :21 left 2nd quarter – 2nd-&-10 at Bills 39 –Lined up in a three receiver, one back set after that fumble recovery by Nickell Robey, EJ Manuel looks deep to Marquise Goodwin. Goodwin took an inside release on CB Dwayne Gratz and would've gotten by the fellow rookie with ease had Gratz not grabbed his arm to impeded his up field progress. The official saw the hold and called pass interference as the ball fell incomplete. The penalty covered 31 yards and put Buffalo in scoring territory with 13 seconds left at the Jaguars 30. The Bills got a field goal before the half expired.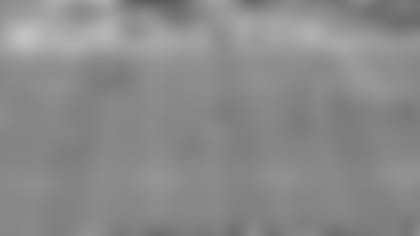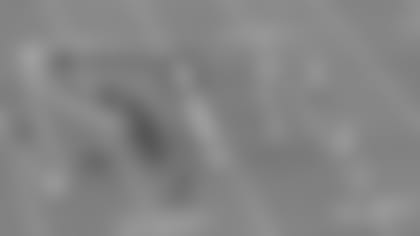 5:33 left 3rd quarter – 2nd-&-5 at Bills 27 –Down 20-10 the Jaguars are threatening to cut into Buffalo's lead. Chad Henne hands off to Denard Robinson, but it's a flea flicker option pass. Robinson stops in the right flat and throws back to Henne on the left side of the formation eight yards behind the line of scrimmage. Manny Lawson, who held his position on the right edge of Buffalo's defensive formation, immediately diagnoses the play and comes full boar at Henne. It takes Lawson just eight steps to cover 10 yards and he closes on Henne too quickly for the quarterback to take a deep shot downfield. Henne has to cover up as Lawson swoops in for the sack and a loss of 10.
The Jaguars still wound up getting a field goal out of the drive, but Lawson's sack prevented a potential touchdown on the trick play.
Play 3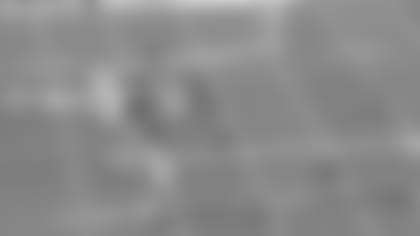 11:40 left 4th quarter – 2nd-&-12 at Jaguars 36 –Facing an obvious passing situation the Bills run play action out of 12 personnel. Robert Woods, who is lined up in the slot on the right side of the formation, runs a perfect 18-yard dig and EJ Manuel hits him on time to move the chains and avoid a third and long situation. The play moved Buffalo into Jacksonville's red zone where they eventually scored on a one-yard touchdown catch by Frank Summers.
Play 4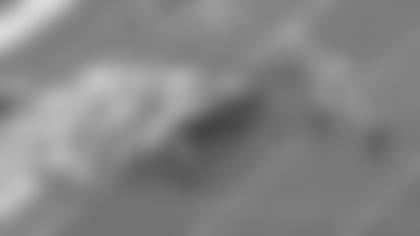 3:59 left 4th quarter – 1st -&-goal at Bills 1 –Following a Clay Harbor 16-yard catch and run to the Bills one-yard line to set up 1st-and-goal, the Jaguars lined up in a jumbo I-formation with three tight ends on the line. Jim Leonhard, who had entered the game after the injury to Aaron Williams identified the run play quickly. Instead of taking an outside angle to take on the fullback at the point, Leonhard slipped underneath him and dove at Jordan Todman's waist wrapping him up in the right flat for a four-yard loss. Jacksonville called a timeout and elected to throw on their next two plays, the second of which was Stephon Gilmore's interception in the end zone.
Play 5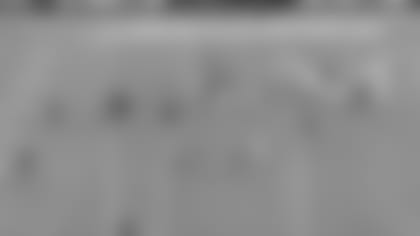 2:00 left 4th quarter – 4th-&-6 at Bills 24 –With the offense unable to kill the remaining clock Buffalo is forced to punt from their own 24. Brian Moorman with 10 men up on the line for the Jaguars kicked his longest punt of the day 53 yards. Jacksonville return man Ace Sanders was unable to escape to his right with Da'Norris Searcy holding his outside lane. Sanders went out to his left and though he was able to avoid the tackle attempts by Arthur Moats and Marcus Easley they forced him to take a wide path across the field to his left. Even though it was the wide side of the field, Jim Leonhard and Ty Powell were close enough in pursuit to keep him from darting up field and Jerry Hughes hustled to seal the corner ultimately shoving him out of bounds after just a two-yard gain to the Jacksonville 25.