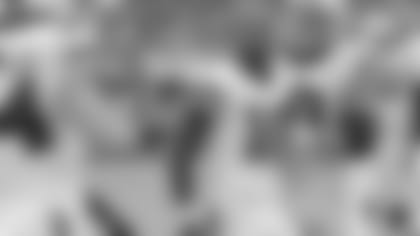 After six consecutive games without being on the field together, it was time for Robert Woods and E.J. Manuel to re-establish the connection they had earlier in the season in Buffalo's passing game.
Manuel's knee injury kept him out of four straight games from Week 6 to Week 9. Woods then sustained a high-ankle injury which kept him out for the first two game after Manuel returned to the lineup. The pair wouldn't be on the same field again until the Week 13 game against Atlanta. For the next two games, the receiver and quarterback couldn't get in sync on a consistent basis.
"It's the flow of football. Sometimes you're going to start slow and sometimes you start fast," Manuel said.
In Sunday's 27-20 victory over Jacksonville, their on field chemistry resurfaced. Woods caught five passes and a touchdown for a season-high 82 yards in a game where Manuel threw for a total of 193. It was his most productive performance since his four-catch 80-yard performance in Buffalo's Week 4 win over Baltimore.
"I thought Robert played well. Obviously he was targeted six times and had five receptions," head coach Doug Marrone said.
Woods had been spending extra time after practice with Manuel working on routes and their timing.
"It was just connection you know," Woods told BuffaloBills.com. "We've been working each and every week. We were just staying after practice and putting extra work in, and it finally paid off in the game. We connected a lot."
Manuel said Woods hustles on every play, and it makes him a likely target for passes.
"He made some huge catches, tight catches too," Manuel said. "The DB was right on him when he got out of his breaks, and I put it at a spot and he got there for them."
Four of Woods' receptions went for 17 yards or more with his touchdown reception being his only short catch of the day. Woods admits he likes working in the intermediate areas of the passing game.
"I like that area of the field for me as a receiver," Woods said. "The ball was there it seemed whenever I came out of my breaks. I told him to just put it in the air and just let us make a play and we were able to do that today and connect."
Marrone said Woods and Manuel excelled Sunday because they placed trust in each other.
The first drive was where Woods and Manuel got things started. Woods helped return fluidity to Buffalo's offense when he fully extended to make a 20-yard reception. That kept alive the team's first scoring drive, which culminated with Woods' third touchdown of the season.
"It's just being consistent. EJ, he commanded the whole drive," Woods said. "When he got flushed out of the pocket, he made some of those runs to keep the drives alive and we just played solid on those drives and were able to finish them."
"You didn't see accuracy by the quarterback at times where he really put it in there, but you saw Robert (Woods) and some of the receivers did a nice job with their catch radius," Marrone said. "Meaning they were able to go out and catch a ball that was out here or catch a ball that was there, that wasn't necessarily perfect but they were able make those plays."